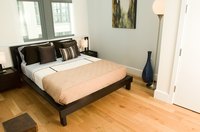 Even small bedrooms can offer a homey and comfortable location to relax in after a long day of work. While small bedrooms present more challenges to the decorator because of the lack of space, being creative and thinking outside that small box turns boring, utilitarian rooms into havens of respite. To make your tiny bedroom seem bigger, incorporate a few trick and tips to get the most out of it. You won't increase the actual square footage of your bedroom but with some expansive thinking, you can make your room feel and look larger than it actually is.
Things You'll Need
Work out your color scheme. Light, pastel hues make a room feel instantly bigger. Avoid the dark tones and opt for hues like pale blue, pastel green and ivory. Keep your color palette limited to no more than three colors to keep things under control.
Limit the use of loud patterns. Go for a smaller-sized pattern to make the room seem larger. If you're using wallpaper, consider papering just one wall as a statement piece. Choose light-colored patterns to make effective use of the illusion of space.
Forget the eclectic. Choose furniture that matches both in style and size. An eclectic gathering of furniture might look charming and whimsical, but to create an impression of space, go with pieces that coordinate.
Consider getting custom-made furniture. Measure your bedroom's dimensions with a measuring tape. Write them down in a notebook before shopping. Contact a local furniture dealer or designer in your area and see if you can acquire pieces designed with your bedroom in mind.
Scale down your bed. Contemplate going smaller for your bed. A twin or even a full bed will leave you with more space to move about in than a queen or king bed will. Find a frame and headboard, but leave the footboard off. The soft angle of the mattress will make the room feel larger than the right angles a footboard creates.
Invest in storage. A cushioned ottoman can serve as a seat, a table and storage space. Locate bins that will fit underneath your bed frame to make use of additional unused space. Use a tall dresser rather than a wide one to get more storage out of a smaller square footage area.
Limit the knick-knacks. A couple of art pieces on the wall and on furniture enhance decor, but too many make a room look wild. Keep the pieces down to a minimum to make the room look and feel less cluttered.