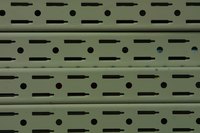 Track bracket shelves are shelving systems that have metal tracks installed. The shelf brackets install into the double slots of the track using a hook-like attachment. Some shelf brackets have a pivoting second arm that hook into the track below the shelf for additional support. All of the double-slot brackets can be attached to the shelf for added security.
Things You'll Need
Double-slot track
Double-slot shelf brackets
Pencil
Painter's tape
Drill
Wood screws
Screwdriver
Insert the double-slot shelf bracket into the wall track. You should have a vertical wall track for every 4 feet of wall shelf, with one on each end of all shelves. The tracks should be secured to wall studs or with wall anchors.
The top of the shelf bracket should have two or more drilled holes, one near the wall side and one near the end of the bracket. Place the shelf in position on the bracket and mark the location of the holes on the underside of the shelf.
Measure the thickness of the shelf. Wrap painter's tape around the drill bit you will use to drill pilot holes into the shelf. The painter's tape should be 1/8-inch less than the thickness of the shelf board from the cutting end of the bit. This gives you a depth guide to prevent you from drilling through the shelf.
Drill pilot holes in the marks. Drill all of the holes for all of the support brackets for each shelf.
Place the drilled shelf hole-side down over the shelf brackets. Insert wood screws through the underside of the shelf bracket hole and screw the screws into the wood. This secures the shelf to the bracket.