Parchment paper is one of the most useful tools in a baker's kitchen. Sometimes referred to as bakery release paper, parchment paper's high ignition point -- around 500 degrees Fahrenheit depending on the manufacturer – allows you to use it as an alternative to greasing or oiling a pan. Lining a loaf pan is simple. Make sure the parchment paper covers every surface the butter or oil would, but cut it a little larger than the interior dimensions of the pan.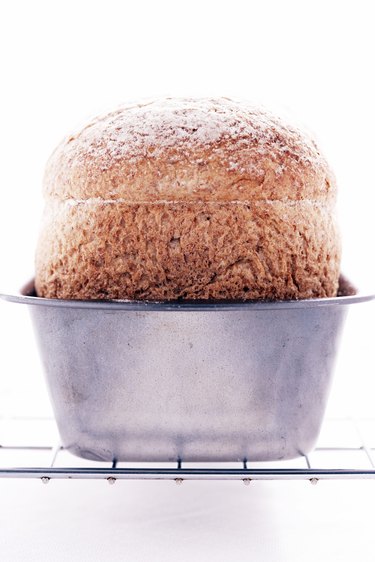 Things You'll Need
Parchment Paper

Non-Metal Spatula

Scissors
Step 1
Determine the size of your loaf pan and place a piece of parchment paper on the work surface.
Step 2
Cut the paper in two pieces, the first with dimensions 1 inch longer and wider than the length of the pan's interior, and the second with dimensions 1 inch longer and wider than the width of the pan's interior. For instance, if your loaf pan measures 9 inches by 5 inches by 3 inches, cut one piece measuring 16 inches long and 6 inches wide, and the other measuring 12 inches long and 10 inches wide. You want to have a little bit of paper hanging over the edges of the pan so you can grasp it and remove the bread after it cools.
Step 3
Line the length of the interior of the pan with the first piece of parchment paper you cut. Press the paper into the corners of the pan with a non-metal spatula.
Step 4
Line the width of the interior of the pan with the second piece of parchment paper. Again, press it into the corners with a non-metal spatula.
Step 5
Pour the batter in the pan or place the dough in the pan. The weight of the batter or dough will allow the paper to conform to the pan's dimensions. Bake according to your recipe.
Step 6
Remove the bread from the pan after it cools by grasping the parchment paper hanging over the pan's edges and lifting it out.
Tip
You might come across a recipe that calls for greasing the parchment paper. If so, use a folded piece of wax paper to apply the butter to the parchment paper after you line the pan with it.