Things You'll Need
Saucepan

Spoon

1 cup wheat flour

1/2 cup powdered resin glue

1 cup warm water

3 cups hot water

Oil of cinnamon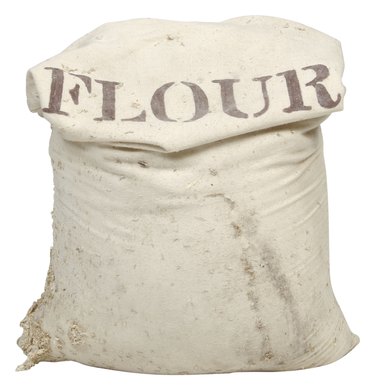 Although the term refers generically to concrete, cement is any agent that hardens and adheres independently, and can be used to bind materials together. There are many ways to make a durable cement at home, and avoid the cost and mysterious chemicals of store-bought cements. While simply combining flour and water makes a paste -- as anyone who has tried to clean up after baking can attest -- flour can also be used as a base of a much stronger cement.
Step 1
Mix resin glue and flour together in saucepan without heat.
Step 2
Add warm water slowly, mixing quickly to form a paste.
Step 3
Stirring continuously and vigorously, mix in hot water until the paste is smooth and without lumps.
Step 4
Cook over low heat, stirring constantly until mixture is clear and thick.
Step 6
Use, or transfer to tightly lidded glass jar, where it will keep for a few days.
Tip
Be sure to wash saucepan and spoon directly after use. Once cement hardens, it becomes very difficult to remove.