Things You'll Need
Black paint

Plastic container

Water

Bronzing pigment powder

Disposable fork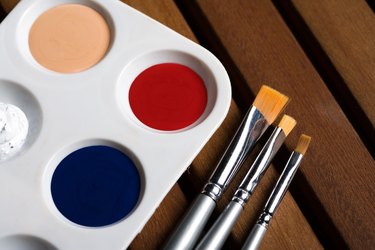 Whether you want to use it in a painting or craft project, knowing how to mix up your own bronze colored paint allows you to have the amount you need on hand at all times. Experiment with the bronze colored paint recipe to create a bronze tone that suits your tastes.
Step 1
Place 4 oz. of black paint in a plastic container.
Step 2
Thin the black paint with 1 oz. water.
Step 3
Add 1/4 tsp. bronzing pigment powder.
Step 4
Mix thoroughly, making sure that there are no lumps in the bronze paint. Use a disposable fork to mix the paint.
Step 5
Store your bronze colored paint in an airtight container. Write the date and exact recipe that you used on the container so that you know how to recreate it and when you made it.
Tip
Increase the ingredients in even increments to create larger amounts of bronze paint.
Create a bronze patina by thinning dark green paint with water. Dab it over the bronze with a sponge.