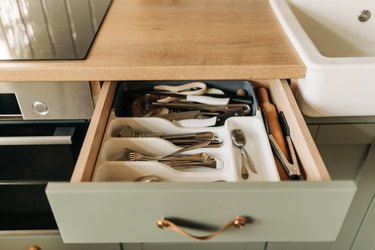 It can be a real problem when a kitchen drawer is stuck and will not close all the way. This problem can happen because there is too much stuff inside it or there's something wrong with its slide mechanism, but you'll need to do some kitchen cabinet troubleshooting to determine the cause. If it is stuck and will not open, that can be even worse, particularly if there's something inside that you need to get to, like a key or phone. You might be tempted to stick your hand in the drawer to loosen it, but if your hand gets jammed in there, that will make things much worse.
My Kitchen Drawer Is Stuck!
If your kitchen drawer will not close all the way, first empty it and try closing it again. If it still sticks, pull it all the way out and place it on a work surface. Check the empty space and see if there is anything in there that would prevent the drawer from closing. If not, you can try to fix the slides. These have two mating pieces; the drawer profile part attaches onto the drawer and slides into the cabinet profile inside the empty drawer spaces.
Now, hold those slides in position along your drawer sides and inside the cabinet opening. Using a screwdriver, tighten any screws that are loose. If these drawer slide adjustments work, the nylon rollers or ball bearings will now move smoothly past one another. Align the slide's magnetic portion with the magnetic catch located in the middle of the top edge of that opening if there is one and slide the drawer back in and see if it closes.
More Tips for Stuck Kitchen Drawers
You can try another fix for this if the slides don't seem to be the problem. Pull out the drawer and loosen the screw that you see in the oval-shaped hole. This screw should be found at the front by the drawer guides. Tap those guides up if the drawer is rubbing at the top, tighten the screws and return the drawer to its standard closed position.
You can also help stuck kitchen drawers become unstuck by lubricating the sliding mechanisms attached to them. Use paraffin wax, dry spray lubricant or bar soap. Sometimes, drawers with center slide mechanisms break too. For these kinds of drawers, you can open the slide all the way and run a putty knife down along both sides of its track. For drawers that have no slides, you may need to sand them down or make repairs to the parts of the drawers themselves.
Kitchen Cabinet Troubleshooting
Besides stuck drawers, kitchen cabinet troubleshooting can reveal many different problems that are primarily due to all of that opening and closing. If you have a cabinet shelf that keeps sagging, you can build a new one from plywood fitted with rails on both sides. When door slides and mounting sockets that attach them are damaged beyond repair, you can replace them. Look online for the best selection.
Banging cabinet doors can be very annoying, but you can buy small plastic bumpers to attach to the insides. These bumpers are sold in different sizes and thicknesses. You can often repair sagging cabinet doors by tightening their hinge screws or replacing the hinges. You can also repair stripped screw heads by removing the hardware and applying a drop of wood glue on the end with a toothpick. Fit two or three into the screw hole, wipe away the excess glue and reinstall the hardware, driving the screws into the toothpick-filled hole.