Things You'll Need
Crack filler

Caulk gun

Utility knife

Level

Paver sand

Broom

Dust pan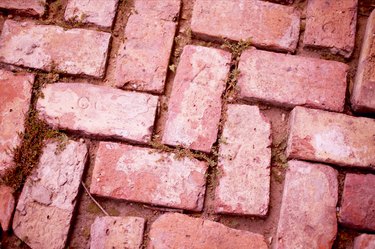 Pavers are often found in gardens and walkways around a yard. They are most often installed in the ground, but can sometimes be installed directly on top of concrete. Pavers come in various shapes, sizes and thicknesses to fit any homeowner's needs. They are often used to form patios for those who do not want a deck. Pavers are most often installed with mortar, directly on top of concrete, but it is possible to install interlocking pavers on concrete without the mortar.
Step 1
Inspect the concrete where the pavers will be installed and make sure there are no major cracks in the concrete. Place a tube of crack filler into a caulk gun and cut off the tip of the tube at a 45 degree angle with a utility knife. Pull the trigger on the caulk gun and run a thin bead over all of the cracks.
Step 2
Set a level on the concrete and verify it is square and even throughout. Move the level to different locations around the concrete. Patch up any larger dips in the concrete with crack filler.
Step 3
Position the pavers directly on top of the concrete beginning at one corner and working toward the other. Press one interlocking paver into another to help secure them in place since you are not using mortar. Continue all the way around the concrete until the pavers are installed into one another over the entire surface.
Step 4
Pour paver sand between the pavers to help level them out. Dump it into the cracks by hand and spread it out evenly so it is flush with the surface of the pavers. Brush off any excess paver sand with a broom and dust pan after it has all been installed between the pieces.