Things You'll Need
Oven-safe plates

Oven-safe chargers

Oven mitts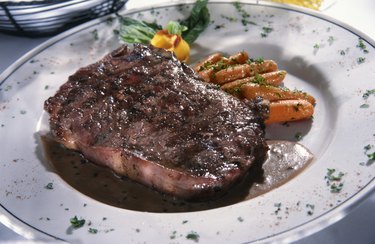 After slaving over a hot stove to prepare a sumptuous meal for a dinner party, or simply grilling some meat and veggies for a casual family supper, the last thing you want is for your food to get cold after serving. You can impress your guests and family by ensuring that their dinner stays warm -- not just for the first few minutes, but for the entire meal. Make your meal sizzle, and stay that way for the duration of the dinner, by keeping your plates warm.
Step 1
Preheat the oven. Heat to 200 degrees Fahrenheit, if you will be able to quickly place the meal on the plate. Heat to 350 degrees Fahrenheit, if it will take longer to assemble to meal on the plate.
Step 2
Place your dinner plates and chargers in the oven for 5 to 10 minutes. Space out the plates on the top rack of your oven. You may have place two or three in a stack. Do the same for the chargers on the bottom rack.
Step 3
Remove the plates and chargers, using the oven mitts.
Step 4
Using the oven mitts, place each plate on a charger and quickly assemble the entree and any side dishes on each plate. The food should be piping hot just before you place it on the plate. Have someone help you, to ensure the plates are filled quickly.
Step 5
Quickly place the plates, with the chargers under them, on the table. They should keep the food warm for up to 20 minutes, depending on the temperature in your dining room.
Tip
You can purchase specialty heat-retaining plates, produced by several different companies, that will stay warm for 45 minutes or longer, usually after only a few minutes of preheating.
Warning
Hot chargers can damage your table. Lay down place mats or other protective covering before placing the hot chargers and plates on your table. Caution your family or guests that the plates are hot and should not be touched.