Making a cheer bucket for kids to sit on is a fun project the whole cheerleading squad can enjoy together. A basic 5-gallon paint bucket can be transformed into a seat for cheerleaders to sit on during breaks in the game, plus it provides storage for pom poms, water bottles, snacks, handbags and other necessities. Head to the craft store for some decorative embellishments, plus batting and fabric to make a seat cover. Gather your supplies and have a cheer bucket design party with the entire squad.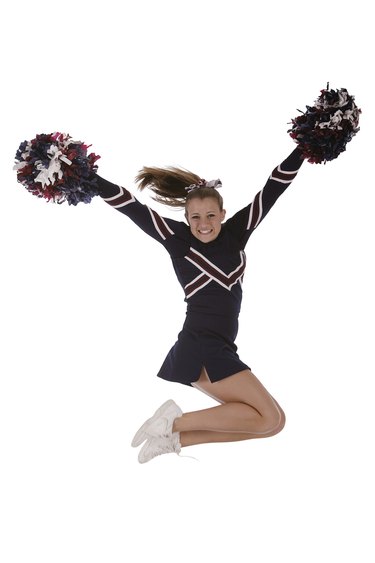 Things You'll Need
Glue Gun

Scissors

Empty 5-Gallon Paint Bucket With Lid

Batting

Fabric

Glue Sticks

Paint

Embellishments (Faux Fur, Sequins, Fringe, Ribbon, Adhesive Vinyl Clings, Stickers Or Any Desired Decor)
Step 1
Cut a circle of batting to cover the lid of your paint bucket. Fit a piece of fabric over the batting and lid, allowing enough fabric to tuck under the lid. Cut the fabric circle and pull it tightly over the batting and lid. Adhere to the base of the lid with hot glue warmed in your glue gun.
Step 2
Paint your bucket in the desired color with spray paint made for painting plastic or leave the bucket the original color. Apply hot glue to the lid rim, and add sequin trim, faux fur, fringe, ribbon or any ornamental embellishments.
Step 3
Personalize your bucket with the team mascot emblem, cheerleader's name or personal messages. Add adhesive vinyl clings, stickers, sequins or other decorative items.