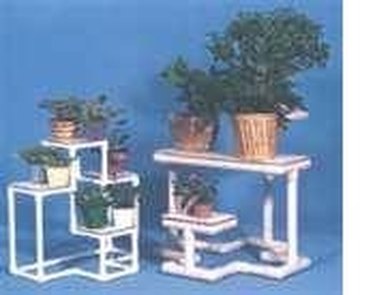 PVC Pipe Plant Stand
Crafters use PVC pipe for constructing many things. Making a PVC pipe plant stand is a great idea for PVC pipe. Plant lovers usually have a lot of plants and sometimes run out of room for displaying plants. This type of plant stand gives added space in addition to displaying multiple plants at once. By constructing multiple plant stands from PVC pipe, it can also be possible to build a greenhouse with PVC pipe and sheets of plastic for a permanent home to the plant stands.
Ideas
PVC pipe is totally customizable for any size plant stand. Plant stands can be two or more shelves, on wheels, with a fluorescent light attachment and watering options. With the durability of PVC pipe, plant stands can be used indoors or outdoors. By adding wheels, the plant stand can be rolled from room to room or indoors and outdoors according to the seasons. It is lightweight so anyone can manage moving it around.
Giving plants a boost of light is sometimes required for healthy plants, so adding a light attachment is an ideal way for plants to get that needed light. Light attachments can be built just as easily as the plant stand itself and can be added to each shelf. Watering options can vary according to the plant's specific needs. For instance, put different plants on the same shelf that require the same amount of watering. In this way, each shelf can be customized to control the flow of watering for that particular shelf.
The shelves themselves can also be customized, and the most popular type is plywood. Additional options for the builder could include painting the shelves or the PVC pipe itself, or adding decals.
Conclusion
Perhaps the best part of using PVC pipe for constructing plant stands is that it is very easy to use and experience is not required. It's sort of like building block--it's just a matter of putting different pieces together and gluing. An added bonus to PVC pipe construction is the cost. Building plant stands can cost less than $10, depending on the size desired. PVC pipe can be purchased at local hardware stores and can be cut to length when purchased. Related PVC parts will include T connectors, elbow connectors, end caps, wheels and PVC pipe cement.