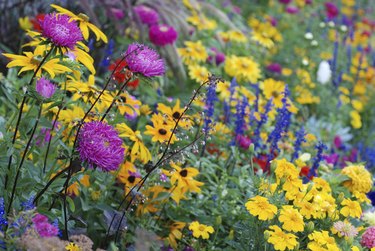 Unlike annual flowers, which live only a single year, flowering perennials bring your garden color again and again. Some perennials bloom for only a few weeks, so savvy gardeners stagger them through flower borders for ever-changing floral displays. However, not all perennials limit their flowers to weeks or single seasons. Some keep producing month after month -- and add more than just blooms. With versatile, long-blooming perennials as your garden's foundation, you'll be treated to beauty all season long.
Enduring Edgers
Plant at least one long-blooming perennial right at your garden's front, and blooms will greet your every glance. "Blue Wonder" catmint (Nepeta racemosa "Blue Wonder") edges borders with dark blue blossoms from spring into fall. Best suited to U.S. Department of Agriculture plant hardiness zones 3 through 8, the silver-leaved, 12-inch mounds add texture and aroma, too.
The easygoing "Butterfly Blue" pincushion flower (Scabiosa columbaria "Butterfly Blue," USDA zones 3 through 9) forms a gray-green rosette just 6 to 8 inches high, but then sends out 12- to 15-inch stems with flowers that dance on breezes from late spring into autumn. As the name implies, the pincushion-like blue blooms seldom lack visiting butterflies.
For early season leaf color and long-lasting blossoms, "Vera Jameson" stonecrop (Hylotelephium "Vera Jameson," USDA zones 3 through 9), offers dusky, desert-rose flowers from early summer well into fall. Even with blooms absent, the 9- to 12-inch-tall plants delight with thick, succulent leaves in tints of teal, burgundy and purple.
Knee-High Knockouts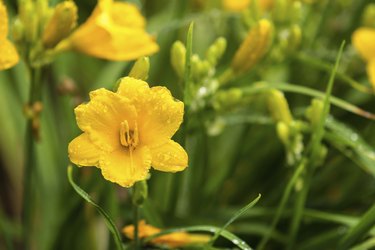 Leaf texture and flower buds sometimes bring gardens as much beauty as flowers themselves. "Stella de Oro" daylily (Hemerocallis "Stella de Oro," USDA zones 3 through 10) and its offspring "Happy Returns" daylily (Hemerocallis "Happy Returns," USDA zones 3 through 9) provide repeat blooms from late spring to early autumn in golden-yellow and lemon-yellow respectively. Like all daylily flowers, each bloom lasts just one day, but abundant buds-in-waiting on both these daylilies open right on cue. The arching, blade-like leaves form fountainlike mounds 12 to 18 inches tall.
Threadleaf tickseeds "Moonbeam" (Coreopsis verticillata "Moonbeam," USDA zones 4 through 8) and "Zagreb" (Coreopsis verticillata "Zagreb," USDA zones 3 through 9) offer masses of daisylike yellow blossoms from late spring until frost. Creamy yellow flowers on "Moonbeam" and bright yellow blooms on the compact "Zagreb" blend effortlessly with other perennials. Standing 12 to 24 inches tall, the plants' fine, threadlike leaves add delicate elegance.
Mid-Border Beauties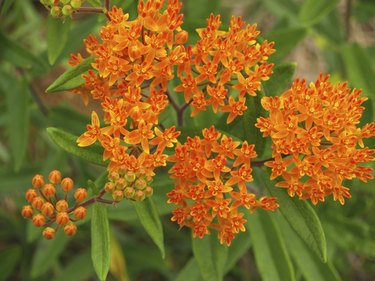 Big, violet-blue blossoms are always welcome, especially when they run from spring to fall. "Rozanne" cranesbill (Geranium "Rozanne," USDA zones 5 through 8) grows up to 2 feet high and 3 feet wide, as it fills whatever spot it's given. Striking violet-blue blooms crown a mound of deep-green leaves with hints of chartreuse. Cool autumn temperatures turn leaves scarlet red.
"Goldsturm" black-eyed Susan (Rudbeckia fulgida var. sullivantii "Goldsturm," USDA zones 3 through 9) evokes memories of wildflower meadows. Golden-yellow blooms extend from early to mid-summer into fall on plants 24 to 36 inches tall. Left standing into winter atop blackened stems, the black seed heads that were Susan's eyes treat hungry birds to winter snacks.
Brilliant-orange blooms of butterfly weed (Asclepias tuberosa, USDA zones 3 through 9) don't show up until late spring or early summer; the plant takes its time emerging. But after flowers arrive, the vibrant blossoms linger into fall. Monarch butterflies come with the territory for this long-blooming perennial, a food source for adult monarchs and their caterpillars.
Stately Backdrops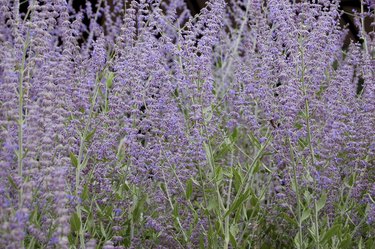 At up to 4 feet tall and wide, the crimson cloud of "Firetail" mountain fleece (Persicaria amplexicaulis "Firetail," USDA zones 4 through 7) anchors rear-border spots. The plant bears large, intriguing leaves and masses of 6-inch, bottlebrush-like, red blooms from early spring until frost.
Tall, sturdy "Magnus" purple coneflower (Echinacea purpurea "Magnus," USDA zones 3 through 8) delivers flower heads of intense purple-pink with rusty-bronze cones. Reaching 3 to 4 feet tall, the plant's long-lasting blooms continue from early summer until fall and seeds delight birds long after petals fall.
Back-of-the-border stalwart Russian sage (Perovskia atriplicifolia, USDA 3 through 8) forms a lavender-blue floral wall from early summer into autumn. At 4 feet tall or taller, the silvery stems carry fragrant, silver-green leaves, and flower spikes dry beautifully for bouquets. Leave Russian sage standing at season's end for wintry, off-season beauty.
Bloom-Extending Culture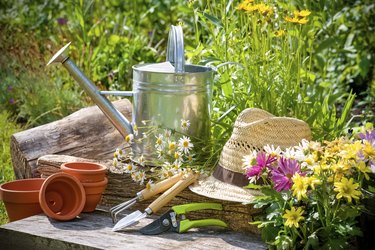 Proper care helps long-blooming perennials deliver on their natural promise. Always choose plants suited to your USDA growing zones, and provide the conditions and care your perennials need.
Most blooming perennials flower best in well-draining soil and full-sun locations that receive at least six to eight hours of direct sun each day. Sunlight fuels flower blossoms, but in hot climates, filtered shade keeps colors from fading. Find the balance your plants and climate require. Left intact, wilted flowers signal perennials to stop blooming and set seeds instead. Remove spent flowers regularly to keep blooms coming.
Avoid high-nitrogen fertilizers, including lawn fertilizer, near your long-flowering perennials. High nitrogen encourages green, leafy growth at the expense of blooms. Some mature perennials become overcrowded after approximately three years, and flowers become smaller and fewer. Dividing and transplanting restores normal blooms.