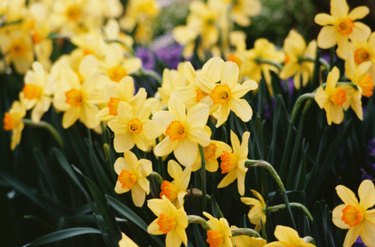 Daffodils (Narcissus pseudonarcissus, USDA plant hardiness zones 3 through 8 for winter-hardy plants) are beautiful springtime flowers, but they can take up to six years before flowering when grown from seed. Some may bloom earlier than others, but you can still enjoy them at any of the stages of the daffodil's growth. By planting different types of daffodils in the same garden, you can enjoy new blooms throughout the entire season once they've come to maturity.
A daffodil is a perennial fall-planted bulb that blooms in late winter or early spring. These plants die back and are trimmed at the base every year after allowing the leaves to gather energy for sprouting in the spring, although you should not cut the leaves until after they have turned yellow.
You can even grow your daffodil from seed if you're patient enough or trying to develop your own cultivar. There are several steps of cross-breeding and growing daffodils from seed, starting with how to manually pollinate across different flowers and continuing as you nurture and replant the growing bulb over the course of several years.
The first year after planting, you will only see a single leaf blade, gathering energy from the sun to grow larger. Each successive year, you should see more leaves, and by the sixth year, you should see an emerging stem and your first flower.
As the plant matures, it may produce a "sister" bulb, which is essentially a clone of the originating plant. This results in small clusters of daffodils around the originally planted bulb, which can be an easy way to fill a space under bushes and along walkways without worrying that they will escape containment. Daffodils can propagate without pollination, as selective breeding has resulted in the flower losing the ability to attract pollinators with sweet nectar.
Planting Different Types of Daffodils
The flowering portion of a daffodil can last from six weeks to six months depending on the variety, which means careful planning can ensure that your garden is in bloom from early spring to late fall. There are several cultivars that you can layer or alternate throughout your garden and throughout the seasons to ensure blooms and color at more times. By selecting early spring bloomers, such as February Gold (Narcissus 'February Gold,' zones 4-8) or Avalanche (Narcissus 'Avalanche,' zones 3-9), you will get that bright pop of color and life, sometimes while there is still snow on the ground.
Late bloomers, such as the Thalia (Narcissus 'Thalia,' zones 3-8) or Flower Record (Narcissus 'Flower Record," zones 3-9) will lend their gentle grace and sturdy blossoms as the mounting heat of summer causes your earlier flowers to wilt. There are a wide variety of long-lasting blossoms, guiding the exploratory gardener through the best positions in the garden, soil types and primary showing season.
In all, daffodils are relatively easy to grow and care for provided that you live in the proper plant hardiness zone. If you want to experiment with cultivating new types of daffodils, it is surprisingly straightforward and rewarding, though it does require patience, particularly if you will be growing them from seed.