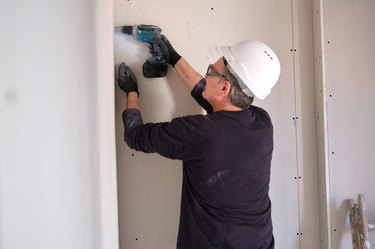 Home improvement projects are excellent ways to spend your time. They add value to your house while making it feel more like a home for you and your family. However, it can become stressful quickly if you don't know what you're doing. With these types of projects, even the most minor detail matters, including the types of screws you use to hang everything, from artwork to shelving. Learning the difference between the two types of drywall screws, fine thread and coarse thread, can help you understand when to use each. Fine-thread screws work better with metal studs, and coarse-thread screws work better with wood studs.
Drywall screws are fairly self-explanatory. They are screws that you drill into drywall to hang or attach any number of things, including pictures, hooks, shelves, decorations, lighting fixtures and even small appliances, like smoke alarms. Drywall screws differ from other types of screws because they're engineered to hold on to drywall specifically. That way, they won't fall and damage the wall when they hold weight. The threads are the main feature of the screw that allow it to perform this essential function.
Screw threads are helical structures that look like ridges that run down the long part of the screw. They are the part that gets inserted into whatever you're fastening, attaching or connecting. It's crucial to use drywall screws whenever you are drilling into drywall. However, it also matters which type you use. The two primary types of drywall screws are fine thread, also called S-type, and coarse thread, also called W-type.
Fine-Thread Drywall Screws
Telling these two similar types of equipment apart is simple. The threads on coarse screws will be further apart, while those on fine-thread screws are closer together. In addition, the point on fine-thread screws will be sharper because they are designed to drill into metal.
Fine-thread drywall screws, or S-type drywall screws, are best used if you have metal studs. Studs are vertical two-by-four beams that support the entire frame of your home and are critical in keeping it standing. If you have ever seen a new house in the early stages of construction, the studs are the parts that look like the skeleton of the home. These studs are typically either metal or wood.
Especially if you're hanging something heavy, it's essential to screw into a stud behind the drywall. The stud helps support the item's weight and anchors it to the wall, preventing it from falling and causing damage.
Coarse-Thread Drywall Screws
As you can imagine, it's not always easy to drill into metal, which is why you need the right kind of screw. Coarse-thread screws will chew through the metal and won't attach properly. On the other hand, fine threading allows the screw to self-thread, which is more appropriate for metal.
In contrast to fine-thread drywall screws, you should use coarse-thread drywall screws to drill into wood studs. The coarseness of the threads grabs onto the wood studs more efficiently and pulls the drywall toward the stud, tightening everything together for a firm hold.
If you don't know what kind of studs you have, there are a couple of ways to find out. The first is by using a magnet. The wall will attract the magnet if your studs are made from steel or another metal. Remember that screws and nails in wood studs may also attract a magnet, though not as strongly. Alternatively, you can purchase an electric stud finder that will tell you what you have behind your drywall.