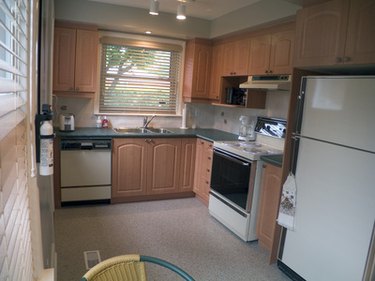 Mineral spirits is a petroleum-based solvent and was previously known as "paint thinner," according to "Popular Woodworking Magazine" As a solvent, it has a harsh nature that strips wax and oil-based finishes from wood. While the product removes dust and other debris, used alone, it may not be the best choice for cleaning kitchen cabinet doors.
Using Mineral Spirits
Use mineral spirits only if you're cleaning before refinishing. Apply the mineral spirits to the cabinet doors with a soft cloth and rub into all the cracks and crevices. Wash the mineral spirits away with gentle soap and water. Do not use detergent as it may leave a film on your finish, according to the National Parks Service's Division of Conservation.
Prevention
Combine one part linseed oil to three parts mineral spirits and use this on your cabinet doors. The linseed oil makes the mixture less harsh, but still removes the wax and polish from the doors.
Alternatives
Instead of mineral spirits, clean the kitchen cabinets with wood soap, like Murphy's Oil Soap or a similar product. Not only does it remove dirt and dust from your cabinets, but it also protects the wood.