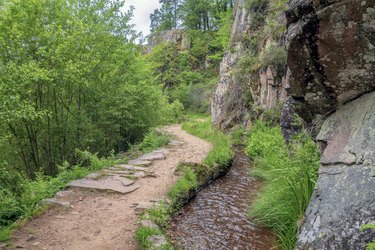 French drains are gravel-filled trenches with a perforated or slotted pipe that redirects surface or groundwater away from a home's foundation, keeping basements dry and free of flooding. When thinking of installing a French drain, it's crucial to ask yourself, "Do I need a permit to install a French drain?"
How to Construct a French Drain
When beginning the project, you may ask, "What do you need for a French drain?" Fortunately, construction only requires a shovel, stakes, gravel, perforated pipe and landscape fabric. The first step to learning how to construct a French drain is determining the location. When deciding on the best location, one must consider the problem areas, elevation and soil condition to ensure the drain will have the proper slope and depth.
Once settled on a location, begin digging preparations by contacting the local utility company to identify underground lines. Determine your city's building codes regarding French drains and drainage systems and ensure the new drain won't affect surrounding neighbors. Mark the trench dimensions with stakes and tie a taut string between them to help with grade measurements. Dig the trench, constantly making grade measurements throughout the process. Once you have finished digging, line the trench with landscape fabric and a light covering of gravel to hold the fabric in place.
Add a slotted or perforated pipe at the bottom of the trench, making sure it's directed towards an outlet away from the home. Finally, cover the pipe with more gravel and then another layer of landscape fabric and topsoil.
Permit Requirements for French Drains
Before you begin installing a French drain, be sure to ask yourself, "Do I need a permit to install a French drain?" The answer will vary by state and possibly county, though that will always depend on your location. Checking your local government's policies on installing French drains, also known as perimeter drains, will save you the headache of having to pause installation if you proceed without one.
It is vital to realize that while the state might not have codes or permit requirements for French drains, counties and cities may have their own requirements. Variation from state codes often occurs when the city includes protected land and wildlife that can be affected by residential construction. Many factors influence a local government's codes and permit policies, so you must verify permit requirements with your city.
Examples of Requirements for French Drains
In New Jersey, there are no permit requirements for installing a French drain regardless of whether you're looking at the state or county level. According to the New Jersey Uniform Construction Code regulations, there are no code requirements for a French drain installed inside the basement wall, meaning there is no need to obtain a building permit. However, a permit is required to install French drains in a home with an existing radon system regardless of whether that system is active or passive.
While Oklahoma state may have requirements surrounding residential drainage systems, Choctaw, Oklahoma requires a permit for French drains. According to Choctaw's government site, a permit for French drains must be filled out and submitted before construction can begin, provided the application is approved.
While the permit application process can vary, most will follow a similar approval process. Once an application is submitted, it undergoes review by government staff to determine whether the plans comply with city codes. If it complies, fees will be applied, and on-site inspections will be required throughout the construction process.