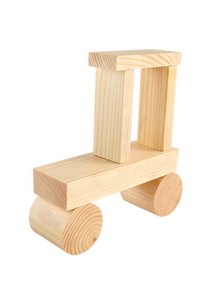 Wooden teething toys can be a safe and environmentally friendly option for infants. When picking or making wooden toys, the use of oils will seal the wood, protecting the wood from damage and coating it to prevent sharp ends or splinters. However, not all oils are safe for use on toys they gum on with their mouths.
Linseed Oil
Linseed oil is made from flax seeds and permeates wood well. It has a slightly yellow tint but will still show the grain of the wood. Choose only pure linseed oil, as boiled linseed oil uses preservatives and may not be safe for children.
Tung Oil
When choosing pure tung oil, mix with a citrus solvent for the best results when drying, as tung oil itself may take days to dry. Both tung oil and citrus solvent should only be used in their pure forms for teething toys so that they are non-toxic. Check labels carefully to ensure neither the oil nor the solvent contains turpentine or any other chemicals.
Flaxseed Oil
Organic flaxseed oil is often used as a herbal remedy and is a good choice for wooden teething toys. Always check to ensure the flaxseed oil is the only ingredient. Flaxseed oil is non-toxic and should be purchased in dark bottles to preserve quality.
Nut Oil
Nut oils such as walnut or almond oil leave a glossy finish and a pleasant scent. However, be careful when using nut oils as these can be potential allergens for many children. Offer toys with nut oil finishes only to children who have shown no signs of nut allergies.
Considerations
When choosing oil for use on wooden teething toys, it is best to pick natural oils in pure form and read labels carefully. The label should read non-toxic and oils that are food-grade may ensure extra safety as a teething toy. Allow the oils to cure completely on the toy, following directions on the label.