Whenever choosing an area rug, select one that fits the seating area in a shape that suits the room design. Rug retailers provide charts that show recommended sizes for various rooms and uses.
Room Size
The larger the rug, the larger the room appears. Measure your room. For 2 feet of hardwood floor showing in a 20-by-20-foot room, the maximum rug size would be 18-by-18. If you'd like a border of floor around the rug, subtract that from the measurement.
Small Rooms
For a small room, select the largest rug that will fit. Smaller rugs tend to cut up the space, and can define living areas in large rooms.
Seating Area
With a 48-inch table, add at least 40 inches to the rug size to accommodate the chairs in the pulled-out position. Select an 8-foot round, 8-by-8 square, or 8-by-10 or larger rectangle.
Placement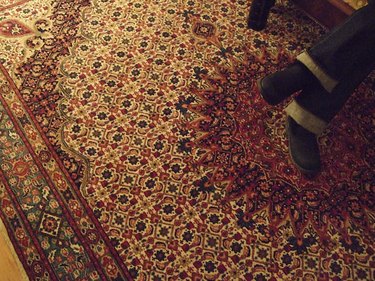 For a round rug under a round table, place the table in the center. With a square or rectangular rug in a large room, center or off-set the table to fit the room.
Wear Patterns
Prevent undue wear by placing the rug so it's not in the kitchen path. Otherwise, rotate the rug to prevent excessive wear.