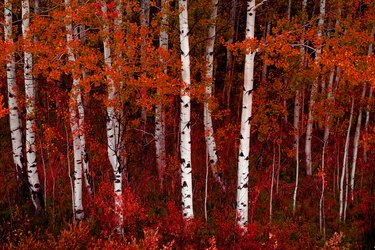 Where do aspens grow? They are the most widely distributed species of trees in all of North America; they grow in Alaska and Canada and all way the down to Mexico. Though they share their name with the famous Colorado city, aspen trees (Populus tremuloides, USDA hardiness zones 2 to 8) can thrive in other parts of the United States. These trees can do well in various climatic conditions, but they require high-elevation mountains.
Aspen forests in Colorado cover five million acres, which is 20 percent of the state's forests. They are also called quaking aspen and are the state's only widespread, deciduous and native tree. They grow in places like the West Slope, which has areas from 6,500 feet to 11,500 feet of elevation. These trees can reach 35 to 50 feet in height and do best on sandy, gravelly slopes with well-drained soil. Colorado aspen trees have greenish-white, smooth bark, but the base of the tree may appear thicker and grayish in color if the tree is very large.
When you look at the bark of a Colorado aspen tree, you'll see raised dark patches. The leaves are dull green towards the bottom of the trees and brighter green on the top, with broad, rounded, pointed-tipped leaves. These are usually 1 to 3 inches wide and flat, with saw-toothed edges. They also bear catkins, which are cylindrical flower clusters that don't have petals but contain six to eight cotton-like, tiny seeds.
How to Plant Aspen Trees in Colorado
Most aspen trees available for sale in Colorado are collected in the wild, retaining little in the way of root systems. They can survive in urban areas and do better when planted on the north and east sides of a building to protect them from too much sun and other elements. Plant aspens in the spring to allow the roots enough time to get established before cold weather arrives. If the soil has an overall high clay content, build up a berm (a wall of earth or a mound) of sandy loam about 18 to 24 inches high, as the aspen requires well-draining soil. This soil will also need to be mulched before planting.
Dig a hole two times as wide as the root ball, lowering the sapling in carefully. Backfill it with the mulched soil, which should help retain moisture. Water the young tree daily for its first six months until established; then water it every other day during the summer. Water less often in the autumn and winter and only when temperatures reach 45 degrees Fahrenheit and above.
How Long Do Aspen Trees Live?
A well-cared-for aspen tree can live in urban areas for as long as 25 years. In their natural environments, these trees average about 50 to 60 years, but some longer-lived trees in the West have been known to live 150 years. This kind of longevity can occur when individual trees are part of more extensive root systems connected to other trees. When one dies in these conditions, it is soon replaced by new growth. As a result, these large masses of tree clones can live for 10,000 years or more.
Aspen trees in Michigan can be found in the Upper Peninsula and lower part of the state, and live alongside white and red pine, maple, pin cherry, white birch and balsam fir. The majority of aspen trees in this area are also the quaking variety, but big-toothed aspen (Populus grandidentata, USDA hardiness zones 2b to 6a) are also widespread. This cousin to the quaking aspens can grow on lower elevations of 500 to 2,000 feet, and prefers plenty of sun and sandy soils.