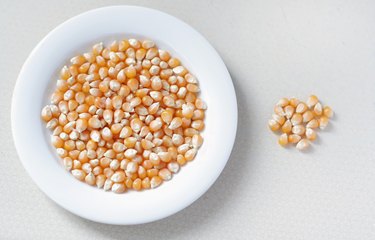 Most of the crunchy, salty, crave-worthy snacks in your kitchen cupboards are made through complicated industrial processes that aren't really an option for home cooks. The exception is popcorn, a simple and natural snack that needs nothing more than a pot with a lid. Like any whole grain, popcorn has a long but not unlimited shelf life.
Shelf Life of Regular Popcorn
Ordinary popcorn, the kind you pop conventionally, is a hard grain that doesn't require a whole lot of pampering. Unless you're buying it in commercial quantities, there's not much chance of it spoiling. A factory-sealed bag or jar of kernels can last years in a kitchen cupboard as long as it's not opened or punctured. As it gets older, you might find a few more unpopped kernels in the bottom of your pot, but the rest will still be fine to eat.
Once the popcorn is opened, you'll still have a couple of years to use it in most climates. If you're in an especially hot and humid environment, the best way to store unpopped popcorn is in an airtight jar or container, ideally in a cool cellar. Vacuum sealing the kernels in a bag or sealer jar works well too.
You can also freeze popcorn kernels if you're in a difficult climate, but you'll need to seal them really, really well. Otherwise, the freezer can dehydrate the kernels, and they won't pop.
Shelf Life of Microwave Popcorn
Microwave popcorn is a bit trickier for which to plan because each brand is packed with its own mixture of flavoring ingredients, oils and preservatives. The "best before" date on the package tells you how long the manufacturer expects the product to keep its best flavor, and that's usually a conservative guess. In practice, you can probably enjoy a pretty good bowl of popcorn for six to eight months after that date.
Eating Expired Popcorn
It's important to remember that the date on your popcorn is all about quality, not food safety. It doesn't expire as such – it just might not taste as good. With regular popcorn, using it after the best before date usually just means you're looking at the possibility of a few more unpopped kernels. If you see mold or signs that the popcorn has been contaminated, that's a whole other story, and you should discard it.
Microwave popcorn that is past its "best before" date can begin to develop "off" flavors, especially if the oils and flavorings in the package start getting rancid. If you start to pop it and find that it smells unpleasant, just throw it away and discard any other packages from that batch as well. If you had your heart set on popcorn, hopefully there are some regular kernels hiding in the back of your cupboard.
Really Long-Term Storage
If you have the opportunity to buy a huge quantity of popcorn for an excellent price, or if you like to keep a few years' worth of food tucked away in your basement for serious emergencies, then popcorn is definitely the snack food for you. The best way to store unpopped popcorn over the really long term is in Mylar bags, which are tougher than regular vacuum bags and protect against light.
Portion your kernels into individual Mylar bags, and then add an oxygen-absorption pack to each one. Squeeze the air out and seal the bag, and then – for added protection from rodents and other hazards – pack the bags themselves into food-grade plastic buckets with tight-fitting lids. Prepared this way, your popcorn will stay fresh and usable for decades.