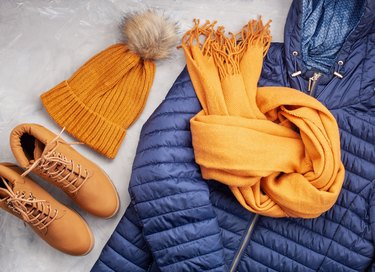 Like eating their broccoli and brushing their teeth, wearing a scarf is one of those things that kids only do because they are forced to do so by adults. It is a lot easier to get a child to keep a scarf on in bad weather if the scarf is actually comfortable and not intrusive. Making that happen is all about getting the measurements right and choosing the right materials for the job.
The Right Child Scarf Length
Knitters and crafters say that a good rule of thumb for determining scarf length is to use the wearer's height. So, for a child who is 33 inches tall, an appropriate child scarf length would also be about 33 inches. That may end up being too short or too long for some kids, so finding the right child scarf length could require the assistance of the intended wearer.
Ideally, you will use an existing scarf as a measuring guide, seeing whether the child prefers to wrap the scarf around the neck once or twice. If that's not possible, use the child's height as a guide. If you don't have the child's height, aim for 36 inches since it is long enough to fit around any child's neck and not long enough to be a tripping hazard.
The Right Toddler Scarf Length
Finding the right toddler scarf length may be done the same way by basing the length on the child's height. Keep in mind, however, that it can be really tricky to convince a toddler to keep a scarf on.
Some parents find that their toddlers are happiest in an infinity scarf, in which the ends of the scarf are sewn together. In this case, determining the right length depends on whether the scarf is designed to be looped once or twice around the neck. The loop must be big enough and/or stretchy enough to comfortably fit over the child's head. For a single loop, a 20-inch piece of stretchy material may be long enough.
The Right Child Scarf Width
A scarf that is too wide may inhibit a child's ability to breathe or make the child too hot while wearing it. For the most comfortable fit around a child's neck, between 3 and 6 inches is generally an appropriate width. Stick with 5 inches if you are not sure what the child would prefer.
Tips to Keep in Mind
For kids, a scarf really has to be functional. Adults tend to rush out of the rain or snow, but kids may go out at recess or play outdoors during cold weather. Choose the scarf material with the expectation that the wearer may roll around in snow or play in the rain while wearing it.
While lovely, knitted or crocheted woolen scarves get heavy when wet and stay wet for a long time. Plus, wool can be itchy, and kids who find their scarves irritating won't keep them on. Fleece is the ideal material for this purpose. It is soft, easy to clean and easy to cut, and it is water-resistant.
Also, keep in mind that kids' snow gear tends to be bulky. In cold weather, a child may wear a puffy coat with an attached hood under a scarf. All that fabric makes things fit differently. It may be helpful to add a few inches of length to a child's scarf if you expect that it will often be worn over a snowsuit.