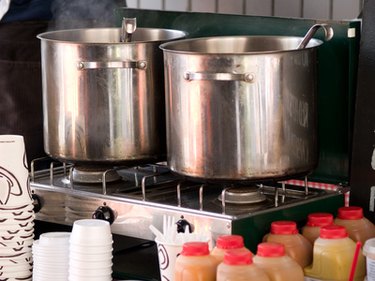 Average height
Most wall-mounted pot fillers are between 20 inches and 24 inches above the stove burner.
Design Factors
There is no set standard mounting height of wall mounted pot-fillers. Mounting height is affected by type of faucet, height of stove, height of pots and height of user.
Bottom Line
Mount the pot filler at a height that is comfortable. There are two heights to consider: the height of the spout and the height of the neck attached to the wall or deck. Every kitchen is different and planned around different needs. Consider every situation. Measure the height of pots on top of the stove to have a general idea of how high the spout should be. Also consider where the faucet will be placed on the wall. Make sure it will not impede any cabinets or decorative backsplash.