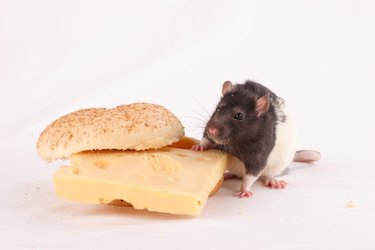 Whether you are an avid home gardener or a professional landscaper, you understand the value of effective pest control and fertilization. With so many commercial options available today it's important to have a basic understanding of insecticides, pesticides and fertilizers before deciding which product is best for you.
Insecticides
Insecticides are agents that assist in the control of unwanted insects. Insecticides work by either killing insects or simply preventing them from continuing their damaging behaviors. Insecticides can be chemical or organic in composition. There are general-use insecticide formulas for dealing with multiple types of insects as well as products that target a specific insect pest such as gypsy moth traps.
Pesticides
According to the University of Minnesota's website, historians have been able to trace the use of pesticides to around 1000 B.C. Pesticides refer to any pest-controlling agent that is effective against specific insects, rodents and even some microbial pests such as fungi. Professional pest control is performed by a licensed technician and may be the best recourse in cases of a wide-spread and persistent infestation.
Chemical Fertilizers
Chemical, or inorganic, fertilizers are also widely available in a variety of commercial formulas and can be purchased at most home or garden stores. Chemical fertilizers contain within their label formulaic information that can be important when choosing which product is best for your plant. The analysis is displayed as three numbers that represent the relative weight or volume of each of the three major macronutrients: nitrogen, phosphorous and potassium. For example, a package that reads 8-15-8 contains 8 percent nitrogen, 15 percent phosphorous and 8 percent potassium. The remaining material in the package contains micronutrients as well as filler material that aids in the even distribution of the chemical fertilizer.
Considerations
Insecticides, pesticides and chemical fertilizers can all play an important role in the well being of any garden or crop. Together these three provide protection for the plants as well as nutrient supplements. Care should be taken in selecting which of each product to use and how often. For example, a general pesticide or insecticide may take care of an aphid infestation while also killing bees, spiders or other helpful insects. Keeping plants at optimal health by using the right fertilizer and watering schedule can help prevent a pest infestation and subsequent need for chemical treatment.
Safety
As with any chemical product, use insecticides, pesticides and chemical fertilizers with caution around pets and children. Keep all containers out of reach of children and explain to them the danger of handling those products. Carefully follow the manufacturer's instructions and always thoroughly wash your hands after handling or applying these products. Research the advantages and disadvantages of each product before making a final decision so that you are well informed and can more accurately weigh the potential hazards against the expected benefits for each.