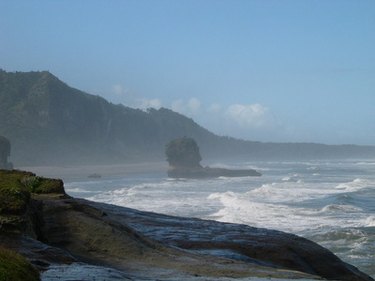 One of the largest trees in the world, the kauri tree is New Zealands' most famous native tree and ranks third in the world in size after the sequoiadendron and the sequoia. Considered a low-risk for extinction but highly deforested by New Zealands' logging industry, the kauri tree is found on the North Island in short supply, with some as old as 1,000 years of age.
Features
The kauri tree, or Agathis australis, is also commonly known as the New Zealand kauri because it is native to the area. Reaching heights of approximately 98 to 164 feet and trunk diameters of 3 to 13 feet, the kauri tree has a cylindrical, ash-gray, blue-gray or mottled-purple trunk that sheds in flakes. Leaves are green, on branches that stem from the trunk in whorls or horizontal branches. The most notable feature of the kauri is its spreading, immense crown, which grows out of the top of the tree's trunk.
Geography and Fossils
Kauri trees are native to New Zealand's North Island areas of Northland and Coromandel Peninsula. Other trees in the area found along with the kauri include totara, Hall's totara, rimu and miro, which all grow in mountain elevations of approximately 492 to 1,312 feet. Fossil specimens of kauri trees have been found in North Island's peat swamps, which shows that they have been on the planet since the Pleistocene and Holocene eras, according to the Gymnosperm Database.
Conservation
Currently listed with a "lower risk" conservation status, the kauri tree was once victim to New Zealand's logging industry, which deforested many of the trees for their lumber. Fossils of the kauri tree also show that the population may have been reduced due to glacier interference.
The Largest Kauri
According to Conifers.org, the most famous kauri tree is Tane Mahuta, which is Maori for "Lord of the Forest." Located in Waipoua Forest Sanctuary, Tane Mahuta is the largest kauri tree on record, with a 2001 measurement of 148 feet in height and a crown width of 114 feet.
The Oldest Kauri
The oldest living kauri tree is located in the waipoua Forest and is called Te Matua Ngahere, or "Father of the Forest." While there is no real evidence, the tree is claimed to be 2,000 years old. The oldest kauri tree specimen on record, according to the website Conifers.org, is located at the Kauri Museum and measures approximately 800 rings.