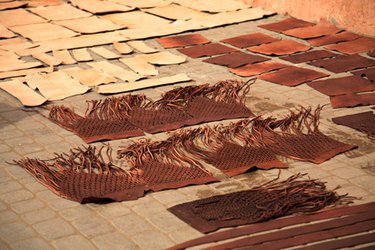 Leather, the tanned hide of an animal, contains wide variations in quality and thickness. To make the finished leather more useful, leather processors employ finishing techniques that result in a selection of products for the leather crafter's application. How a piece of leather is handled determines its suitability for a particular end use. Read the description of leather in a product to ascertain the processing method used.
Definition
Split cowhide comes from the underlying layer of a cow's skin. By running the wet hide through a splitter, the tanner yields two or more "splits" of leather, depending on initial thickness of the hide. The top section, containing the outer layer of the skin, displays the grain resulting from the animal's species and life experiences. Surface scars show on the outer layer. The under layer or layers, labeled split cowhide, may show scars only from deeper injuries.
Significance
Split cowhide leather provides an attractive finished product at a lower cost than the top or grain layer of the hide. The consistent surface of split leather offers a suitable place to burn or paint decorative patterns for the end product, since only the deepest scars will penetrate to the split.
Considerations
Purchase split cowhide leather by the ounce, given as a range to allow for the natural variance in depth of the hide. "One ounce equals 1/64th of an inch thickness. Thus, a weight of 7 to 8 oz. means the leather is 7/64th to 8/64th of an inch thickness," according to Tandy Leather Company. Convert requirements for patterns intended for fabric construction to leather measurements using Tandy's guidelines.
Function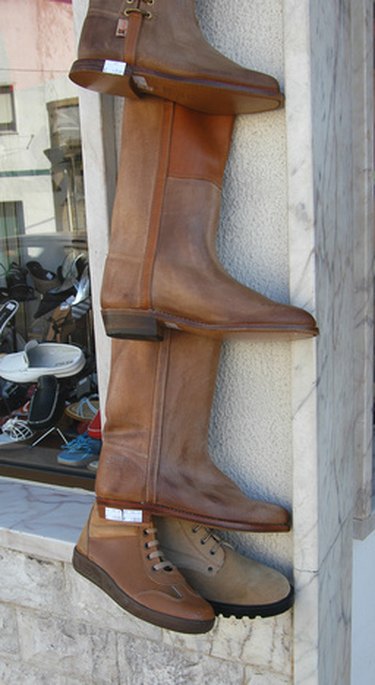 Look for split cowhide leather on belts, boots and garments as well as purses and wallets. Western-style boots employ split cowhide for supple uppers, which are durable while remaining less expensive than full-grain leather. Suede results from splits that have been sanded to produce a velvet-like texture.
Potential
"Versatility" describes the potential for split cowhide leather. Available in a wide array of colors, splits offer designer possibilities within reasonable price ranges. Stamping, embossing and dying techniques enable cowhide to mock many other sources so well that the Federal Trade Commission requires accurate labeling of leather content and source on leather products.
Expert Insight
Choose full grain rather than split cowhide leather for leather tooling projects. According to Tandy Leather Company, only the full grain product, tanned using a vegetable tanning process, will properly absorb moisture and provide a suitable tooling surface.