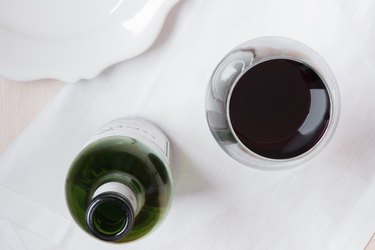 Some experts say that drinking a daily glass of wine can help stave off certain diseases. Certain types of wine contain properties that are thought to help protect against some cancers and improve heart and mental health. But if you're drinking that glass of wine for a health boost or because you simply love the taste, your choice of vintage and type are wide-reaching and sometimes a little confusing.
However, with a few tips, you can peruse the wine aisle like a pro. And, like most things, it's really a matter of taste. So, focus less on what the experts say or the price on the bottle and more on what you like.
1. White Wines
The most popular varieties of white wine are riesling, chardonnay, pinot grigio, chenin blanc, sauvignon blanc and moscato. Their flavor profiles range from sweet to dry, and they can be acidic. Their light flavors can be enjoyed chilled and straight from the glass or as part of a punch or sangria. If using a white wine for cooking, pick one that is dry instead of one with notes of oak or butter because these flavors could interfere with the flavor of the food.
Riesling is a single grape varietal native to the Rhine region of Germany. Its taste is often described as delicate with a flowery bouquet and a bit of a spicy yet fruity zing on the back end. It's usually a little lower in alcohol, and its flavor ranges from dry to sweet. In addition to the German version, which is medium-bodied and delicate, California winemakers also produce high-quality varieties as well. It's also grown in Washington state and Australia.

Its bright taste pairs well with a white and meaty fish such as snapper or haddock served with a citrus-based sauce. Riesling is also a good choice when making white wine sangria.* Chardonnay is a sophisticated wine that shares one of the grapes used to produce Champagne and white Burgundy. This dry, complex wine is produced in hundreds of American wineries and boasts a creamy, buttery and oaky taste. Its fruit descriptors are lemon, melon, apple and pineapple. If you plan to use it for cooking, choose an "un-oaked" varietal, so it doesn't interfere with the taste of the food.

The typical chardonnay has an oaky taste that allows it to pair well with a hearty salad topped with an oily fish such as salmon or shrimp. Complement it with a mustard-based dressing.* Pinot grigio/gris is originally produced from a grape that's native to France, where it's referred to as pinot gris, and across the border in Italy, it's called pinot grigio. The Italian version tends to be light and crisp with notes of spice and stone fruit, while the French pinot is more full-bodied and rich.

When serving pinot grigio with food, choose something light and delicate such as sole. If you opt for pinot gris, it works well with hearty items like veal chops or stews. Since it possesses a neutral profile, it's a good choice for recipes that call for white wine as it won't overpower the dish.* Chenin blanc is a versatile white grape commonly produced in the Loire Valley of France. It can be dry, off-dry, sparkling or a sweet dessert wine. Expect a floral aroma with lots of acidity from its flavors of apple and pear.

It works well with chicken, shellfish or pork, and it pairs equally well with apple- or pear-based desserts.* Sauvignon blanc is a herbaceous wine produced in France, California, Italy, Australia, Chile and New Zealand. Its fresh, bright flavors are grounded in the aromas of passion fruit and ripe grapefruit.

Its high acid profile balances the taste of sushi, green vegetables, briny sauces and cheese, especially those made with goat's milk. It also works well as an aperitif.* Moscato is made from the muscat grape, which gives it hues that range in shades from white to black. The grapes are sweet and musky, and they're often made into still, sparkling, sweet and fortified wines. It comes in a semi-sparkling variety as well as a sparkling version.
2. Red Wines
In the types of red wine category, cabernet sauvignon, pinot noir, merlot and syrah are at the top of most lists. Their flavors range from sweet to complex to very dry. Although many enthusiasts believe that red wine should be served at room temperature, others like it slightly chilled. But, as with many things, personal choice is the driver, so drink your red at the temperature you like best. Reds also are good to add to stews, fatty fish and heavy sauces while cooking.
Cabernet sauvignon is the most popular and successful of all the red wines. The grapes are native to the Bordeaux wine region of France, and they boast an obvious tannic content while also tasting red and black fruit forward. The varieties crafted in wineries in California and Australia typically have profiles heavy with notes of dark berries, black currant and spices with moderate acidity.

Because of cabernet's high tannin level, it can be easily paired with poultry, burgers, steaks or lamb chops. It also works well with sharp cheeses such as aged cheddar, blue cheese, Asiago and Gouda.* Pinot noir use the same grapes as those that produce French red Burgundies, and they are an important component in the creation of Champagne and sparkling wines. It's typically dry with flavors that include strawberry, spice, raspberry and cedar shavings.

Due to its bright acidity and fruit notes, it pairs well with salmon, dried fruit or duck breast.* Merlots tend to have a fruity aroma highlighted by herbaceous spicy notes. It's said that Bordeaux, France, particularly the right bank area of Saint-Émilion and Pomerol, is where the best merlots in the world originate. Merlot grapes are also grown in Italy, Chile, California and Washington state.

Merlots pair well with tenderloin, lamb, pates, charcuterie, pork or veal roasts.* Syrah/shiraz is referred to as shiraz when it's produced in Australia and syrah when it's made in France. In the United States, you can find it under either moniker.
3. Sparkling Wines
Sparkling wines are a type of wine associated with celebrations, such as birthdays, weddings and New Year's Eve. From Champagne, cava, prosecco and pét-nat, these are the fizzies you uncork for a party.
Champagne is made in several countries, and most are called sparkling wines except for true Champagne, which comes from the French region that shares the name. It has light and crisp flavors of citrus and pear and ranges from very dry to really sweet. It's blended from different percentages of pinot noir, chardonnay and pinot meunier grapes.

Champagne can stand alone and doesn't have to be paired with anything, but it also goes well with many dishes. To indulge your Rockefeller fantasies, pair a brut sparkling bubbly with oysters, or indulge in a mimosa at brunch and enjoy it with a quiche or smoked salmon.* Cava is crafted much the same way as Champagne except Spanish grapes are used in it rather than grapes from France. Containing hints of apples and lime, it tastes more earthy than Champagne. It's usually dry, much like that of a non-vintage Champagne.

Pair cava with dishes that are more tart such as Key lime pie and lemon-glazed foods to provide balance.* Prosecco is versatile and quite accessible. It bursts with flowery aromas and emits flavors of peaches, pears and green apples. It's made from glera grapes from select regions of northern Italy. It's light bodied and can be found in sparkling or semi-sparkling versions ranging from brut, extra and dry. You can also find a sweeter version, depending on the region and winery.

While it's often considered a before-dinner drink, prosecco also goes well with main courses such as pizzas, pasta or seafood.* Pét-nat, or pétillant naturel, which means "naturally sparkling," is lightweight and fizzy. It's produced by still-fermenting white and red grapes, while other sparkling wines are crafted with "finished" wines that have added sugar and yeast. Conversely, pét-nat is considered unfinished and has half the pressure of Champagne. Its floral and fruity flavor comes from the malvasia bianca grape but though fruity it can be very dry.
4. Rose
Rose wines are produced from red grapes, but the skin and the stems are removed two to three days within the process of making it. This contact, though brief, allows the wine to take on some of the colors from the grapes, which is what gives it a pink hue that can run from light to dark. Roses tend to be lightweight, and some are bone dry, while others have a slightly sweet taste.