Canvas awnings are difficult to paint because of the preparation and weather conditions involved. The canvas must be thoroughly cleaned and stretched before painting--some painters use special films to make the canvas bond with the paint more easily. Painting, whether with acrylics or fabric paints, should be done very carefully, and the canvas should be left alone for a day to dry. In addition to the paints, there are a number of seals that can be applied to waterproof and protect the new layer of color.
Features of Canvas Awnings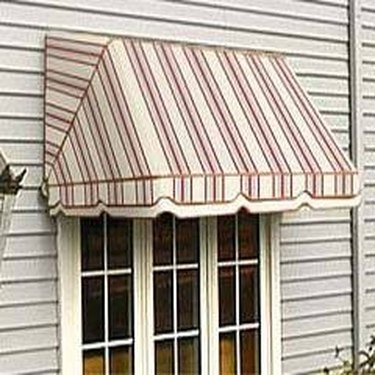 Canvas awnings are generally preferred to metal or other fabric options because of their affordability. Canvas is durable, lasts longer than most other optional fabrics, and can be replaced more easily than other types of awnings. You can also choose from a wide variety of patterns or designs of canvas, though it should be noted that these designs need to be reapplied or will be replaced by painting.
Acrylic
Canvas awnings are difficult to paint because they do not hold paint like wood does, and are constantly exposed to the worst of weather conditions. No paint that is water soluble can be used, and many types of paints can chip off the canvas. Acrylic paint is used because of its durability and resistance to water. The paint should be allowed to dry for some time, at least a day, before the awning can be treated and used again.
Fabric Paint
Fabric paints are most often used on more delicate objects than awnings, such as outdoor cushions or sofas, and many fabric paints are not designed specifically to paint awnings. However, awnings are often including in the list of acceptable materials to use fabric paint on, and this method is very easy in comparison to other alternatives. Fabric paint can be bought in spray cans from most home maintenance stores.
Process
The canvas must first be very thoroughly cleaned and allowed to dry before applying any paint. Canvas awnings can become very dirty through extended use, and all layers of dirt must be removed for the painting to be effective. Then the canvas should be stretched and suspended to allow for easier application of the paint, and more even absorption of the color. Whether acrylic, fabric or some other type of paint is used, the painter should always test it on a small area of the canvas to see not only how the color turns out, but how the paint reacts to the canvas when it is dry.
Follow-Up
There are a number of different sealers used to protect canvas paint, and using one after painting is highly advised. A sealant will give the paint an extra layer of protection and allow it to last much longer in harsh weather conditions. Often, a seal is applied after the paint dries, and then is followed by a secondary seal or a waterproofing layer as an extra shield against the elements.