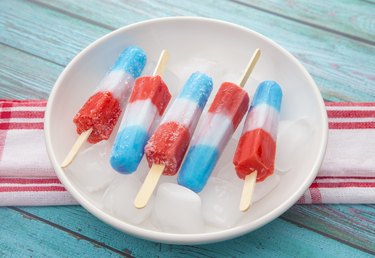 From Bomb Pops to Firecracker Popsicles, tricolor icy treats just taste like summer—and they're an iconic symbol of the season too! This year, use these sweet signs of summertime as inspiration for decor, drinks and so much more with our colorful roundup of red, white and blue ice pop–themed ideas from social media.
Handcrafted red, white and blue ice pops make the perfect DIY decor for a Fourth of July party, a summertime BBQ or just because. With a tutorial from @popofgold, you can easily crank out ice pop embellishments using empty toilet paper rolls. Yes, you read that correctly! All you need are yarn, glue, ice pop sticks and a little patience. String completed pops from a garland, hang them from fences or cluster them in vases to use as table decor.
As a kid, you cooled off on hot summer days with refreshing ice pops. As an adult, you can cool off with a refreshing ice pop–inspired cocktail instead! The version TikToker @modernmakes whips up uses grenadine syrup, blue curaçao, vodka, lemon juice and simple syrup, but you could easily make it nonalcoholic by swapping in lemon-lime soda for the vodka. Yum!
Not to be dramatic, but buying a silicone mold (like this one from Etsy seller EnjoyMoldArt) is a warm-weather game changer. You won't have to wait for the ice cream truck when you stock the freezer with homemade treats—and making your own fruit pops is a great way to use up fresh fruit before it goes bad. Once you have your own molds ready to go, get started on DIY red, white and blue ice pops with a little help from TikToker @jesshogancrum, who uses milk, honey, vanilla extract and fresh fruit to put a unique spin on the traditional pop.
Tip
No fresh berries handy or short on prep time? Try making protein-packed pops with just vanilla yogurt. Use red food coloring and blue food coloring to tint some of the yogurt and create layers. The yogurt should be thick enough that colors don't bleed much if you don't freeze pops after each layer.
4. Ice Pop Watercolor Art
Make red, white and blue ice pop art to keep up the cool summer vibes long past Labor Day. Don't be intimidated if it's been years since the last time you picked up a paintbrush. With this simple tutorial from @liftedcolor, painting your own watercolor ice pops should take about as long as it takes for a real one to melt.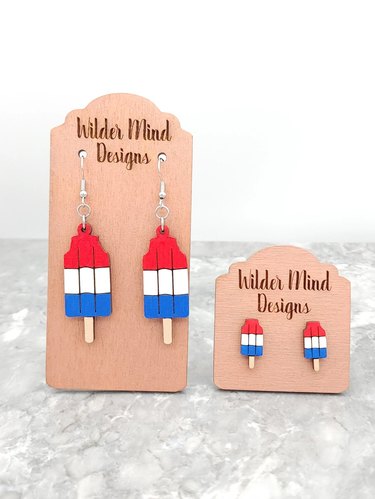 Bring some nostalgic whimsy to your summer wardrobe with ice pop–inspired jewelry! These Rocket pop earrings from Etsy seller WilderMindDesignsCo would be the perfect finishing touch for any summertime outfit. Can't you imagine rocking these colorful ear embellishments at a Fourth of July fireworks show? Alternatively, check out our Perler bead earring tutorial and learn how to make your very own Bomb Pop jewelry!
Here's a quick and easy summer craft for ice pop fans of all ages, courtesy of @littleslearnandplay on Instagram. All you have to do is layer small pieces of tissue paper between sheets of clear contact paper, so it's totally safe and doable—even for toddlers. (But if you want to mix up a red, white and blue cocktail and have an adult craft night making suncatchers, live your life.)
Make hydration a little more delicious this summer with ice pop–flavored water. TikToker @bambina_italiana84 vows that adding individual packets of cherry, blue raspberry and lemon or lime drink mix makes water taste ‌just‌ like an original Bomb Pop. If you're someone who struggles to stay hydrated, making your water taste like dessert might be a useful way to trick yourself into upping your intake.
8. Ice Pop–Inspired Shoes
How cute are @buttermakesmehappy's custom-painted shoes? Walking around with ice pops on your feet pretty much guarantees you're going to have a fun day. If you don't have the painting skills to customize your own kicks, you could replicate the look by attaching embroidered ice pop patches to a pair of plain white canvas shoes.
Transform basic sugar cookie dough into patriotic "ice pop" cookies with inspiration from @sweetconfetti_ on Instagram. The method is pretty simple: Tint 1/3 of the dough blue and 1/3 red, then form dough balls into ropes and roll those ropes into a long sheet of tricolor dough. Press ice pop sticks into cookies when they're hot out of the oven. Optionally, finish them with edible glittery sugar!
Anyone else craving a Bomb Pop and a slushy cocktail? Red, white and blue season has officially begun, and this summer's going to be a delicious one!