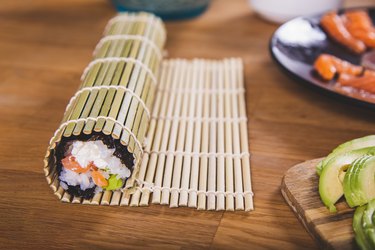 If there's one thing that sushi lovers learn quickly, it's that going out for sushi gets expensive in a hurry. That's the whole idea behind packaged sushi-making sets, which bring together everything you need to make sushi at home in your own kitchen. You don't need to be an aspiring sushi chef (AKA ‌itamae)‌ to turn out passable sushi and sashimi—no years-long apprenticeship required—you'll just need a high-quality kit to get you started. Here are six of the very best sushi-making kits, each of them aimed at a slightly different home cook.
What to Consider When Purchasing a Sushi-Making Kit
‌Completeness:‌ A very basic sushi-making kit could consist of just a bamboo rolling mat or two, and a rice paddle or spreader. A deluxe kit might include both rolling mats and a "bazooka," your paddle, molds for nigiri or for specially-shaped rolls, any number of accessories, and ideally a detailed booklet or video to teach you the skills you need to turn out neat, professional-looking sushi rolls. Some kits even include all of the non-perishable ingredients you'll need, from sushi rice to condiments and sheets of nori.
‌Quality of Construction:‌ Some sushi-making kits are just plain better made than others. Look for molds and presses that are made of solid hardwood or sturdy, easy-to-clean plastic, and accessories that look and feel solid and well-finished. The bamboo in your rolling mats should be uniform and sturdy, and the threads holding them together shouldn't look frayed, loose or uneven. Even beginner kits, which you could be expected to outgrow, should feel sturdy enough to last through a few years.
‌Your Own Ambitions:‌ How often will you actually be making sushi? Is it one of your staples, or just something you enjoy once in a while? Will you be making it for just one or two people, or regularly hosting sushi nights for your whole circle of friends? Set those expectations, and then choose your kit based on the use it's going to get. If you'll make lots of sushi, get a relatively complete kit. If it's something you'll only dabble in, get a modest one.
Tip
What is a "sushi bazooka?" Well, getting a perfectly packed roll using traditional bamboo mats takes some practice, especially for beginners. A bazooka makes it simpler. It's a cylindrical tube that opens up horizontally, and you simply pack your sushi rice into both halves. Lay your fillings down the middle, close the bazooka, and press the plunger to squeeze out a perfect cylinder of rice and fillings onto your sheet of nori. Then, all you need to do is roll the nori around it and you're done!
The Best Overall Sushi-Making Kit
This is about as complete as a DIY sushi kit really needs to be, with everything it takes to crank out delicious sushi in quantities large or small. The kit starts with two bamboo sushi rolling mats as well as a "sushi bazooka," so up to three people can be making rolls at once (great when you're hosting a sushi party). You'll also get a rice paddle and spreader; molds for nigiri and gunkan sushi as well as triangular onigiri molds; and a full range of accessories including chopsticks, chopstick rests, and sauce dishes. The addition of a sushi knife for slicing your rolls, and an avocado slicer to speed up your California rolls, makes for a thoughtful extra touch. The company also makes a 20-piece sushi kit with a slightly different range of accessories at a comparable price point, so you can choose depending on the types of sushi you make most often.
The Best Sushi-Making Kit for Beginners
The SushiQuik looks like the kind of sketchy product you'd see in late-night infomercials—it began as a crowdfunding project on Kickstarter—but it's actually a pretty effective way for a raw beginner to turn out acceptable homemade sushi right from the start. You place your rolling mat (plastic, rather than bamboo) on the supplied base, and snap a frame/guide over it. This holds the nori in place while you spread your rice on it, and also shows you how much rice to use: When it's flush with the top of the frame, you stop. Lift off the frame, add your filling ingredients, and then use the mat to roll up the sushi. Once you have a nice, compact roll, place the supplied slicing guide over top and use your sharpest knife to slice the roll into individual portions. That's it! The entire kit is dishwasher-safe, and the mat snaps apart for easy cleaning. When not in use, you can roll the mat up into a cylinder for storage; the end caps that keep it rolled double as sauce dishes. You'll outgrow it in time, but it's a great learning tool (and an excellent activity for food-curious kids).
The Best Budget Sushi-Making Kit
If you already have some sushi-making skills, or if you'd rather acquire your own collection of carefully-chosen accessories, then all you need from your sushi kit is the basics. That's exactly what you get with this scaled-down set from Delamu, maker of our top-overall pick. It includes two rolling mats, your rice paddle and spreader, and five pairs of chopsticks. That's it ... nothing more than the basics, but nothing less. You'll need to hand-wash everything immediately after use and leave it to air-dry—that's the case with any bamboo kit—but the pieces are well-made and should last through reasonably heavy use.
The Best Sushi-Making Kit for Shaped Rolls
Whichever sushi kit you buy, it won't take you long to start turning out pretty good-looking rounds of sushi. But what about all those other shapes sushi chefs create at restaurants? Well, you can do those too. All it takes is a special mold to create the shape you're looking for. This kit from Aya includes the standard bamboo mat, rice paddle and spreader, but it also gives you the molds you'll need to make square, triangular and even heart-shaped sushi. Each press also has knife guides in its sides, to help you cut your rolls neatly into uniform pieces using the (supplied) sushi knife. Everything but the bamboo mat is made of dishwasher-safe, BPA-free plastic and carries a limited lifetime warranty. There's even a drawstring storage bag to hold the entire kit when it's not in use; a thoughtful touch that's missed by most of these kits.
The Best Sushi-Making Kit for Gifting
Most sushi kits include accessories, but not ingredients. This one is the opposite: The only piece of sushi-making equipment it includes is the rolling mat, but it does contain all of the non-perishable ingredients you'll need to make 8 rolls (at a dozen per roll, that's 48 pieces). You'll get nori, sushi rice, rice vinegar powder, wasabi powder and even sesame seeds for garnish. All you'll need to add separately is the fresh ingredients, from sushi-grade fish to your favorite combination of vegetables. Is it the most complete sushi kit? No. But with the necessary ingredients provided, it's a great gift that can turn any occasion into a sushi night.
The Best Old-School Sushi-Making Kit
The kits we've listed here are all well-made and functional in their respective ways, but they don't necessarily have the look and feel of traditional sushi-making. If your ideal choice is a solidly built kit that speaks to the classic Japanese sushi-making tradition, this is the kit for you. It includes a rolling mat and serving plate of natural bamboo; two pairs of bamboo chopsticks and chopstick holders for them; a solid oak maki mold; two sauce dishes for your soy sauce; as well as a rice paddle and a cloth bag to store the small pieces in. Everything about this kit speaks to the understated Japanese aesthetic that emphasizes simplicity and function. It'll look great in your kitchen, and—with the exception of the mat, which will need to be replaced regularly—will last you through years of use.