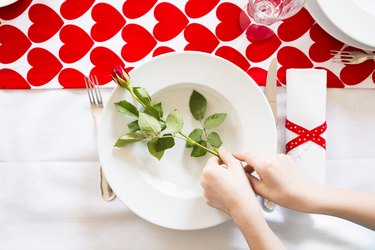 There are a few truths when it comes to everyone's favorite romantic holiday: roses are red, violets are blue, and Valentine's Day decorations can be cheesy. We have good news though. If you want to celebrate the Feast of Saint Valentine in style, decking your home in holiday-themed decor pieces, there are plenty of (not cheesy) options.
Whether you're hosting a Galentine's Day bash, an intimate dinner for two, or simply want to brighten up your home for the first couple weeks of February, indulge in a few pieces of love-themed decor items. (Hearts, red and pink are common themes, but not totally necessary!) After all, this time of year could use some color, since the holiday decorations are long gone and springtime's flowers have yet to bloom.
That's why we narrowed down the 10 best Valentine's Day decor pieces that you can add to your online cart to enjoy now through February 14th. Scroll on for our favorites.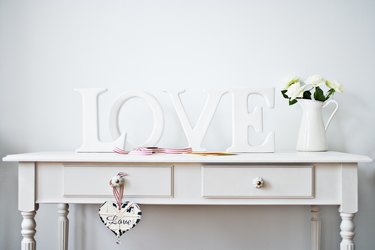 1. Set of Four Classic Taper Candles
You can never—never!—have too many taper candles. Pop a few in vintage candlestick holders and you instantly have a recipe for a cozy vibe and soft light. These tall unscented taper candles, which come in sets of four with 15-hour burn times each, are a February 14th must. While they're available in many saturated colors, including sage, turquoise and harvest gold, for a Valentine's Day twist, nab a set of the hot pink, light rose and ivory-colored candles—or mix and match any combination of those hues. They'll add warmth and romance to a fireplace mantle throughout the first couple weeks of February, and then can be used to light an at-home Valentine's Day dinner, too.
Give your gallery wall a break, setting aside a few mainstay pieces of art to display these metal hearts instead. They come in a set of four—just choose between black or gold—with each heart a different size. Hang them in a cute cluster or spread them amongst several spaces in your home, like your entryway, bathroom, kitchen or even a hallway. Since they're lightweight, you can put down the hammer and nail, saving your walls from more damage, and hang them with double-sided tape instead. (That way, if you're unsure of the placement, you can move them around without committing to a hole in your wall.)
Say it with us: aww! These wooden heart string lights, which are LED so they're both energy efficient and stay cool to the touch, would adorably decorate your home this Valentine's Day. String them along a buffet table, on a dining room table, in a child's bedroom or as a warm welcome home in your entryway. The toughest part of buying these might be narrowing down which color you'll choose, as they're available in red, pink, white or a combination of all three colors. Keep in mind that these lights are intended for indoor use only and be sure that you're stocked with AA batteries, as they require three.
Bathrooms oftentimes get overlooked when it comes to seasonal decor. No more! This heart-shaped bath mat would instantly add a loving feeling to your bathroom and is guaranteed to make you smile every time you step in and out of the shower. Since it's made out of shed-resistant microfiber, it's soft to the touch and absorbent. The rubber backing has a waffle-like texture to make sure it stays perfectly in place. The rug is machine-washable too, so you can feel comfortable throwing it in the wash and knowing it's clean before storing it away until next February. Don't feel limited to displaying this rug in a bathroom though; it would look just as festive in a kitchen or in front of a fireplace, too.
What's not to like about this sweet felt heart garland? It's charming, inexpensive, reusable and pre-assembled. If you don't want to commit much time, effort or money into Valentine's Day decor, click "add to cart" on this garland. All it requires is a tack or tape on each side of it to hang the garland on a mantle, in a window or above a headboard—there's really no wrong place to string this garland—and bask in the delight it'll bring you leading up to Valentine's Day. The petite hearts can be moved along the string, so you can customize it to your style and space.
6. Morgan Wine Glasses, Set of 4
For a subtle nod to the holiday, nab a set of these chic-as-can-be rosy pink wine glasses. They're festive and delightful all year long, whether you're pouring Champagne for a romantic dinner for two on Valentine's Day, a crisp chenin blanc for a summer soiree, or a rich merlot for a cozy fall dinner party. Their eye-catching shape and hue are bound to elicit plenty of "Where did you get these glasses?" and they'll look pretty on open shelving when not in use, too. Go ahead, cheers with your beverage of choice to another year of loving feelings.
Your excitement for Valentine's Day doesn't need to be contained inside your house. There are plenty of festive outdoor decorations too, like this doormat. All your guests will feel the warm fuzzies when they arrive at your home decked out with this "hey sugar" design. It's made from 100% high-quality coir and hand-painted by an Etsy artist for a one-of-a-kind finish, so it's as special as each of your guests are. The mats are backed with slip-resistant PVC rubber, so you and anyone who stops over will feel sturdy, no matter how much snow or mud you're wiping off. Choose from one of three sizes (mini, standard and large) to get the perfect fit for your porch or hallway space.
When you cuddle up on the couch to enjoy your 100th viewing of Notting Hill, you'll want a cozy pillow to rest your head on. That's where this oh-so-fuzzy heart-shaped pillow comes in handy. Not only would it add texture and festive fun to your couch, side chair or bed, but it's practical, too. This design is also available in soft pink and deep red hues (amongst others), so you can choose a single standout pillow or mix and match a few of them for a bolder display. These pillows are even machine-washable, so if your Valentine's Day chocolates somehow end up a little too close to your pillow, a quick spin in the wash will take care of any stains.
9. Valentine's Day Burlap Table Runner
Chances are your dining room table could use a little jazzing up. Add this handmade Valentine's Day-themed burlap table runner to your Etsy cart and it won't feel the slightest bit boring leading up to February 14th. This sweet design is decorated with red and pink hearts and can be used both indoors and outdoors. It's available in numerous widths and lengths, so you're sure to find the perfect fit for you, whether you're outfitting a petite table for two or if you need an extra-long option. It'd look particularly pretty with an oversized bouquet (scroll on for an option we love) or a cluster of candles (like the taper options above) as a centerpiece.
Don't wait for Valentine's Day to brighten up your space with a bouquet. Flowers are a holiday must, and you may as well enjoy them long before and after the special day. POMP offers a slew of gorgeous arrangements for the occasion, all of which are available for next-day delivery. While red roses, like the textured ones in this Red Magic bouquet, are always a fool-proof option, you don't have to feel limited by color or type of flower. POMP has plenty of Valentine's Day-approved options with blooms that have all been hand-raised and sustainably grown, so there's no going wrong.