Polymer clay earrings are one of the most trending items to buy from small businesses on Etsy and social media alike. And, while we love to shop small, we also love to make our own earrings and jewelry designs from oven-bake clay. The beauty of polymer clay is that it's super accessible, as you don't need a kiln or any fancy equipment to cure the clay—all you need is an oven (even a toaster oven will work) and a few supplies.
If you've never made your own polymer clay earrings before, one of the best ways to get started is through a kit, since they tend to have everything you need to get started, including jewelry pliers, earring findings and more. On top of that, a polymer clay earring-making kit also comes with a step-by-step tutorial on how to create DIY earrings.
Below, find our top picks for the best polymer clay earring kits, plus what to consider when shopping for these craft kits and working with oven-bake clay in general.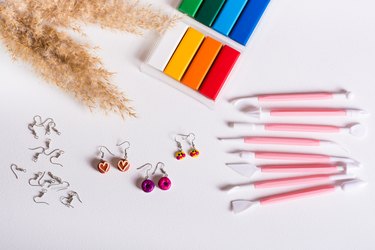 What to Consider When Purchasing Polymer Clay Kits
‌Oven Bake Clay:‌ The first thing to consider when shopping for a DIY polymer clay earring kit is the type of oven-bake clay included. Polymer clay is made by various brands, including Sculpey—one of the more popular brands. It's essential to look at how easy the clay is to work with, too, as some types aren't as malleable and will require lots of kneading to get it where you can roll it out to make polymer clay earrings. One of the best types of polymer clay for this is Sculpey Premo, which is super flexible and easy to work with for beginners. FIMO Soft Clay is also easy to condition and roll out with an acrylic roller when making earrings.
The best thing about making polymer clay earrings from a kit is that you aren't limited to what comes in the kit. If you wish to try new colors or create more earrings using leftover supplies, you can purchase Sculpey Premo and FIMO Soft Clay individually at stores like JOANN and Michael's, and most packs cost less than $15.
‌Oven Temperature:‌ Whenever possible, do a little bit of research on the polymer clay included in the DIY kit, or take a look at the tutorial preview to get a good idea of the baking requirements for the polymer clay. The oven-bake clay typically cooks at a lower temperature and some ovens might not accommodate the requirements. When in doubt, you can invest in a craft oven, such as the Amaco Polymer Clay & Craft Oven. If you happen to own a Hamilton Beach Toaster Oven, many polymer clay creators swear by it for making their projects. It also helps to keep an oven thermometer on hand just to be sure.
‌Clay Cutters:‌ Polymer clay cutters are essentially tiny cookie cutters used to cut out shapes from rolled polymer clay slabs. While your kit might come with a few different options, it's also fun to browse Etsy for other styles so you can mix and match while you make different pairs of earrings. The clay cutters on Etsy are typically 3D printed and come in lots of different shapes and sizes, such as fun Western cutters, organic shapes and adorable mushrooms.
‌Jewelry-Making Supplies:‌ If you want to purchase an all-inclusive polymer clay earrings kit, look to ensure it includes other jewelry-making supplies, including earring findings such as jump rings, earring backs and earring hooks. You might need to supply your own pliers, sandpaper (for finishing) and toothpicks (which are excellent for applying detail and creating a hole for the jump rings), but if it claims to be an earring kit, it should come with the supplies necessary for creating studs and dangle styles.
‌Polymer Clay Supplies:‌ In addition to the earring findings, sandpaper, toothpicks, cutters, pliers and clay, other items such as an acrylic roller (or small rolling pin if you don't have one) are also beneficial for working with polymer clay. It also helps to cook the oven-bake clay on a cookie sheet with a silicone mat so they don't stick to the metal sheet. When baking the clay, we recommend placing a piece of foil loosely on top to keep the top of the clay protected from heat and any potential burn marks, too.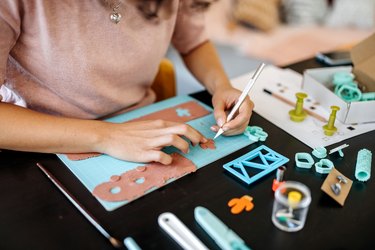 The Best Polymer Clay Earring Making Kits
1. Clay Young DIY Polymer Clay Earring Craft Kit
Whether you've never worked with polymer clay before or are a little more seasoned and want to try DIY jewelry making, this kit from Etsy is an excellent entry point into the craft. The jewelry kit comes with everything you need to make 10 different pairs of earrings from polymer clay, including 18 clay cutters, jewelry pliers, a clay roller, a pottery mat, 10 different polymer clay colors, silver earring findings, 20 jump rings and more. The kit also comes with a clay squeezer, which is a fun additional tool that allows you to create coils and make different shapes and designs with the clay.
2. Blushery DIY Polymer Clay Earring Kit
Polymer clay earrings make a great gift and, if you want a more cost-effective way to create something homemade for your friends and family, this craft kit is it. With enough supplies to make 10 pairs of earrings (that's around $6.20 per pair), including polymer clay, glitter, studs, wire hooks, hoops, jump rings and even earring cards, it is the perfect polymer clay starter kit for sculpting your own designs and creating gifts.
3. Dew Drop Inc. DIY Polymer Clay Earring Kit
Many polymer clay kits come with tons of different bright colors to work with. And while those are fun, they might not be for everyone. This DIY jewelry kit comes with stunning neutral oven bake clay colors, plus the option to choose either gold or silver earring findings so you can customize your handmade pieces. The kit also comes with enough supplies to make six pairs of trending earrings—including extras like parchment paper, earring cards, clay cutters, sandpaper and a wooden rolling pin—that you could keep for yourself or sell as a small business.
4. DOODLE HOG Polymer Clay Earring Making Kit
Whether you're shopping for a last-minute gift or feeling that impulse to try a new craft, Amazon is a fantastic place to shop for a craft kit. This one is perfect for beginners—as well as kids ages 8-12—and comes with polymer clay cutters in trendy shapes and enough supplies to make 12 pairs of earrings in a variety of designs (including a colorful terrazzo style).
5. Katrilee Large DIY Polymer Clay Earring Kit
We love this DIY polymer clay earrings kit because it allows you to choose a color palette, so you can create an entire cohesive collection in hues of your choosing. Perfect for beginners, this kit comes with tons of clay, jump rings, earring backs, sandpaper, toothpicks, five different clay cutters, a roller, earring cards, pliers and more in order to create your own pair of statement earrings from the oven bake clay.
6. Mondo Llama Clay Jewelry Kit
For something budget and kid-friendly (with parental supervision, of course), look no further than this Clay Jewelry Kit from Mondo Llama at Target. The craft kit features six clay molds, a rolling pin, eight colors of clay, earring findings and a step-by-step tutorial booklet so kids and beginners can make their own custom designs with ease.
7. FIMO Made by You Earring Kit
FIMO is a go-to polymer clay brand that also happens to make its own polymer clay jewelry kit. The FIMO Made By You Earring Kit is an excellent entry-level craft kit and features four oven-bake clay colors, three round cutters, earring findings, and a step-by-step tutorial that is easy for all craft levels to follow. It teaches you how to make your own jewelry from scratch using minimal supplies and lots of creative fun.