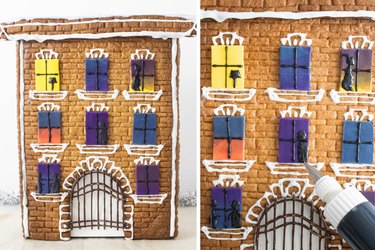 Calling all ‌Only Murders in the Building‌ superfans! Hold on to your tie-dye hoodie because we have a gingerbread house design idea that would be criminal to miss (we apologize in advance for all the puns in this story).
If you've ever wished you could explore the historic Arconia with Mabel, Charles and Oliver, you're going to love this ‌Only Murders in the Building‌-themed gingerbread house—err, apartment building. Inspired by the show's famous Upper West Side luxury high-rise, it's a playful, modern, pop-culture-inspired twist on the classic gingerbread model.
And spoiler alert: It's not super tricky to make. It just requires a simple gingerbread recipe, a brick mold or stamp to create the Arconia's exterior, some fondant, royal icing and an empty cereal box as the base. Why a cereal box? It stands taller than a traditional gingerbread cottage, and the cardboard framework is sturdier for adding and supporting fine details, like fondant windows. You can also add a weight to the inside of the box so no one can unintentionally (or intentionally) sabotage your gingerbread house by knocking it over.
We stuck with a noir-inspired color palette to echo the show's aesthetic, but you can get creative with your design—after all, there's a whole world of secrets (and tunnels) inside the Arconia. A few tasty surprises are called for.
So, put on your thinking cap (or Mabel's yellow beanie), grab your measuring cups and let's get sleuthing...we mean baking!
Things You'll Need
2 cups dark corn syrup

1 1/2 cups dark brown sugar

1 1/2 cups unsalted butter (3 sticks)

8 cups all-purpose flour

1 Tbsp. ground cinnamon

2 tsp. ginger

1 tsp. ground nutmeg

Brick mold or stamp

Empty cereal box

Thin cardboard

Parchment paper


Circle cookie cutter

Pizza cutter or fondant trimmer

Rolling pin

Scissors
Tip
1. Prepare gingerbread dough
Note that you'll be making the dough in two separate batches. This will make it easier to mix and prepare.
In a large bowl, combine 4 cups all-purpose flour, 1 Tbsp. cinnamon, 1 tsp. ginger and 1/2 tsp. nutmeg. Stir well.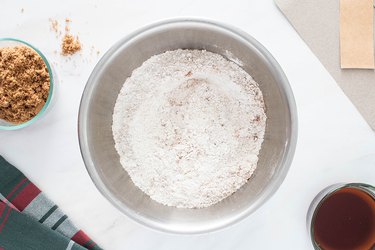 In a pan or pot over medium heat, combine 1 cup dark corn syrup, 3/4 cup dark brown sugar and 3/4 cup butter. Heat and stir until melted and combined.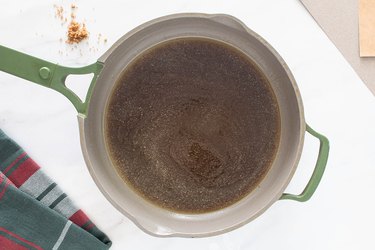 Add the butter mixture to the dry ingredients. Mix until the dough is tacky but not overly sticky.
Tip
If the dough is too wet, slowly add more all-purpose flour.
Wrap the dough in plastic wrap and let it sit for 30 minutes at room temperature.
2. Cut out gingerbread building panels
Preheat the oven to 350°F.
Trace the bottom, side and front of an empty cereal box onto cardboard. Cut out shapes. This will be your gingerbread building template.
Lay a large sheet of parchment paper on your work surface. Roll out the gingerbread dough into a 3/8-inch thick sheet. Place the cardboard templates on top and then cut out the shapes using a pizza cutter or fondant trimmer.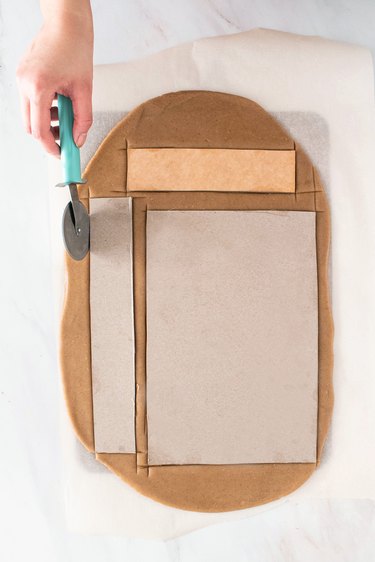 Remove excess dough and store it in an airtight container. You can re-roll it and use it to make spare panels if needed.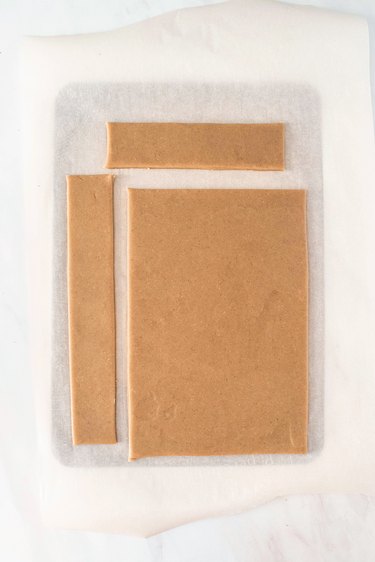 To create the archway in the front panel, press a circle cookie cutter a few inches from the bottom edge. Next, make a cut on each side of the circle.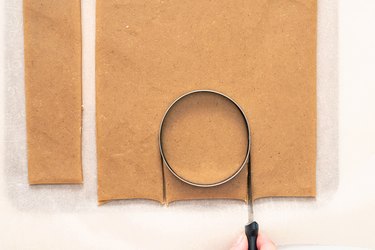 Remove the dough to reveal the arch.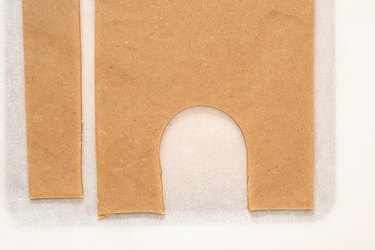 Using a stamp or mold, press brick details into the dough. Try to use the same level of pressure throughout the entire process to ensure the brick pattern is consistent.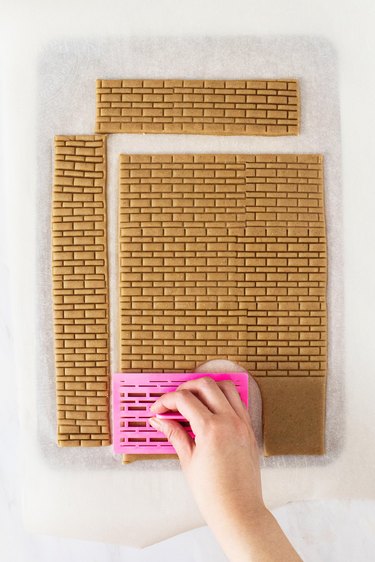 Tip
Roll out scraps and practice pressing the stamp into the dough. This way, you'll be able to gauge how much pressure you should use.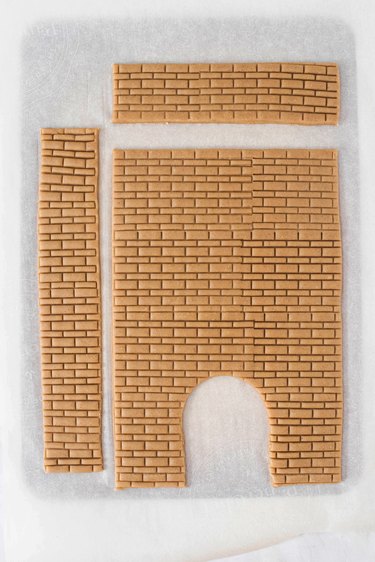 4. Bake gingerbread dough until golden brown
To transfer the dough onto a large baking sheet, pick up both sides of the parchment paper. Avoid handling the dough itself, which will be too thin to move without it breaking.
Bake for 20 to 30 minutes or until golden brown around the edges, rotating once halfway. Keep in mind that every oven is different, so the ideal baking time might differ. It also depends on how dark you'd like the gingerbread brick to be. To be safe, we recommend checking the dough starting at the 15-minute mark.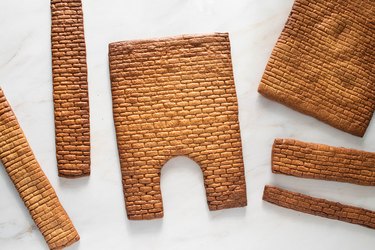 Tip
The gingerbread might develop bubbles; this is normal. If this happens, carefully pierce a hole or two in each bubble with a toothpick as soon as it comes out of the oven. Avoid pressing down on the bubble, which can affect the brick pattern.
The first batch will create the front, top and side panels of the building. Let it cool for 10 to 15 minutes and then carefully transfer the pieces to a wire rack.
5. Bake the other parts of the building
To create the back panel and other side, repeat the process above with the remaining ingredients. You might also be able to make spare panels, including a front or back side, to use as backups. This way, you can choose the best-looking ones for your building.
For the molding across the top of the building, cut a strip of dough slightly wider than the building. You can use dough scraps for this. Place the front panel on a piece of paper and trace the archway. This will help you create the gate later on.
Part 2: Assemble the Arconia
Things You'll Need
Baked gingerbread house panels

Royal icing

Chocolate icing (or more royal icing)

Black food coloring

Chocolate chips

Fondant (see note below)

Powdered sugar (optional)

Pizza cutter or fondant trimmer

Fondant spatula

Fondant roller

Squeeze bottles with various piping tips

Paper and tape

Parchment paper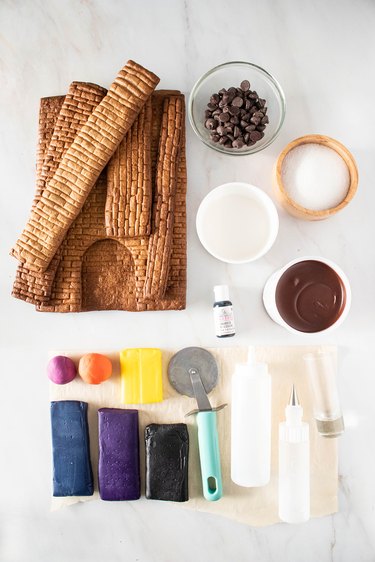 Tip
The fondant will be used to create windows with varying levels of light. We used navy blue, purple, yellow and orange in our final picks. However, you can also add shades like pink, black and turquoise. Better yet, use red, turquoise and mustard yellow to mimic the color palette often used in ‌Only Murders in the Building‌.
How to assemble the Arconia:
1. Construct gingerbread structure
Fill a squeeze bottle with royal icing. For this step, you can use a squeeze bottle without a special piping tip.
Lay the cereal box on a flat surface. Tape a strip of paper along the bottom of the box. This will cover the exposed archway area. Roll up leftover dough and place it inside the box, making sure it's on the bottom. This will help the building stand up straight.
Stick the front, side and top gingerbread panels to the cereal box using royal icing and then fill in the edges and corners with icing. Let it dry completely and then flip and repeat on the back.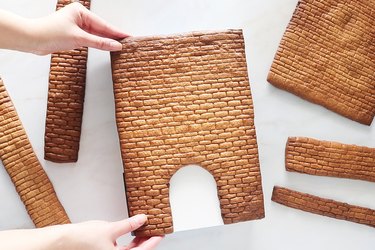 Tip
Patience is key for this step. You might need to press and hold each panel until the icing starts to dry.
2. Make windows with fondant
To create the illusion of light in a dark room, you'll need to blend two colors together. Generally, the brighter shade (which will represent the light) should be on the bottom.
Roll both colors into a flat sheet and then cut each one at an angle. Line up the long, straight edges, overlapping them slightly.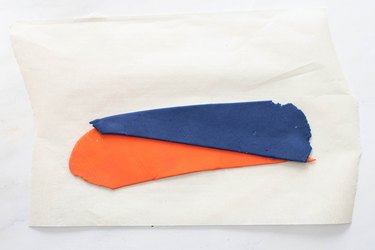 Fold the fondant left to right, making sure to line up the colors.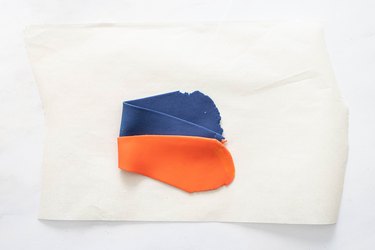 Roll the fondant into a thin sheet once more. Fold to line up the colors and then roll. Repeat this process until the fondant develops a gradient effect.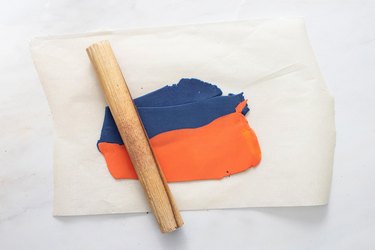 Cut out a small rectangle, making sure that the gradient is visible. While you're at it, you can also cut out a small rectangle from the solid darker portion.
Repeat with the other colors and then stick the windows on the front gingerbread panel using royal icing.
3. Add molding details with fondant
Prepare a squeeze bottle with a fine, round piping tip. A piping bag works too.
Draw crown molding details around the windows and archway. This is a fun way to recreate the details of the Arconia.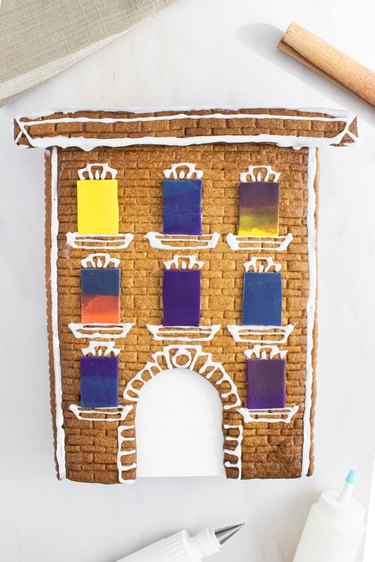 4. Make chocolate archway gate
For this decorating idea, draw a simple gate pattern using the template you created earlier. Place a sheet of parchment paper on top.
Add warm melted chocolate to a squeeze bottle with a small, round piping tip.
Pipe melted chocolate along the pattern, making sure to extend slightly beyond the perimeter. This will create "knobs" or "handles" to stick to the cookie. Let the chocolate sit until solid.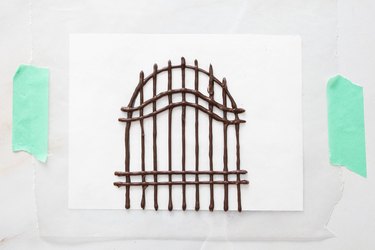 Carefully remove the gate from the paper. You can try sliding it off with a fondant spatula. Set it on the archway and then pipe royal icing beneath each "knob" so it can stick to the cookie. Let it dry.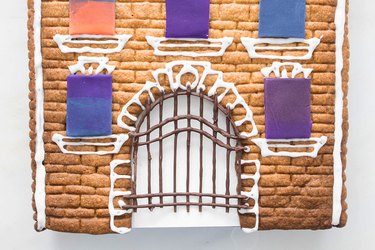 Tip
Be sure to work quickly and avoid handling the gate for too long. This might cause the chocolate to melt, which happened with the bottom of our gate.
5. Add silhouettes to windows
For the ultimate nod to ‌Only Murders in the Building‌, add silhouettes to a few windows. You can use black royal icing or chocolate icing. Simply mix either ingredient with black food coloring and place it in a squeeze bottle with a small, round nose tip.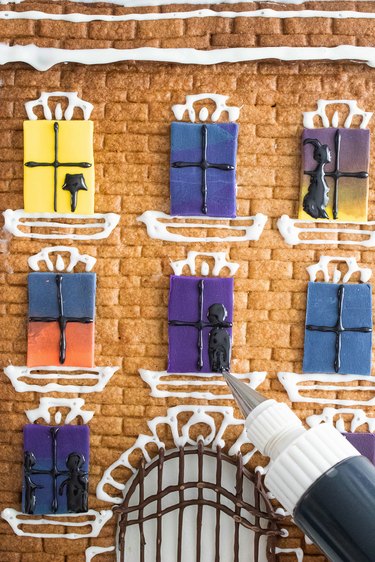 Tip
Black food dye darkens over time. We recommend waiting a few minutes before adding more to your icing.
Let the gingerbread house building sit overnight. Once the icing has dried, your creation is complete. You have a mini (edible!) model of the Arconia—and your version of this iconic building won't land you at the heart of any grisly investigations. Sure sounds sweet to us!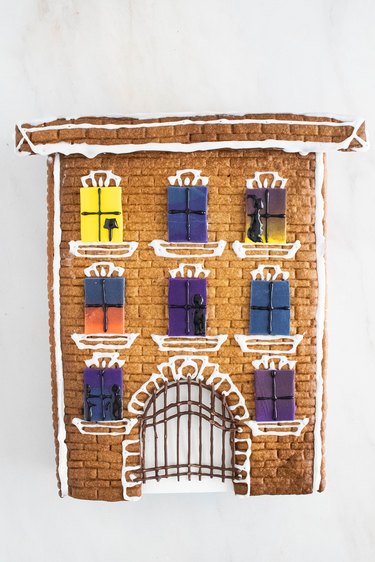 Consider adding caution tape in front of your completed Arconia creation or adding mini dollhouse Christmas trees and yellow taxis along the front. You can also dust powdered sugar on top to create fake snow. Either way, it's no mystery that this is the most inventive gingerbread house you'll ever make. Case closed!
Other Gingerbread House Ideas to Consider...
If you want to take your gingerbread house up a notch this year, look to your favorite movies and TV series for some inspiration! Here are a few of our favorite ideas:
1. Iris's cozy English cottage in Surrey from ‌The Holiday‌
2. The McCallister house in ‌Home Alo‌ne (dancing window silhouettes optional)
3. Monica and Rachel's apartment in ‌Friends‌, complete with a fondant holiday armadillo!
4. The Parker house from ‌A Christmas Story‌ (don't forget the leg lamp!)
5. Just about anything from the Harry Potter movie franchise, such as the Great Hall, the Burrow, the Whomping Willow or Harry's room under the stairs
6. The CTA train platform in ‌While You Were Sleeping ‌
7. Kathleen Kelly's bookstore, The Shop Around the Corner, from ‌You've Got Mail‌