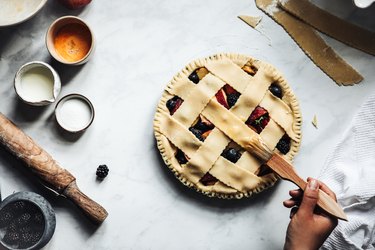 Pastry blenders—also sometimes inaccurately referred to as dough blenders or pastry cutters—are a great baking tool. Their classic use is for cutting cold fats like butter, lard or shortening into dough without them becoming a melted mess. It's one of the secrets to preparing perfect dough for fluffy biscuits, crumbly scones, flaky pie crusts and more.
But while pastry blenders are very helpful for mixing doughs, these utensils have a wide range of other uses beyond baking tasks. For example, use them to easily smash and mix all sorts of stuff, like canned tomatoes for sauce, avocados for guacamole and hard-boiled eggs for egg salad. Use them to break up ground beef in a pan while you're cooking. Use them as a masher for potatoes or a blender for hummus. The possibilities are practically endless.
Things to Consider When Purchasing a Pastry Blender
‌Materials:‌ Most pastry blenders have stainless steel blades—and that's what you want. It's a strong, durable, heavy-duty material that maintains its sharpness well over time and holds up to working even the coldest butter and toughest dough. Plus, it resists rust and corrosion, and most stainless steel pastry blenders are dishwasher safe.
You have more choices with the handle material, but should choose one that's sturdy and comfortable. Many products have rubber grips that help absorb pressure during use. Others have plastic, stainless steel or wood handles. Except for wood, these are usually dishwasher safe too. Wood does better over time with handwashing and prompt drying.
‌Style:‌ There's not much variation in style when it comes to pastry blenders, but there are a few things to think about. Most have four or five blades. Both options work fine, though five blades may be slightly more efficient—and the same is true of piece with broader bodies. Also, some blades are thinner and sharper, while others are thicker and duller. The former perform better with cutting, while the latter work better for mixing and mashing.
You can also get a pastry blender with wires rather than blades. These aren't as sturdy, but can make quick work of small batches of doughs that are highly malleable. Consider the handle size too; if you have large hands, there are larger models available that will be easier for you to use.
‌Other Considerations:‌ You won't find many features to look at when shopping around for a pastry blender. But that doesn't mean you won't ever find any. For example, there's one product on our list below with a unique integrated cleaning tab. Some pastry blenders are sold in sets with other baking tools, so if your assortment is lacking, you might find an appealing package deal. Case in point: There's an entry below that comes with a bench scraper.
As for price, there's not significant range for pastry blenders. Generally speaking, budget options come in at a little under $10, while pricier products are about $20. Though you can certainly find a more expensive one if you want to.
These factors will help you choose the best pastry blender for your needs and preferences.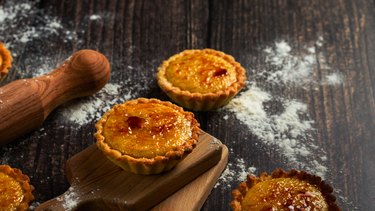 1. OXO Good Grips Dough Blender and Cutter
This is a versatile, well-made, durable pastry blender with one of the comfortable, soft, nonslip rubberized grips the OXO brand is known for. The handle absorbs pressure and is sturdily affixed to the stainless steel blades, which cut through hard butter and dough with minimal effort. Just note that the handle on this product is a little larger than many others, so it might not be your top pick if your hands are on the small side. This is a dishwasher-safe kitchen tool, so it doesn't add to your work at cleanup time.
2. Cuisinart Dough Blender
Cookware from Cuisinart is always durable and dependable with a nice aesthetic, and its stainless steel pastry blender is no exception. The soft-grip handle is comfortable to work with and minimizes pressure on your hands as you work even the toughest ingredients. Plus, it's exceptionally sturdy, and you can count on the four blades to maintain their sharp edges for a long time to come. It's easy to hand-wash with warm water and dish soap, but you can also put it right into the dishwasher.
3. Orblue Dough Blender Pro
This budget-friendly pastry blender has a broad five-blade construction, with sharp stainless steel blades that really hold up over time. Orblue is a brand known for kitchenware of high quality that far exceeds its price. The soft, ergonomic, nonslip handle has indentations for your fingers, providing a comfortable grip during use. It's a dishwasher-safe piece, but it also quickly and easily rinses clean with some warm water and dish detergent—and hand-washing can help maintain the sharpness of the blades for the long haul.
4. Spring Chef Dough Blender and Pastry Cutter
Here's another option at the low end of the price spectrum for pastry blenders. It comes in two sizes: standard and large. The large is only a dollar more, and it can make baking and cooking tasks more comfortable for people with bigger hands. These utensils have solid, sturdy, relatively thick stainless steel blades and a soft rubberized handle that's pleasant to hold. Don't be nervous about the budget price; it's very durable and well made. And yes, it's dishwasher-safe.
5. Spring Chef Dough Blender and Pastry Cutter Set With Bench Scraper
We'd be remiss if we didn't point out that you can also buy the standard size of the previous item coupled with a stainless steel bench scraper for just a buck more. If you're currently accumulating a collection of baking tools, this set is a great buy at a great price point. The bench scraper has a comfortable, ergonomic handle, as well as convenient, highly visible measurement markings etched into the blade to help with portioning dough.
If you prefer a pastry blender with a full stainless steel construction—all five blades and the handle—this is an excellent option. It's solid, sturdy and built to last, and yet it's incredibly lightweight and as affordable as one of these kitchen tools gets. It's also worth noting that you can get a bulk deal if you buy three at a time. Pick up three for less than the price of two, perhaps if you have a budding pastry chef or two in the family (but keep in mind that these utensils have blades, and working tough dough can be tricky, so they aren't for younger kids). It's dishwasher safe, too.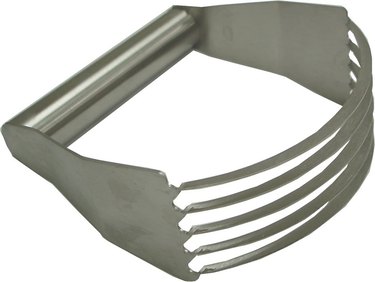 7. Prepworks from Progressive Pastry Blender
It's rare to find a pastry blender with a unique feature. But now you have. This one has a built-in plastic cleaning tab that slides along the blades to quickly and easily clean off any dough. If you're working with a particularly sticky dough, this can be very helpful. Another unusual trait is that this product has six stainless steel blades—one or two more than you usually see—for improved efficiency. It's also a slightly taller model than many other products, which helps keep your hand out of the dough during use. The plastic handle is sturdy and strong, and the piece is dishwasher-safe.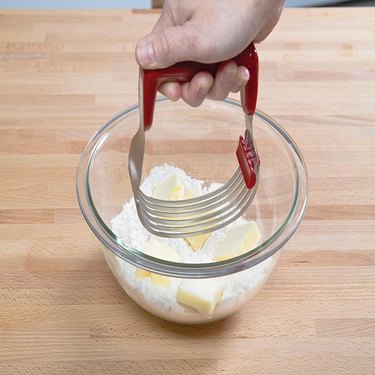 8. Gorilla Grip Pastry Dough Blender
If a comfortable grip is a priority for you, this is another smart pick for a new pastry blender. The thick, ergonomic, slip-resistant rubber handle is soft to squeeze and absorbs pressure effectively. The five stainless steel blades are both sharp and thick, so this product performs well at a wide range of tasks you can use it for. It's super sturdy and dishwasher safe, and you can choose from eight different colored handles if you want a piece that complements other cookware or just has a little more personality than the few colors you see on most pastry blenders. Plus it's available in two sizes.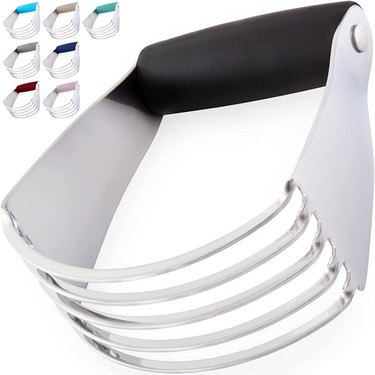 9. Fox Run Wire Pastry Blender
Here's a good, budget-friendly option if you'd like a more old-fashioned wire pastry blender. The six stainless steel wires are as sturdy as can be expected. The wood handle has a classic look, and it also has a convenient stainless steel thumb rest that gives you more leverage and makes the work a little more comfortable. Because of the wood handle, you shouldn't put this product in the dishwasher; hand-wash only and dry it off right away to help preserve it for a long time to come.