The versatility of baking soda is arguably unmatched. Baking soda is an essential home product for everything from baking to cleaning to DIY projects. Another use for baking soda? Upcycling an old vase into a DIY faux ceramic vase! By mixing baking soda and acrylic paint, you can make textured paint that, when layered, creates the look of faux stone. With a special painting technique and the help of some dirt, you can turn a thrift store or dollar store glass vase into your new favorite piece of home decor.
This thrift flip is an easy DIY. It requires minimal materials, and it's a fun exercise in creativity. There is no wrong way to layer baking soda paint, so you can have fun experimenting. This tutorial will show you how to make a 16-inch by 9-inch glass vase into a dupe for a vintage stone vase.
So, grab some baking soda and let's have some fun!
Things You'll Need
6 fl oz. gray acrylic paint

3 oz. baking soda

3 paintbrushes

Vase

Container for mixing acrylic paint and baking soda

1/2 cup of dirt

Water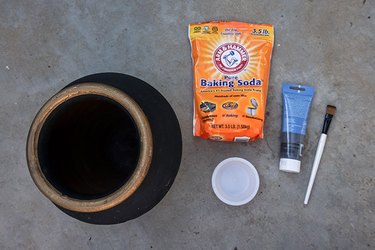 How to make a faux ceramic vase
When looking for a vase in your cabinet, at the thrift store or at the dollar store, look for one that has a smooth surface and is a shape that you like. The color doesn't matter because, well, you'll be changing that!
2. Mix the baking soda paint
For your paint recipe, mix 6 fl oz. gray acrylic paint with 3 oz. baking soda. If your vase is smaller than 16 inches by 9 inches, you can use less paint, but be sure to maintain the 2:1 ratio of paint to baking soda. Once mixed, your cup of paint should look gritty but still have the consistency of water-based paint.
Tip
If your baking soda paint mixture gets too thick, simply thin it out by adding more paint.
Once you give your old vase a quick wipe-down to remove any dust or grime, you can begin painting. Add the paint in broad strokes and aim for a fairly even layer. Let the paint dry for at least 30 minutes between coats. If you try to add the second layer while the first layer is still wet, you run the risk of wiping off the previous layer.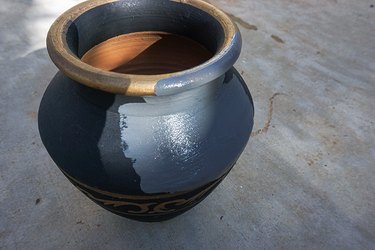 Once your first coat is completely dry, add your second coat. Be sure to cover the entire vase again!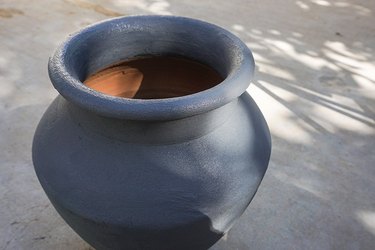 Finally, add your third coat, but be sure the second coat has dried completely before doing so!
You can add even more dimension and texture to your vase by adding a fourth and final coat of gray baking soda in sections. By only adding paint in a few sections, your fourth coat will create the look of natural, uneven stone, which looks great with the matte finish created by the baking soda.
Now, this may sound odd, but add your cup of dirt to a container of water in a 1:1 ratio and stir. Grab a wide paintbrush, dip it in the dirt water and cover your vase in watery dirt from top to bottom. Be sure to get the actual dirt on the vase!
Tip
Add the "dirt water" at the top of the vase so that any water drips get brushed away as you move down the vase.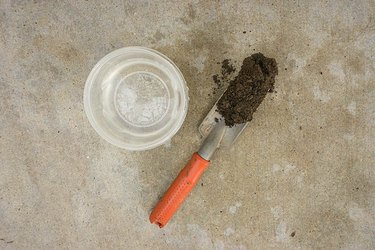 Be sure to let the dirt water dry completely before you brush it off. The dirt will give your vase an aged look, while the water will activate the baking soda in the paint and leave some patchy white sections, adding to the faux stone look. And don't be afraid to leave a lot of dirt on the vase—it will be mostly wiped off once dry!
Once the dirt water completely dries, wipe it off with a large paintbrush. This will remove any loose dirt and grime but make the vase look aged.
6. Add embellishments and display
Once your vase dries completely, have fun styling it! We added a beautiful bunch of lilies to ours, but the options are endless. Some other options include wheat stalks or dried flowers.
Whatever you add to your vase, we hope you enjoyed this vase upcycling project!