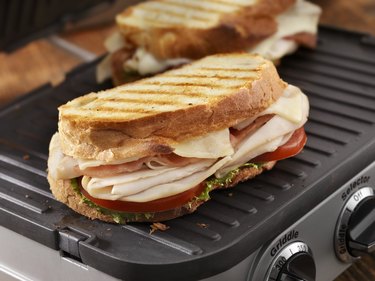 Sandwiches are good, but let's face it: Grilled sandwiches are better. The cheese gets nice and melty, a bit of warmth brings out the flavors in your sandwich meats and condiments and your bread develops a pleasant textural contrast between its crisp exterior and its soft, steamy interior. The ideal way to prep your perfect grilled sandwich is in a panini press, a specialized appliance with a ridged griddle that gives your sandwich those restaurant-style grill marks. If you're a sandwich lover, buckle up! We've picked out six of the best panini presses for your consideration.
What to Consider When Purchasing a Panini Press
‌The Hinge:‌ The best panini presses should have what's called a floating hinge: One that can open up to match the thickness of your sandwich, so the top plate stays parallel to the bottom plate and gives you an evenly toasted sandwich that's not squished. Lower-end models, especially those intended mainly to work as contact grills, may have simpler hinges that leave one side of your sandwich compressed more than the other. Aside from that fundamental difference, some hinges are just sturdier and more durable than others. Usually—but not always—paying more means getting a better hinge.
‌Ease of Cleaning:‌ Some panini presses have removable plates that can be easily washed, or may even be dishwasher safe. Some models lack removable plates, but are relatively easy to wipe down after each use. And others, well, they're just a pain to clean. Pay close attention to that, when you're reading reviews.
‌Size and Weight:‌ How many sandwiches do you make at a time? Just one for you while you're sitting up late streaming the latest hit show or will you be cranking them out in quantity for friends and family? The larger the cooking surface a press has, the more sandwiches you can do at a time. There's a catch, though: A bigger panini maker needs more storage space, or might be too heavy to take out and put away every time. If you don't have counter space to spare, that's a consideration too.
‌Features and Versatility:‌ If all you ever want your sandwich maker to do is panini, then you can pick just about anything. That's not the case for most people, who only have so much space in the kitchen and need to get lots of use out of their kitchen appliances. Higher-end models also just plain tend to have more features, from temperature control to cooking plates that can be swapped out to make the same appliance a griddle or waffle maker. Buying a versatile grill that can be used for multiple purposes means you'll get more value from your purchase.
The Best Overall Panini Press
You can get a straightforward panini press for less (sometimes a lot less), but that's not entirely the point. For starters, this Cuisinart can go toe-to-toe with any gourmet sandwich maker for features: It gives you temperature control, it has a good quality floating hinge for durability and perfect sandwiches, and a non-stick coating so even the gooiest, meltiest sandwiches won't leave a mess behind. The grill plates are removable, and dishwasher safe for easy cleaning. So far, so good, right?
Now comes the part where an infomercial would say, "But wait, there's more!" Those removable grill plates are also reversible, giving you a flat griddle side as well as the ridged grill side. You can use the Griddler as a conventional contact grill with either side facing the food, or you can open it up flat and use it as an indoor grill or griddle. You can even use one grill plate (for your sausages or bacon) and one griddle plate (for your eggs or pancakes) at the same time. The stainless steel exterior is attractive enough to live on your countertop, but at 8 pounds and roughly a square foot, it's also small enough to put away between uses. That combination of sandwich-making prowess and overall versatility makes it our top pick, and one of the most useful kitchen appliances overall.
The Best Single-Purpose Panini Press
Some people like versatile, do-everything appliances; others favor specialized tools. Some folks want all the bells and whistles, others want something that just works. If you're in the second category, this Hamilton Beach panini press may be more your style than our top pick. There are no dials, no settings, no nothing. Just preheat it until the indicator light turns green ("Green means go"), and you're ready to make sandwiches. The Hamilton Beach's nonstick surface measures 10 inches by 8, which is plenty for two to four sandwiches, depending on their size, and the floating lid means it'll handle the thickest sandwiches.
Its nonstick plates aren't removable, but they'll wipe clean pretty easily with a paper towel or damp cloth. The lid can also be locked in an open position, for open-faced sandwiches or flatbreads that don't require top heat. Although it's a single-purpose sandwich press with fewer features than the Cuisinart Griddler, you still have some cooking options: It'll work fine for the obvious things, like quesadillas, but you can also grill meats or veggies if you're willing to tackle the cleanup. As one final bonus, the Hamilton Beach is designed to be stored in a space-saving upright position which is handy whether you keep it on the counter or put it away after each use.
The Best Value Panini Press
When you're looking for good value in a countertop grill, the first name that comes to mind is probably George Foreman. The Foreman brand established contact grills as a popular kitchen appliance and it's still a leading name in the category. This one, at its relatively modest price, is still a pretty effective sandwich maker. It doesn't have a floating hinge, instead using a two-position hinge that can be opened for sandwich making or closed for grilling (or thin sandwiches and quesadillas).
Similarly, you can adjust the legs to make it flat, for sandwiches, or give it the classic Foreman slope to let fat drain away when you're grilling. It's not a gadget for serious sandwich aficionados, but it's versatile, it works well, and the removable plates (and removable drip tray, if you're grilling) make for easy cleanup. The surface area of this model works for four portions, but if you have a small household and don't mind giving up the removable plates, there's also a 2-portion Foreman as well.
The Best Large Panini Press
If you like the Cuisinart Griddler but want something even a bit bigger and more feature-rich, you may find this deluxe model from Breville is what you're looking for. It's essentially a higher-end equivalent to the Griddler, with a larger cooking surface (a whopping 240 square inches when opened flat in "barbecue mode"). You'll get one-button panini, burger and sear presets, but you'll also have completely adjustable temperature control for both the top and bottom plates so you're in full control of your cooking.
Like the Griddler, its plates are removable and dishwasher-safe but the nonstick coating on the Breville is a durable ceramic. There are also optional waffle plates available for the Breville, as with the Griddler (sold separately in each case), which makes them even more versatile. The biggest differences are the extra size of the Breville, which you'll appreciate when cooking for a crowd, and the added control over your temperatures. If those are important to you, it's a nice upgrade for the price difference.
The Best Compact Panini Press
Small things have their own charm, and this teeny-tiny panini maker and contact grill is a perfect example. It's small and round, with a cooking surface just 4 inches in diameter, and comes in six color choices as well. Despite its compact size, it's a pretty capable grill with just the right size for a single sandwich, a single burger, sausage patty or one chicken breast.
At 6 inches from hinge to front and just a couple of inches deep, it's also compact enough that you can keep one in your desk drawer at work, or under the bed in a dorm room, or slip it into your suitcase when you head off to a vacation rental for the weekend. Furthermore, at such a low price, you can afford to have a few in different places. It's not the most deluxe of sandwich makers—there's no heat adjustment, the plates aren't removable and you certainly don't get a floating hinge—but that's not the point. It's tiny, it's inexpensive and it gets the job done. That's really all that counts.
The Best Non-Electric Panini Press
Panini have been around since well before the days of electric kitchen appliances. So how were they made back in the day? With a press just like this one. If you already have a ridged grill pan, Lodge's cast iron panini press is the other piece you'll need to make sandwiches the old-school way. It's sized to work perfectly with Lodge's 10-inch square grill pan (or similar pans from competitors), or you can use it with a normal round cast iron skillet that's 12 inches or larger. Just heat the pan and lid over separate burners—or in the oven, or over a campfire—and then place your sandwich in the pan and put the press on top (it'll be hot, so use an oven mitt).
There aren't any electronics to measure your cooking time, but that's fine: When the cheese is visibly melty and your bread smells toasty, it's done! So why would you choose cast iron over an electric panini press? Well, high-quality cast iron will last not for years, but for generations. You can use it while camping or in a power outage, and if you already have a grill pan the price of the press itself is pretty modest (if you don't already have a grill pan, you can sometimes find them priced as a bundle). It's neither the cheapest nor the most feature-rich option, but it's the only one you can be confident of passing down to your grandchildren. That, in itself, is worth something.