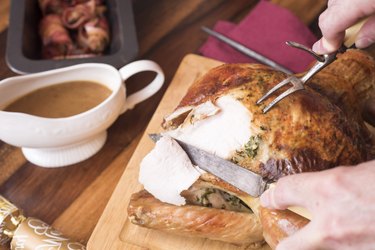 If you think a gravy boat is only for pouring gravy onto turkey and mashed potatoes at Thanksgiving dinner, think again. It's also an elegant, tidy way to serve all sorts of sauces and dressings, milk or creamer, warm maple syrup, jus, broth and more. It's a versatile piece of tableware that can add a distinctive touch to lots of meals—so don't feel hesitant thinking that you'll only use it once or twice a year.
What to Consider When Purchasing a Gravy Boat
​Material:​ Many gravy boats today are ceramic, porcelain or other stoneware. They retain heat fairly well and can usually go in the oven, microwave and dishwasher. They're typically a little pricier than the other most common material: stainless steel. Stainless steel doesn't retain heat as well unless it's an insulated product, which you can find easily. It can't go in the microwave, of course, but it can sometimes go in the dishwasher. And it's a budget-friendly version of those heirloom sterling silver gravy boats that were so ​en vogue​ in bygone eras.
​Size:​ Standard gravy boats hold 12 to 16 ounces, but there are smaller ones, plus plenty of larger-capacity options. Figure about 3 ounces of gravy per person. So, think about how many people you want to be able to serve.
​Features and Accessories:​ Gravy boats are simple pieces of tableware, but that doesn't mean you can't buy them with different features and accessories. As mentioned above, stainless steel models may be double-wall insulated. Some come with lids, which also help with heat retention; chose one with an easily operated hinged lid. There are gravy boats with warming stands—we've included one in this buying guide. Some products come with ladles, and some come with saucers that keep drips off your tablecloth.
Along with your budget considerations, these factors will help you settle on the best gravy boat for your needs and preferences.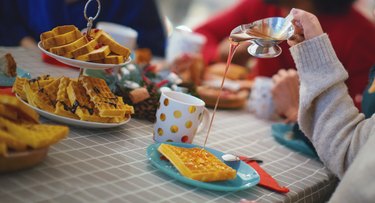 The Best Overall Gravy Boat
This durable, versatile stainless steel gravy boat is a great buy at a great price. It has an ample 14-ounce capacity for gravies, sauces and more, and it's dishwasher-safe for easy cleanup. It's insulated with double walls and has a hinged lid, keeping toppings warm considerably longer than other products (and it'll keep things like milk and creamer cold). The lid flips open with a thumb trigger while holding the ergonomic handle for one-handed pouring, and the contents flow from the spout smoothly and without messes. And with its attractive satin finish, you won't mind keeping it out on the table for guests.
The Best Simple Gravy Boat
For a simple, classic, elegant product that's equally at home in any casual or luxury kitchen, choose this 16-ounce stoneware gravy boat from Le Creuset. A well-known, beloved name in upscale cookware and serveware, this sauce boat is sold at an excellent price for this high-quality brand. Pick from several different colors, and the nonporous, nonreactive glaze resists scratches, cracks and chips. The material retains heat well, and this piece is oven-, broiler-, microwave-, freezer- and dishwasher-safe (though hand washing is still recommended to prevent damage).
The Best Budget Gravy Boat
HIC Kitchen Hotel Gravy Sauce Boat
If you're looking for an aesthetic, functional gravy sauce boat at the low end of the category's price spectrum, look no further. This white porcelain piece works well with cold and hot contents, and it's microwave-safe for quick reheating—plus you can put it in the oven, freezer and dishwasher. Even at this low price, it comes with a matching saucer and has a large capacity of 24 ounces. The handle is comfortable to grip, and the wide pour spout is well designed for clean serving of thicker and thinner contents alike, from sauces and gravies to salad dressings and au jus to broths and milk.
The Best High-End Gravy Boat
Mikasa Italian Countryside Gravy Boat and Saucer Set
If you're willing to spend a bit more, this beautiful 12-ounce gravy boat is an excellent piece to help fill out any fine dinnerware collection. The fluted design mimics detailing seen in classic Italian architecture, while the included saucer protects your tablecloth from drips. A narrower, high-sided spout facilitates well-controlled, neat pouring. It's a durable stoneware piece that's both microwave- and dishwasher-safe, though you might consider washing it by hand anyway to protect the investment.
The Best Stainless Steel Gravy Boat
Upper Midland Products Gravy Boat
This 16-ounce gravy boat has elegant curves with a shape reminiscent of a genie's lamp, and a reliably stable base. Because it's stainless steel, it complements pretty much any other tableware, fitting in well with casual and upscale spreads. The spout yields drip-free pours, and the boat also comes with an accompanying stainless steel ladle for further serving convenience. Like a number of other products on this list, this one is dishwasher-safe, but it's still recommended that you hand wash it—mostly to help preserve its beautiful shine.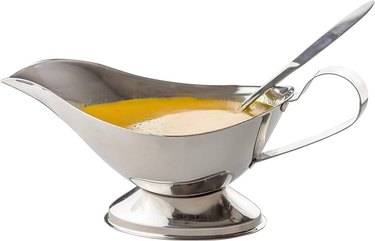 The Best Ceramic Gravy Boat
Homer Laughlin Fiesta Sauce Boat
A simple, smart design makes this ceramic sauce boat a great addition to your table. At 8 inches long, it's relatively compact, but its deep bowl has an above-average 18.5-ounce capacity. The steep spout with high sides gives you good control over your pour, as does the high handle that helps you maintain control even when tipping the boat near vertical to get out the last of its contents. The lead-free, chip-resistant glaze has a nice sheen, and you can choose from eight different colors. This piece is microwave-, oven- and dishwasher-safe, too.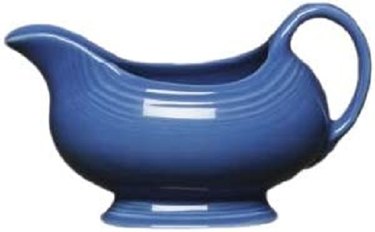 The Best Insulated Gravy Boat
Rorence Stainless Steel Double-Insulated Gravy Boat
If keeping hot contents hot and cold contents cold in your gravy boat is a priority, this 16-ounce stainless steel sauce jug is a perfect pick. The double-wall insulation and tight-fitting hinged plastic lid maintain the temperature of sauce, gravy, creamer, etc. for a couple of hours. This item even doubles as a thermos (which it resembles, more than a traditional gravy boat) and is helpful if you're, say, bringing the gravy to Thanksgiving dinner at someone else's home. The ergonomic handle is comfortable to hold, while the drip-free spout provides clean pours. It's another product on this list that can go in the dishwasher, but it's preferable to hand wash it to keep it looking its best for a long time to come.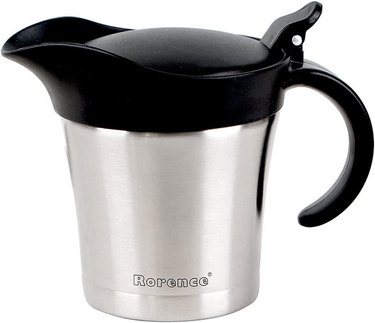 The Best Gravy Boat With Ladle
Portmeirion Sophie Conran Mini Sauce Jug and Ladle Set
This porcelain gravy boat set with matching ladle is a charming complement to contemporary and traditional tableware alike. The jug has an ample capacity of 20 ounces, though it can be a little tricky to pour neatly when it's filled to the top; but that's easily remedied by using the ladle, which is an ideal size for doling out individual portions of gravy. The handle is well designed, providing an ergonomic grip with good control. And you can put both pieces in the dishwasher at cleanup time, though they're also easy to clean by hand thanks to their nonstick glaze.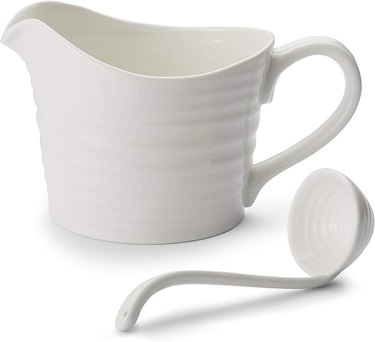 The Best Gravy Boat With Warming Base
Pillivuyt Gravy Boat With Warming Base
For an elegant, practical twist on a classic gravy boat—particularly if you want one with a traditional look that keeps its contents warm without a lid—go for this item, which includes a warming stand. This clever 12-ounce piece has a base that accommodates a tealight candle (not included) used to keep gravy, hollandaise, and other sauces and toppings heated throughout the course of a meal. The material is porcelain, and you can put it in the dishwasher, microwave, oven and freezer. It's made by a well-known brand in porcelain tableware that's been around since 1818, too.