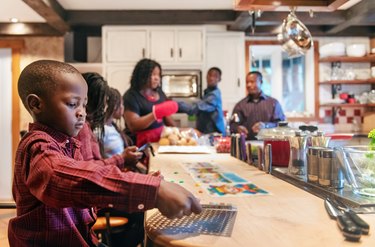 Supplying your kids with plenty of activities to get them through Thanksgiving Day is a great way to ease their impatience. All the turkey, stuffing, sweet potatoes, pumpkin pie and everything in between makes the long wait for the coveted Thanksgiving meal worth it, but the wait is hard—especially for kids. Sure, Thanksgiving Day might involve exciting events like a Turkey Trot, watching the Macy's Thanksgiving Day parade or a family football game in the yard, but waiting for all that pie can be excruciating for kiddos. If you want to give them some Thanksgiving games or activities to do while they're waiting for dinnertime, you've come to the right spot. If you're looking for craft ideas, check out our list of Thanksgiving Crafts to Entertain Your Kids While You Cook.
What to Consider When Purchasing Thanksgiving Activities for Kids
​Type of Activity:​ There are practically endless activities your kids can do as they wait for the carving of the turkey (or Tofurky for non-meat eaters). If you want to give them something to do with some structure, consider one of these activities: A coloring book, puzzle, gratitude jar, crafts, Bingo or other Thanksgiving games.
​Kids' Ages:​ If you're celebrating Thanksgiving (or Friendsgiving) with families with kids ranging in age, you'll probably need to buy several activities that are age-appropriate. After all, Thanksgiving Bingo won't hold the attention of a 2-year-old and coloring turkey crowns won't be of interest to most tweens. So, figure out the ages of all the kids who will be attending Thanksgiving dinner and go from there.
​Materials Needed:​ The goal of activities for your kids on Thanksgiving is to make your life easier that day so you can cook or relax without your kids in your face. Activities that require set up, break down and lots of materials might demand too much adult involvement, which could get in the way of preparing Thanksgiving dinner. Whichever activity you choose, just make sure you have all the glue, scissors, extra construction paper or any other additional materials each specific activity requires.
Check out our list of fun Thanksgiving activities for kids below.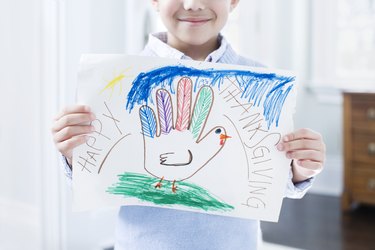 1. Funnlot Thanksgiving Bingo, 24-Piece
A good ol' fashioned game of Bingo will pass the time until dinner. This fall-themed version of Bingo includes all the Thanksgiving things, like a turkey, pie, corn, pumpkin, fall leaves and more. It's easy enough for little ones to play amongst themselves and fun enough for the whole family to participate. The set comes with 24 Thanksgiving Bingo player cards, two calling cards and 11 sheets full of marking chips.
2. EmRichSticks Fall Suncatcher Sticker Kit
Not only will this Suncatcher Sticker Kit give your kids a fun activity to do on Thanksgiving day, but it'll also add some sweet fall decor to your window and be a keepsake for next Thanksgiving. Kids can place transparent stickers on the pictures, and when they're done, stick the suncatcher to a window so the sun shines through. The art project kit comes with four suncatchers, four sheets of transparent stickers (296 stickers in total) and craft instructions. To make setup quick and easy, no extra supplies are needed unless kids want to use scissors to make their own shapes out of the stickers.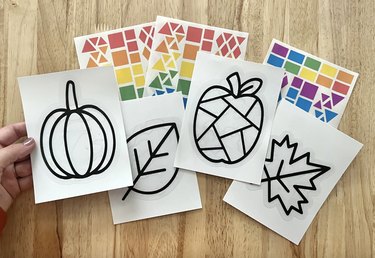 3. Creative Casita Publishing Thanksgiving Coloring Book
This coloring book is jam-packed with Thanksgiving-themed coloring pages, including autumn leaves, turkeys, pumpkins, apples, acorns and more. If you have several kids who like to color, you can rip pages out so you don't have to buy a coloring book for each child—especially since kids are typically only into coloring one or two pages at a time. Perfect for kids ages 4 to 8, these coloring pages will give them plenty to do on Thanksgiving day (and leading up to it).
4. Lifeisforthefun Gratitude Tree Printable
Whether you need a super last-minute Thanksgiving activity or you're simply planning ahead, this Gratitude Tree printable is a great way for kids to identify what they're thankful for. Have your kids write down what they are grateful for on each leaf on the thankful tree (or you can write it for them). If you have a tradition of going around the Thanksgiving table to talk about what each person is grateful for, this is a great way to help kids think about it beforehand. After you pay for the printable, you will gain access to instantly download the PDF to print at home. There are certainly free printables you can find on the internet, but you might have a hard time finding a design you like that's high quality.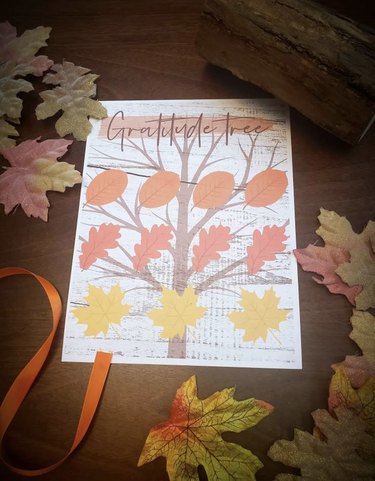 5. AmmarGoods Thanksgiving Coloring Placemat
Have your kids help prepare the turkey day kids' table by coloring their own placemats. The "Happy Thanksgiving" placemat features a turkey, turkey feathers, acorns, a pumpkin and other Thanksgiving art. As far as supplies, set out crayons, colored pencils, markers and even paint. If you don't want to deal with the mess, scratch the paint and stick with what works for them to DIY (AKA without any major help from you). Each hands-on placemat can be personalized with a different child's name, and you can purchase 1 to 20 placemats at a time.
6. TinyExpressionsStore Paper Turkey Crowns, 12-Piece
Is it even Thanksgiving if someone in the family isn't wearing their own turkey crown? This 12-pack of paper turkey crowns is ready to be colored by the littlest folks in the family. The paper won't bleed, and it works well with crayons, markers, colored pencils or gel pens. The crowns can be adjusted to fit different-sized heads, and they're made of card stock so you won't have to worry about them easily ripping. This turkey craft offers two major perks: it'll keep your kids busy for a bit and it makes for adorable photos.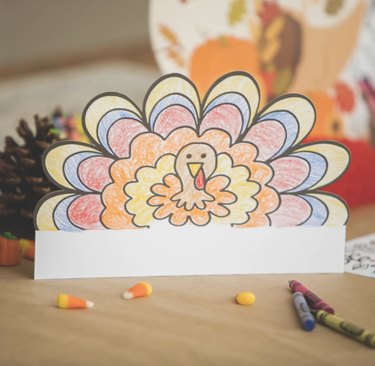 7. MerakiDesignsbyLisa Gratitude Jar
Practicing gratitude at a young age can help your kids recognize feelings of thankfulness while becoming more compassionate, kind and empathetic to others. This gratitude jar comes with 50 blank cards in the color of your choice, along with journaling prompts. It's a great way to involve kids of all ages in the meaning of Thanksgiving. The jar reads "Gratitude—the quality of being thankful." You can choose one of two fonts and one of six color options. The jar can even be used as a centerpiece on your Thanksgiving table.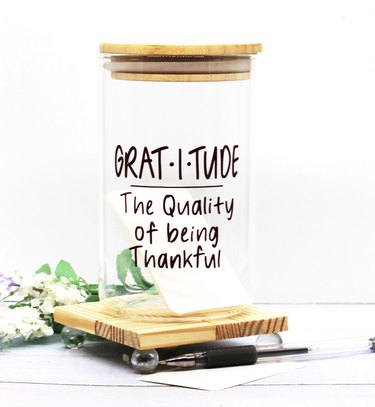 8. Buffalo Games 300 Large Piece Jigsaw Puzzle
Give your older kids the task of putting together this 300-piece puzzle featuring a quaint New England town rich with vibrant, fall colors. The oversized pieces are easy to put together, so if two or more kids work together, they should be able to finish the puzzle within a few hours—give or take. A puzzle poster is included so kids can get a good look at the image while they work. The finished size is 21.25 inches by 15 inches.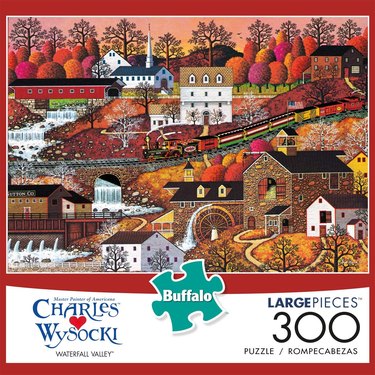 9. Harper Hall Thanksgiving Activity Book
Your kids can get ready for Thanksgiving with this fun activity book designed for kids ages 4 to 8. Inside they'll find Thanksgiving-themed coloring pages, brain teasers, word searches, math activities, vocabulary lessons and much more. It's basically a homeschool workbook that they won't even realize is educational.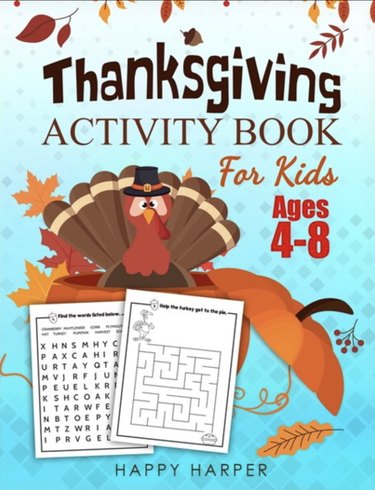 10. Inwnpio DIY Wooden Bead Kit
Fall-colored jewelry making is a great way to occupy your kids while making those holiday photos even more festive. This kit comes with 100 wooden beads, plenty for several kids to make bracelets, necklaces, keychains or whatever else they're inspired to create. The kit also comes with elastic cord and wax rope, as well as pumpkin, maple leaf and turkey pendants.