Thanksgiving will be here sooner than you think, and if you're planning a big get-together with children, you'll need to keep them busy while you work hard on preparing your Thanksgiving feast. Thankfully, these Thanksgiving craft kits for kids have got you covered. Creative yet simple, they'll keep the younger children occupied (and out of the kitchen) and leave them with a charming holiday memento once they're finished.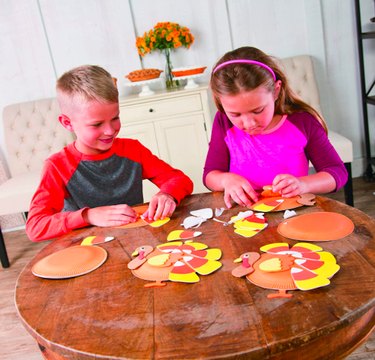 1. Paper Turkey Suncatcher Kit by HelloSprout
This kit by HelloSprout on Etsy makes six, 12 or 20 suncatcher ornaments shaped like turkeys. Each kit comes with turkey cutouts made from sturdy black cardstock, as well as tissue paper in a variety of bright colors. You'll need to provide your own pairs of scissors, glue sticks and string for hanging them up (or you can also tape them to the window). These suncatchers are simple to make and relatively mess-free, making it suitable for young kids. Plus, the sunlight streaming through them is a beautiful sight.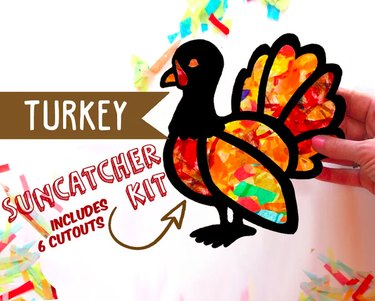 2. Fun Express Candy Corn Paper Plate Turkey Craft Kit
It wouldn't feel like Thanksgiving without a turkey in sight! Kids will have a great time making these paper plate-based turkeys with candy corn feathers. Each kit makes 12 turkeys and comes with brown paper plates, self-adhesive foam pieces and plastic googly eyes. No glue or other materials are necessary.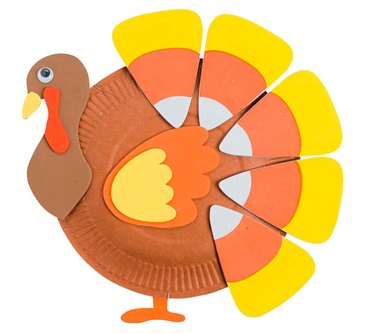 3. Flint Corn Pin Craft Kit
This craft kit by AuntJennysBeads on Etsy lets kids make their own wearable flint corn (also known as Indian corn) pin. Each kit makes one pin and includes beads, chenille stems, raffia, a wooden button, ribbon, a pin back and instructions. All you'll need to provide is glue—either hot glue (with adult supervision) or regular white crafting glue will work. The finished pin measures 4 inches long and 3 inches wide. If you'd rather order your pins "Ready to Wear," you can purchase them pre-assembled for $2.80 each—but making them is half the fun!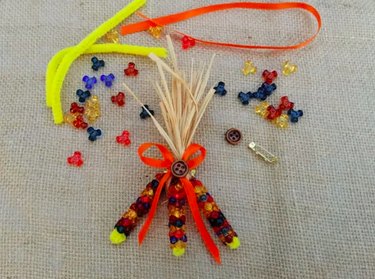 4. Life Cycle of a Pumpkin Foldable Kids Craft
Pumpkins are a staple of autumn, and this craft by WonderAtTheWorldEd on Etsy not only allows kids to make their own foldable pumpkin, but also teaches younger children about a pumpkin's growth process. Available as an instant-download PDF file, you get digital templates in two formats: U.K./AUS paper size (A4) and U.S. size (8 1/2 by 11 inches). We recommend printing on white or beige card stock for sturdier results. Once you've printed the template, kids can color the pumpkin and each panel representing the growth process, cut them out, glue the panels in place and then fold them accordion-style. The final result is a pull-apart pumpkin (that you can close back together) illustrating the journey from seed to mature pumpkin.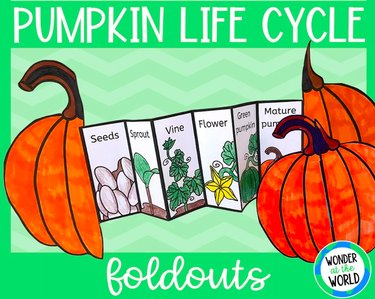 5. Fall Pumpkin & Gourd Assorted Ornament Decorating Kit for Kids – 36 Sets
Pumpkins and squashes and gourds, oh my! For a zanier take on pumpkins and fall vegetables, this kit lets kids make and decorate up to 36 pumpkin- and gourd-shaped ornaments. Each kit comes with thin wooden cutouts, watercolor paints, chenille stem pieces, pipe cleaners, google eyes, tiny yarn pom poms, stickers and more. You can even hang up each ornament with string (also provided), thanks to a tiny hole in each vegetable's stem. Kids will have a blast creating a motley crew of fun and silly-looking veggie friends, and each kit comes with enough materials for over a dozen kids to participate.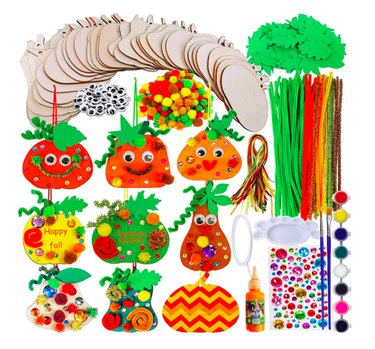 6. Printable Stand-Up Turkey Craft
This craft by 22DesignsStudio on Etsy comes as a downloadable PDF file with a template and instructions to make a paper turkey that can stand up on its own. All you have to do is print out the template (we recommend using heavy duty card stock), cut out the pieces, and follow the instructions on how to fold and assemble them. The finished turkey stands approximately 4 1/2 inches tall and 4 inches wide. Kids will have a great time playing with their new turkey friends. Though you can print out the templates in color, providing crayons and markers will give kids a chance to customize their creations.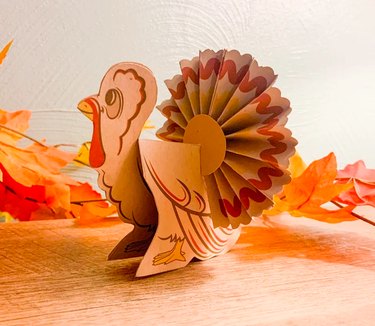 7. Felt Gratitude Tree Kit by Creatology
This craft kit by Creatology lets kids make their own "gratitude tree" out of foam pieces. Each kit makes one tree and comes with two interlocking tree pieces made of foam, 12 foam leaves and 12 ribbons. Kids can write something they're thankful for on each leaf, then use the ribbons to hang them from the branches. We love that this kit reminds children of the heart and meaning of Thanksgiving.