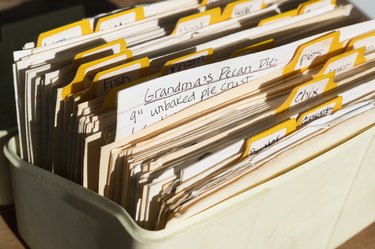 How do you store the recipes you cherish? Are they in a battered old notebook, or an accordion file? A small box filled with file cards? A neat binder full of protective plastic sleeves, or a chaotic drawer filled with torn-out magazine pages and hand-scrawled notes? The simple fact of the matter is that no single method of organizing recipes is ideal for everyone (though the "chaotic drawer" option probably doesn't work for ‌anybody‌). For that reason, we're not going to pick an arbitrary "best" single storage option for your recipes. Instead, we'll give you good examples across a wide range of recipe-management options, so you can pick the one that suits your personal style.
1. Recipe Card Organizer Box
Your nearest department store or stationery store stocks several utilitarian options for holding file cards. While that's a pragmatic option, it's sorely lacking in style. There are any number of sturdy, attractive file boxes out there which will organize your recipes just as effectively, but look good doing it.
It's a crowded category, but we like this one from small manufacturer Jot & Mark. The sturdy metal box is available in multiple bright patterns, the set comes complete with dividers and blank cards, and—most importantly—while you'll struggle to cram 100 recipes into many competitive products, this spacious box will hold up to 250. If you already have lots of recipe cards, but are looking to upgrade their storage, you can save a few dollars and buy the box separately.
2. Recipe Binder Organizer
Are you a magpie when it comes to recipes? If your collection includes everything from file cards to hand-written notes to full pages cut from magazines or printed from the internet, a simple box isn't going to measure up. A better option is a three-ring coil binder, where you can accommodate ‌all‌ of your recipes—regardless of format—by simply combining different types of protective sleeves within your binder.
This appealing option from SwiftCube covers those bases handily. It comes complete with dividers and labels, recipe cards, and 30 protective sleeves each for full-page recipes and recipe cards. In total, it can accommodate up to 300 sheets, which is plenty for most cooks. One thoughtful detail: Recipe cards slide into their sleeves from the coil side, so they won't fall out as you move and store the binder. The binder, and its dividers and sleeves, are all designed to wipe clean with a damp cloth, so you can place it in your cookbook holder while you work and not have to worry about splashes and splatters.
Tip
Some competitive binders come in a smaller size, just 8.5 by 9.5 inches. Those are intended only for holding recipe cards in their sleeves, and won't accommodate recipes on full sheets of paper.
You'll find a lot of love online for this recipe journal, and for good reason: It's not just designer-stylish, it's actually a really well-thought-out product. To begin with, inside the hardbound cover you'll find coil-bound pages (so it will open flat on your counter, or in a cookbook holder). The seven sections are separated by sturdy dividers, and each section is designed to hold 20 recipes. There's a pair of facing pages for each recipe, so you can write the ingredients on one side and the instructions on the other. Sheet protectors are provided, in case you want to incorporate a few recipe cards as well, or you can purchase a matching recipe box (sold separately) and keep your card-based recipes separately.
The only real downside to this journal is its limited capacity and rigid formatting, with its seven preset sections at 20 recipes per section. For an equally durable (if less stylish) option that gives you more flexibility, consider Moleskine's sturdy faux-leather recipe journal (part of its Passion Journal series) which gives you 400 pages of high-quality, acid-free paper to record your favorites on.
4. Vertical Flip Stand Recipe Organizer
Your grandmother's favorite recipes might have been written on a steno pad, a coil notebook with the coil on top (they were used for office note-taking in the days before word processors). They were great for recipes because they could stand up on their own on the countertop while you worked.
Steno pads are harder to find, these days, but this smart recipe organizer captures some of the same appeal. It's by C. R. Gibson, a big name in the recipe management space (their binders are excellent and popular), and it's designed to hold full-sized 8 1/2- by 11-inch sheets in its protective sleeves. It comes with 24 of the company's matching sheet protectors, but can be expanded up to 54 in total with additional sheets (sold separately). It's not the highest-capacity recipe holder in our roundup, but it's ideal for storing and using those few dozen core recipes you return to over and over.
5. Accordion File Recipe Organizer
As with file card boxes, you can pick up a basic expanding file (also known as an accordion file) at any office-supplies store. They're a good option for those of us who are willing to sacrifice a bit of organization in exchange for ease of use: There's no planning, no purchasing accessories, just drop your recipes—in any format—into the appropriate section, and you're done. Unfortunately, the generic ones sold in office-supplies stores are often too bulky for kitchen use, or too flimsy, or have dividers that don't extend all the way to the bottom (so small recipes can go astray).
This one from Meadowsweet Kitchens is designed specifically for recipe use, and it addresses all of those problems. It's sturdy and relatively compact at only 2 1/2 inches deep, but can still hold hundreds of recipes. The dividers come pre-labeled for you in eight categories, but if you don't like the default categories, you can simply add your own labels to the tabs. These aren't the most stylish or structured option for recipe storage, but they're quick and easy to use.
6. Cross-Platform Recipe Organizer App
What if you'd rather give up shuffling paper recipes entirely, and just keep your favorites on your electronic devices? If that's the case, you'll find plenty of apps and websites to help you along the way, but Paprika is probably the most versatile and best-rounded of them all. It's available on iPhone or Android, Mac or PC, so you're not limited to any particular platform.
It's a really well-rounded app: You can import recipes from other programs, save them directly from the internet or enter your own manually; and you can add photos to each recipe as well. You can scale recipes up or down, plan meals, add ingredients to your grocery lists, and much more. It will even seamlessly sync your recipes between devices (a great form of backup).
One final benefit to Paprika is that it doesn't require a subscription, as many apps now do, but is yours after a modest one-time purchase. For computer users, it's $29.99 to own outright, or $4.99 for your mobile devices. You can download mobile versions from the Play Store or App Store, or computer versions from Apple's Mac App Store or—for Windows users—the developer's own site.