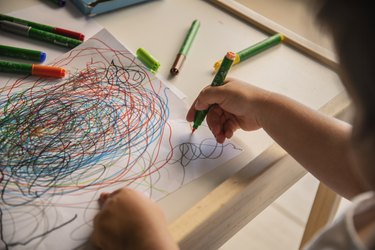 If there's one thing teachers love sending home with students, it's paper—endless paper full of all the work and memorabilia your kids are proud to show you and you're equally as excited to see, along with the papers you're, well, less excited to see but still need to hold onto until your child forgets about them.
Finding a spot to hold the special papers that your child brings home from school can be a challenge, especially if you don't have the right organization solution. The good news is, there are several organizers for kids' school papers that can keep the important papers safe while clearing the clutter from your counters and wherever else papers temporarily live in your house when they're brought home from school.
Tip
Having a plan in place that works for the whole family tends to be a great way to get your kids to be willing to recycle the papers that aren't important to them, while holding onto the few that are. Something along the lines of cleaning out their backpacks every day and keeping one paper a week, only to narrow them down at the end of the month.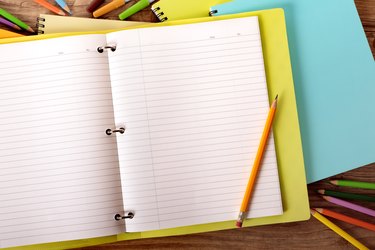 What to Consider When Purchasing Organizers for Kids' School Papers
​Accessibility:​ Do you want to store the papers away in a special box that your kids don't have easy access to, or do you want to give them free rein at looking at all their school work whenever they please? There's no wrong answer, but your preference will determine which type of organizer you buy.
​Type:​ You have lots of options when it comes to an organization system that works for your family. If you want an organizer that keeps the papers put away and out of sight, a file cabinet or storage box is a good option. If you don't mind if the papers are somewhat displayed or accessible, you can try a drawer, pocket organizer or shelving unit.
​Size:​ The older your kids get, the more papers they'll accumulate. If your child is in kindergarten or first grade, starting off with something small will work for now, but if you want there to be room to grow so the papers don't get torn, flattened or crumpled, you should go for an organizer that's large enough to get through your child's entire school career. You might need one organizer for each child. Keep in mind, once they're done with elementary school, the papers they bring home will slow down tremendously.
Scroll on to find our top picks for the best and most efficient kids' school paper organizers of 2022.
1. Pearhead School Years Organizer
If you're a family that likes to hold onto only the most momentous papers or artwork, this School Years Organizer is a great option. Included in the storage box (that has a handle and a closing mechanism) are 14 labeled multicolored folders for grades preschool to 12th grade, an awards folder, safety information cards and name labels.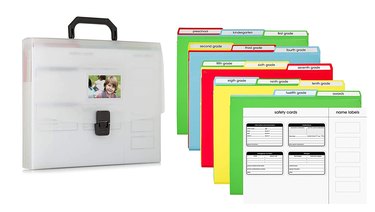 2. Iris Paper Storage Case
Depending on how many papers your child brings home, the Iris Paper Storage Case can get the job done on its own or as multiple units you can stack or place next to each other. They're easy to stack in a closet or in a larger storage bin and pull them out when needed. It also fits under most beds. To keep papers and artwork organized based on your child's grade level, you could dedicate each case to a different school year and label it as such.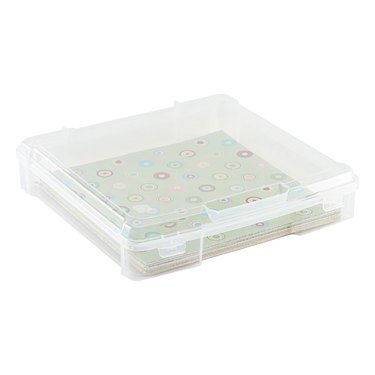 3. HearthSong My Art Place Portfolio
Here's a storage solution for your child's papers that doesn't take up much space and comes with color-coded accordion files to organize artwork. This portable art portfolio has all the bright colors to make art and school paper storage fun. It's oversized and can hold papers up to 12 by 18 inches. Built-in handles make it easy to carry around, take to a grandparent's house or to bring to school.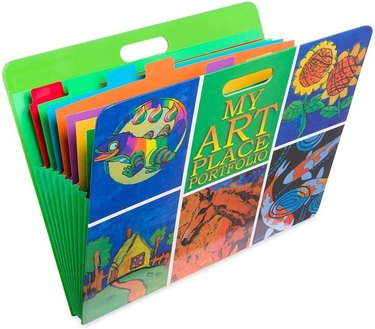 4. The Container Store 4-Drawer Desktop Paper Organizer
Whether you need a place to store your child's school papers or you want to make blank paper accessible for the whole family, this four-drawer desktop paper organizer is a great way to do it. It can organize school mementos like artwork, as well as different types of paper or stationery, including construction paper, wide-ruled paper and graph paper. The drawers are sturdy and secure, so the inside contents won't slide all over the place when one is opened. As a bonus, the top of the organizer is sectioned to hold frequently used office supplies.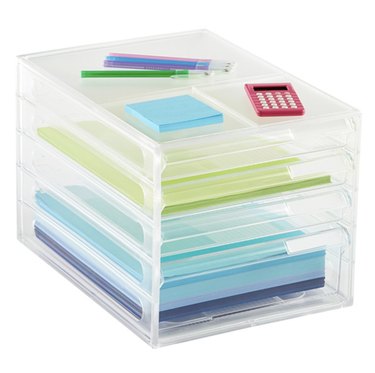 5. Classroom Keepers Construction Paper Storage
If your kiddo likes to have access to their graded homework, artwork or any other papers they bring home from school, this 10-shelf organizer makes it all easy to get to. Each shelf can be used for various school years, different school subjects or even to store construction paper sorted by colors. Made from sturdy corrugated cardboard, it's an eco-friendly solution.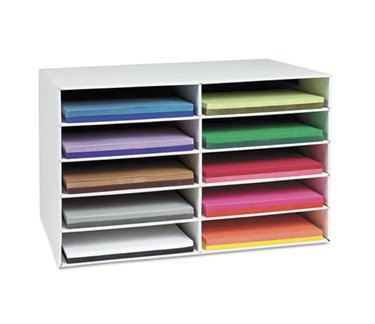 6. Like-It Bricks Stackable Letter Tray
Each piece in this stackable, plastic letter tray can hold a bunch of papers. Since each shelf is sold separately, you can build it to fit your needs—whether it's four or more shelves that are the same size stacked as one unit or a couple of paper-holding shelves with smaller ones to hold office supplies on top.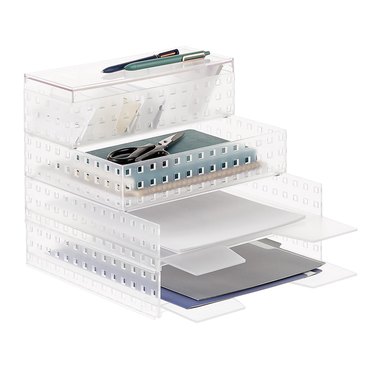 7. Oterri File Storage Organizer Box
If you have the space, a filing box is an easy way to store all the school work and artwork your kids bring home from school that's worth saving. You can either get one box for all your kids to share, or if you like to hold onto more of their work, each kid can get their own box. Made of high-quality MDF board, the box offers sturdy support. It comes with two clear sliding bars that make it easy to slide file folders without ruining the edge of the box. The storage box collapses for easier storage when it's not in use, and it comes in five color options.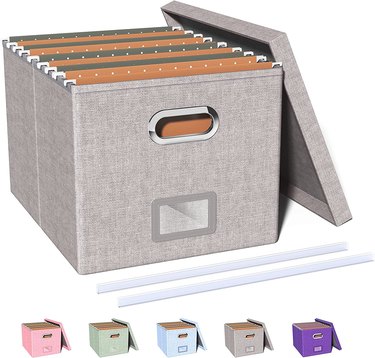 This is a great box to store oversized papers, artwork, sketch pads or photographs that don't fit in letter or legal sized containers. If one isn't enough, you can purchase several of these boxes and easily label them with your child's name, age or grade level. They can be stacked in a closet or stored next to each other under a bed.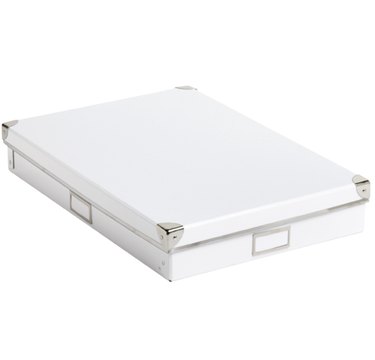 9. Bankers Box Heavy Duty Plastic File Storage Box
The most secure and sturdy option on our list, this plastic file box will hold legal sized papers and artwork. Whether you place folders inside on the built-in hanging rails to organize the papers by grade level, or you simply place everything inside without folders, this storage box will keep your child's papers safe for years to come. It has comfortable, lockable handles for carrying and to keep everything secure.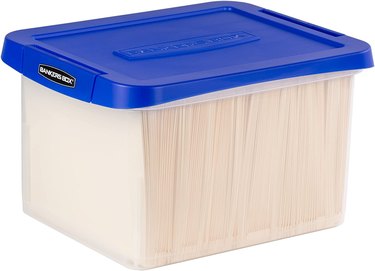 10. Martha Stewart Crafting Kids' Paper Organizer
Perfect for crafting storage or for holding school work or artwork, this Martha Stewart paper organizer would be a chic addition to any office space or playroom. The tabletop wooden storage unit has six trays and one side compartment. It comes in white or gray and can fit various types of paper in various sizes. Just like the other shelving units on our list, this one can also be used to store and organize crafting paper and make it accessible to your kids.