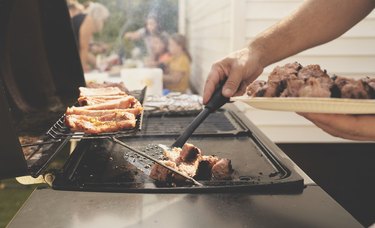 Charcoal and gas grills are the go-to tools for outdoor cooking, but recently flat top grills (or griddles, if you prefer) have become a trendy alternative to a conventional grill. Instead of a grill's cast-iron grates, the cooking surface is a single, solid surface—usually made of carbon steel—like the ones you see in diners and restaurants. So why own a flat top gas grill?
To put it simply, they're more versatile than a regular grill. The flat cooking surface is high on functionality, letting you fry eggs and bacon or sizzling fajitas, or turn out oh-so-trendy "smash burgers" with equal flair. You don't have to worry about flare-ups incinerating your food, thin vegetables falling through the grates, or extra-delicate foods (think fish) falling apart. It's a whole different approach to cooking, one that's rather liberating after the constraints of open-flame cooking. If you're ready to dip your toe into the griddle-cooking waters, we've picked out six of the best flat top grills for you to consider.
What to Consider When Purchasing a Flat Top Grill
​Cooking Area:​ One of the biggest advantages a flat top grill has over a conventional gas grill is that the cooking surface distributes heat, minimizing cool spots and making the entire surface usable. It makes sense, then, to get the biggest cooking surface that will fit comfortably in your outdoor space.
​Heating Power:​ As with conventional propane grills, the amount of power (heating capacity) it packs is measured in BTUs. The more BTUs relative to the size of the cooking surface, the hotter the surface can get and the more cooking versatility you can expect. It's not quite as simple as "more equals better." Durability, thoughtful design and other features should play a role in your decision—but heating power is certainly an important part of the spec sheet.
​Portability and Size:​ How do you plan to use your flat top? If you have a small space, or if it's going to play second fiddle to your regular gas grill, you might want to get a compact model. If you want to take yours camping or to the beach, a folding model might be even better. On the other hand, if you routinely feed the whole neighborhood or put on cookouts for charity, you might want to carve out space for a commercial-sized unit. There's a size for every need, so there's no right or wrong choice.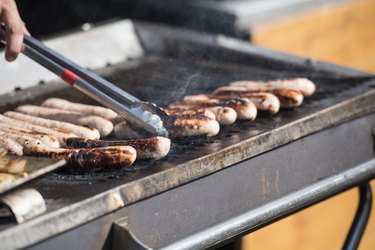 The Best Overall Flat Top Grill
Blackstone 36-inch, Four-Burner Gas Griddle
If you're just dipping your toe into the world of flat top grills, one of the first things you'll learn is that Blackstone is a dominant player in this category. The question is usually which Blackstone grill to name as the top choice, and why. We like this classic 36-inch model (though there's a case to be made for the 28-inch version as well) because it's big enough for a major cookout but, because of its four-burner setup, can be used for smaller cooks—or simultaneous high- and low-temperature cooking—as well. The cooktop is made of heavy cold-rolled steel for durability and even heating, the rear-mounted grease trap is very functional, and its 60,000 BTUs (15,000 per burner) provide ample oomph to heat the entire 720 square inches of cooking surface.
The griddle also boasts a number of thoughtful design features. The side tables and lower shelf offer plenty of space for ingredients, and the built-in cutting board on one side table lifts away to reveal an integrated garbage bag holder. There's even a paper towel holder built-in to help with cleanup as you go. The frame's heavy-duty casters make the grill easy to move and can be removed when you want to go tailgating. Just be aware that at nearly 200 pounds, it's a multi-person lift.
The Best Value Flat Top Grill
Country Smokers Highland 4-Burner Portable Griddle
If you aren't ready to commit to an industrial-strength griddle right now, there's a lot to like about this offering from Country Smokers. At about half the price of our top pick, it still provides almost 600 square inches of cooking surface (enough for 10 people or so), and at 44,000 BTUs it packs enough punch to heat that space effectively. The stainless steel cooktop is easy to clean and requires minimal care, and even comes pre-seasoned for you. The protective burner covers help the grill provide even heat, and the hanging grease trap is easy to empty even in mid-cook.
This unit is much lighter in weight than the Blackstone, at under 50 pounds, but it's correspondingly less sturdy. That's fine because this model is built for portability: The foldable legs and padded handles make it easy to carry to your beach or tailgate party. Country Smokers is a big player in the barbecue game, and despite the light weight and low price, this griddle is manufactured to a high standard of quality.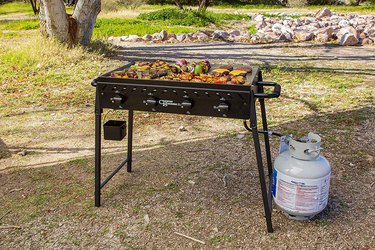 The Best Flat Top Grill for Camping
Country Smokers 2-Burner Flat Top Grill
If portability isn't a nice bonus but your main focus—camping is the obvious use-case, here—then this appealingly compact griddle, the smaller sibling to our best-value pick, is exactly what you need. It's essentially the same lightweight, well-made flat top grill, but scaled down to make it even more suited to portable use. The folding legs let you cook at a comfortable waist height (something you don't get with tabletop models), and at 373 square inches, the cooking surface is still large enough to cook for five to six people. Its dimensions are trunk-friendly, about 30 by 20 inches, so it's compact enough to take with you just about anywhere. At a little over 30 pounds, you won't even resent it too badly as you trudge up to your favorite campsite. What's not to like?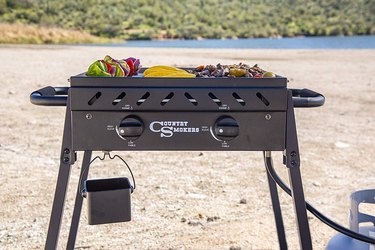 The Best Tabletop Flat Top Grill
Blackstone 22-Inch Heavy Duty Tabletop Griddle
If you expect to still use your gas grill for most cooking, but like the idea of a flat top grill's versatility, there's a good argument to be made for adding a tabletop griddle to your set of backyard toys. This compact unit from Blackstone packs 24,000 BTUs to power its 339 square inches of cooking space, and the company's H-shaped burners make for even, reliable heat. You can use this on your patio as a complement to your main grill, take it along for tailgating, or even tote it out to your favorite campsite—it only weighs 32 pounds, so it's easy to pack. You'll still get the heavy-duty Blackstone cooking surface and the high-capacity grease trap for easy cleanup. The unit's designed to work with portable 1-pound propane canisters, which are similarly easy to pack along, but you can buy it in a bundle with the hose and regulator if you'd rather use a standard 25-pound tank.
The Best Compact Flat Top Grill
Cuisinart CGG-888 360° Griddle Cooking Center
In between the minimalism of a tabletop griddle and the full-sized experience of our top picks, there's room for a middle-ground offering: Something that remains permanently set up on your deck for outdoor cooking but still leaves room for your barbecue and a few friends. The griddle surface is made of cold-rolled steel for excellent heat distribution, like the Blackstone, and the twin burners' combined 30,000 BTUs is plenty to power the 380-square-inch cooking surface. Despite its compact size, the flat top griddle is plenty large enough for two separate cooking zones, one hotter and one cooler. There's also a stainless steel lid (a rare feature among flat tops) so you can steam, smoke or even bake on this model.
The grease management system consists of a large ring around the grill surface, so all of the food debris you scrape away - not just the fat and drippings - can be neatly trapped. There's no front or back on this unit, hence the 360-degree part of its name, which makes it useful even in a relatively narrow corner of your deck or patio. Cuisinart makes a larger 30-inch version of the griddle with two side shelves instead of this model's one, but we prefer the smaller version's space efficiency.
The Best Oversized Flat Top Grill
Camp Chef 900 Flat Top Grill
If you're the kind of person who feeds the entire neighborhood on long weekends, or periodically holds fund-raising cookouts for charity, this is your gas griddle. Like our top-pick Blackstone, the cooktop is made of cold-rolled steel, but this one gives you a whopping 877 square inches of surface area (about 20 percent larger) and provides six 12,000 BTU burners to provide even heating across this vast expanse. Another nice feature is that the grease trap is wide open at the top, so you can scrape food debris right into it (the traps on many griddles have a small hole meant for grease, and they'll choke on larger food scraps).
The steel griddle is pre-seasoned and ready to cook as soon as you open the box, and (like the Blackstone) you'll get an electric ignition system that works reliably in all conditions. There's a prep table on either side of the cooking surface and two shelves underneath for your tools and ingredients. The price represents a steep upgrade from the Blackstone, but if you need maximum cooking capacity in your outdoor kitchen, the Camp Chef has you covered.