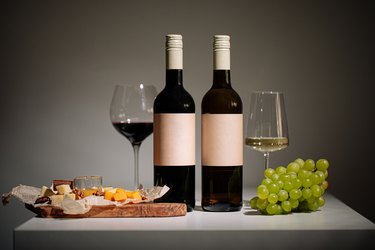 If you're a serious wine lover or just an occasional imbiber, having the right glassware for different types of wine provides a more elevated, enjoyable drinking experience. Whether for everyday use or special occasions, the best wine glasses accentuate the aromas and flavors of your reds, whites, rosés, sparkling wines, dessert wines and fortified wines.
But if you're not a sommelier, you might be a little lost trying to pick out the perfect glasses for your wines. After all, they come in so many shapes, sizes and designs—many with very subtle differences.
So, brush up on the important factors to look at when choosing your wine glasses—especially if you put effort into choosing your wines and how you pair them—and find some recommended products below.
What to Consider When Purchasing Wine Glasses
‌Shape:‌ Generally speaking, rounder bowls are best for red wines, allowing you to swirl and aerate them to release their more complex bouquet and flavors. Narrower bowls are ideal for white wines. Bell-shaped universal or all-purpose wine glasses are available as well—a good choice if you have limited cabinet space or just want glasses to use for whatever you happen to have on hand. There are all sorts of specialty glasses for individual varietals too, but most at-home wine drinkers don't delve so deeply into things. Also, consider the size relative to the size of your hands as some bowls are quite large and bulbous, and some stems are longer than others.
‌Other Design Aspects:‌ In addition to the bowl's shape, other aspects of a wine glass's design are worth considering. Like the stem. Longer stems are more fragile and make the glass more prone to tipping over, but they're also easier to hold. There's stemless glassware, too. It's more secure sitting on a table, but you have to hold the bowl in your hand, which warms the wine inside. Even so, thinner rims are preferable to thicker ones. Take a look at how thin and lightweight the bowl is, as well; more delicate glasses improve the drinking experience, but they make some people very nervous. Also, if you don't want to get stuck hand washing a bunch of wine glasses after a gathering, you can find products that are dishwasher safe.
‌Material:‌ Wine glasses are made of crystal, glass or plastic. Crystal is widely considered the best, as it's a little stronger than glass. It's also pricier. And there's not really any difference between the two in how they affect the flavor of wine. If you're going with glass, keep in mind that hand-blown glasses are a little cooler than machine-made glasses, but they're also more fragile. Plastic wine glasses are by far the cheapest, but they detract from the flavor of the wine; save them for camping trips and tailgating parties.
‌Number:‌ You can buy wine glasses individually, in pairs and in sets of four or more, with sets of six being common. Do you only need glassware for yourself, or you and your partner? Or do you host dinner parties? And remember, you have to put all those glasses somewhere, so figure out how many you have room for in your cabinet, taking into account the size of the bowls on the product you're considering.
Of course, what you're willing to spend matters too, as you can spend anywhere from a few dollars per wine glass to a few hundred dollars per glass. Your budget considerations along with the others mentioned above will help you select the best wine glasses for your home.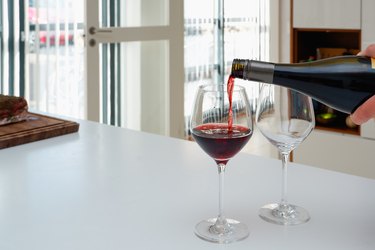 The Best Overall Wine Glasses
For glasses that are equally suitable for a Cabernet Sauvignon and a Sauvignon Blanc, this set of six high-quality universal wine glasses is a top pick. Whichever bottle of wine you decide to serve, the classic bell shape accentuates the wine's aromas and flavors, while thin rims optimize the drinking experience. Made from patented Tritan lead-free crystal glass, these glasses are durable and dishwasher safe for easy cleanup. This makes them good for everyday use, but they're also elegant enough for entertaining. And they're offered at a great price for their quality, strength and versatility.
The Best Wine Glasses for Red Wine
If you want glasses for merlot, pinot noir, cabernet, Beaujolais and other red wines without getting bogged down in the world of specific glasses for individual varietals, these will serve you well. It's a set of six scratch-resistant, chip-resistant, extra-durable plus dishwasher-safe red wine glasses made from Tritan lead-free crystal glass, and their goblet shape allows them to double as water glasses. They have a sleek design and a well-proportioned stem, making them sturdy and easy to hold. Not to mention for all you get, you really can't beat the cost.
The Best Wine Glasses for White Wine
As you may have noticed, Schott Zwiesel Tritan glasses are popping up with some regularity. They're just perfect glasses for wine enthusiasts of all levels, offering an ideal balance of functionality, aesthetics, durability and price. Stock your cabinet with this set of six dishwasher-safe Tritan lead-free crystal glass white wine glasses, and you're good to go whether you're opening a bottle of chardonnay, pinot grigio, sauvignon blanc, Riesling, Moscato or another white. They're also well suited to rosés. Their tall, slender, gently tapered profile is elegant and provides an elevated drinking experience, giving them a high-end look and feel that far surpasses their price tag.
The Best Budget Wine Glasses
For everyday wine glasses that also equip you for dinner parties without breaking the bank, you can't beat this set of 12. It includes six 19.7-ounce merlot/Bordeaux red wine glasses and six 18-ounce chardonnay/Chablis white wine glasses. They're made of glass—hence the low price—but they're durable and dishwasher safe (and free of lead). All in all, it's a great starter set that only runs you a little over $3 per glass. Just one thing to keep in mind, though: You'll have a hard time replacing glasses if they break without buying a new set.
The Best High-End Wine Glasses
If you're willing to pay top dollar for some of the most beautiful, well-designed wine glasses out there, this set of six is a recommended buy as it's beloved by wine experts around the world. These stunning pieces are hand-blown from European lead-free crystal. Their finely tuned bowl shape is first and foremost for full-bodied reds, but it brings any type of wine vibrantly to life. The rim is incredibly thin, putting almost nothing between your mouth and your drink and the glasses are so lightweight and transparent, you hardly know they're there. These pieces are dishwasher safe, but it's understandable if you prefer to hand wash them—assuming you're not a clumsy dish washer—given their cost.
The Best Stemless Wine Glasses
If you prefer stemless wine glasses you can easily carry around and you don't have to worry so much about knocking over or snapping during washing, these wine tumblers are a good buy. It's a set of four durable 21-ounce crystal glasses. They're a cabernet/merlot style, best suited to red wines, but they can certainly pull double duty as white wine glasses. In general, though, stemless wine glasses are less preferable for whites and rosés that are served chilled, as your hand on the bowl will quickly raise their temperature. The glass and rims are thin and elegant-feeling, and conveniently, you can put these pieces in the dishwasher.
The Best Champagne Glasses
You might think of a champagne flute first, as they're so iconic for celebration. But their very narrow design doesn't allow much oxygen to come into contact with the sparkling wine, preventing development of the flavors and it also greatly limits your exposure to the aromatics. Instead, this fine crystal champagne glass has an egg-shaped bowl that's much more effective at bringing the complex flavors and aromas of champagne and other sparkling wines to life. It's a set of two, machine-made for enhanced strength, and they're dishwasher safe. And they have an elegant, celebratory look that will have you quickly forgetting about champagne flutes.