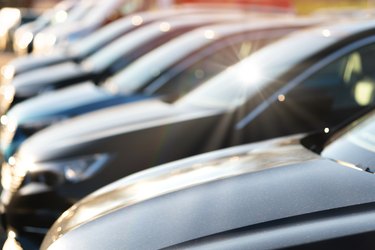 In the heat of the summer, cars can get dangerously hot. Even if your car has air conditioning, it can take a while for the car to cool down after it's been sitting in the sun on a hot day. If you don't have access to a garage, or if you want a way to keep your car cool while you're parked and running errands, there are some essential gadgets that can get the job done. They won't help with airflow, but they can absolutely lower the temperature in your car.
What To Consider When Purchasing Products To Keep Your Parked Car Cool
​Type:​ There are many different types of products you can buy to help keep your car cool this summer:
​Windshield Shade:​ There are two purposes of a windshield shade. When it's hot outside, it keeps the interior of your parked-outside car cool so the heat isn't overwhelming when you get in. It also protects the inside of your car from the damaging effects of UV rays, which can crack plastic dashboards and discolor your car's interior. There are retractable windshield shades and foldable shades.
​Window Shades:​ These work the same as windshield shades, only they attach to the windows and can stay put while you're driving to keep the sun out of your backseat.
​Seat Cover:​ A car seat cover helps protect the fabric on the seats from discoloration and from getting too hot, as well as protect the seat belts from getting too hot to touch. There are seat cushions, which sit on top of the seat, or full UV-protected covers that go over the entire seat or baby car seat.
​Vehicle Umbrella:​ A great option for your home if you don't have access to a garage, a vehicle umbrella is essentially an automated, wireless umbrella for your car that's easy to install and can reduce the temperature in your car significantly.
​Steering Wheel Cover:​ A cover for your steering wheel will keep it cool enough so you don't burn your hands in the heat of the summer.
​Car Size:​ The windshield sun shade, seat covers or vehicle umbrella you buy will depend on the size of your car. Most product descriptions will specify whether the product is designed for a specific make or model or if it has a universal fit.
​Cost:​ Most gadgets you can buy to prevent a hot car this summer are reasonably priced. As probably expected, the most expensive option on our list is a vehicle umbrella, which can run anywhere from a couple hundred to several hundred dollars. A vehicle umbrella, however, could save you money in the long run on garage parking or repairing damage from the outside elements.
Warning
Even if you decide to purchase and make use of these car-cooling gadgets, you should never leave children or pets inside a car when it's warm outside, even when the windows are cracked. The products we've included in this list are meant to make your parked car more bearable and comfortable in the summer, but you should still proceed with caution.
Scroll on to check out the best products to keep your parked car cool this summer.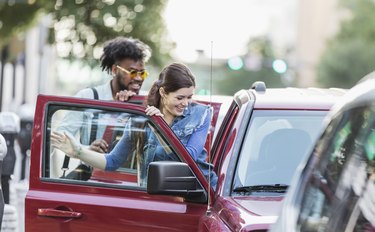 The Best Steering Wheel Cover
Big Ant Steering Wheel Cover
If your steering wheel is too hot, you won't be able to drive. The best way to keep your steering wheel cool is a steering wheel cover that blocks UV rays. This sun shade protects your hands from burning in hot weather while also protecting the steering wheel from cracking or discoloring. When it's not in use, it can be folded to fit in your car door pocket or glove compartment. While the company states the cover has a universal fit, measuring your steering wheel before making a purchase is highly recommended. The product should, however, fit all SUVs, trucks, vans, and cars with steering wheels that don't exceed 20.1 inches long by 17.3 inches wide. As a bonus, it comes with two shades that stick to the windows via suction cups.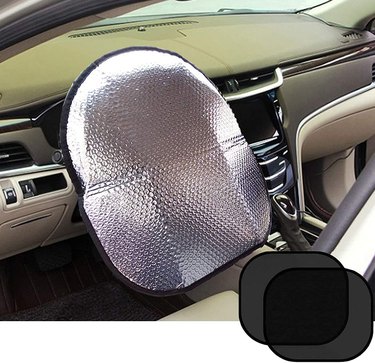 The Best Window Sun Shades
Enovoe Car Window Shades, 2- or 4-Count
Window shades can be incredibly helpful when it comes to reducing heat and glare from the sun. This two- or four-pack doubles as shade for your front seat and backseat while you're parked as well as when you're on the go. The shades are great for road trips with your kids to limit their sun exposure and to give them one less thing to complain about. The sun shades are designed to fit the larger car side windows of SUVs, minivans and full-size vehicles. To install, simply place the shade on the window and run your hand across it—the shade adheres to the window via static cling. These affordable shades also come with a pouch for storage when they aren't in use.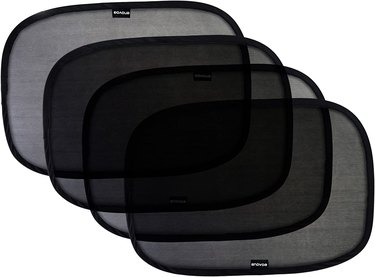 The Best Windshield Sun Shade
EcoNour Car Windshield Sun Shade
Perhaps the easiest, most efficient and most cost-effective way to help your car stay cool is by using a windshield shade. This shade offers excellent sun protection that can keep your interior safe while reducing the temperature inside your car. Unlike some sun shades, this one is actually easy to fold, which will probably make you more likely to use it. When you're driving or when you don't need to use it, the shade can be stored in its included pouch. Whether you have a small, medium, large or extra-large vehicle like an RV, there are eight different sizes to choose from.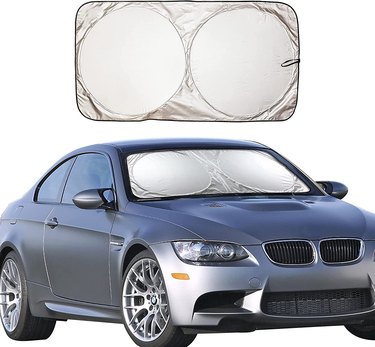 The Best Retractable Windshield Sun Shade
Dash Designs Universal Retractable Windshield Sun Shade
Steer clear of the summer heat with this retractable windshield sun shade. To operate, place the shade in your windshield just behind the visors and pull it across to the other side. Its retractability makes it easier to manage than other models and easier to store. The universal fit is designed to work with certain pickup trucks, most SUVs, and sedans like Honda Civics. If you're worried about how long it'll hold up, the company offers a two-year warranty.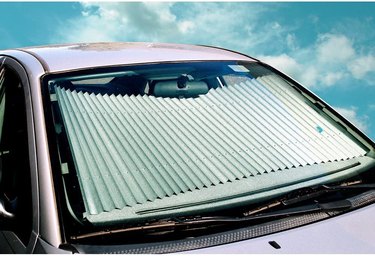 The Best Seat Cushion Cover
This seat pad is filled with buckwheat hulls, making it breathable, ventilated, water-resistant and eco-friendly. Not only will the pad remain cooler than leather seats, but its cushion can also relieve pain from long drives. Depending on the color of your seats, there are six color options that should match or closely match. In fact, the black so closely matches black leather seats that it's hard to see the pad at all. The universal fit works with most car models, so if you drive a compact, medium or large vehicle, you should be good to go with this one.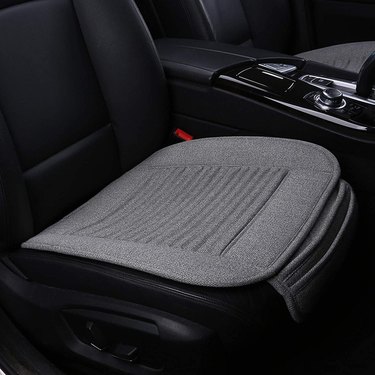 It's an awful feeling to accidentally burn your child's leg with a scorching hot metal seat belt. That can be avoided with this car seat cover that works with most full-size car seats or boosters. An elastic slip-on design makes it quick and easy to install (which is ideal since you'll likely have your hands full with all the kid things). When it's not in use, it folds down and fits into a compact storage bag for next time.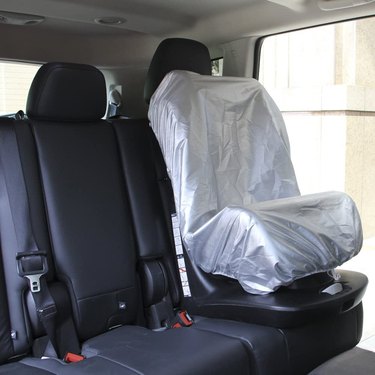 The Best Vehicle Umbrella
It might look funny, but this vehicle umbrella is a smart choice to keep your car as cool as possible in the summer, dry when it's raining, and free from bird poop and other miscellaneous debris. Setting it up is a lot easier than it looks—it can be folded and unfolded wirelessly using a remote control. It comes equipped with a removable, rechargeable battery and the whole umbrella can be folded and stored in a carrying bag for easy portability. Once the umbrella is installed (which the company claims can happen in 30 seconds), the opening process takes only 10 seconds. The umbrella is waterproof, windproof, and can effectively reduce the temperature inside your car while blocking out 99% of UV light. It's built to fit sedans, hatchbacks, SUVs and more.