Working in the garden, feeling your hands in fresh dirt and watching your hard work spring to life is supposed to be relaxing and therapeutic. However, those with limited mobility or seniors can find it hard to get down on their knees and then get back up again, turning your time in the garden into a painful chore instead of something enjoyable and relaxing.
Your knees and back will thank you if you add a garden stool to your arsenal of gardening tools. You can alleviate the strain on your knees and reduce back pain by using a comfortable garden kneeler or garden seat while doing your standard chores like weeding or planting. Whether you're looking for a basic foam pad kneeling pad or a basic comfortable seat you actually sit on, there's a wealth of selections available that are suitable for every person and situation.
Below, we've outlined some important points to consider when selecting an appropriate garden stool. We've also reviewed some of the best garden stools that will allow you an easier time getting the job done with less knee and back pain.
What to Consider When Purchasing a Garden Stool
​Weight Capacity:​ One of the most important aspects of a garden stool you need to consider is how much weight it holds. Garden stools hold varying amounts of weight and you want to be sure to get one that is comfy but also has a sturdy design that won't see you tumbling to the ground. If the garden stool can't hold your weight, you'll risk the chance of injury. Depending on how much weight the garden seat will hold, you might consider purchasing a high-quality model with a steel frame, especially if it has to hold hundreds of pounds.
​Rolling Wheels:​ Some models of garden seats have wheels allowing you to easily move from one place to the other without having to get up. These types of garden stools are great for seniors or those with limited mobility, allowing you to get your work done from a comfortable seat. Although a bit pricier than stationary stools, if you're looking to give your knees a break and enjoy your gardening time, they are worth the extra cash.
​Back Support:​ If one of the drawbacks of doing gardening work is back pain, you might consider a garden stool that offers support for your back. Although most gardening chores will see you leaning forward, it's sometimes nice to lean your back against some support and give it a break. Some garden stools have a strap or a regular chair back you can lean against. You can also find back relief using an ergonomically designed garden rocker with a curved seat that also takes the pressure off your back.
​Functionality:​ With all the various choices in garden seats, it's important to get one with the functionality you desire. Some are no more than a basic stool to sit on. Others offer storage space and a tool bag to contain all the gardening tools you'll be using like shears, trowels and gardening gloves. Ceramic types can function as a garden stool and their attractive design can have them fit in as an additional piece of garden furniture or even as a plant stand or side table. You even have choices in foldable designs that function as a foldable garden stool and garden kneeler. Consider how you'll be using the garden stool so you decide upon the best design for your particular needs.
The Best Overall Garden Stool
XCSOURCE Folding Garden Stool Multifunctional Kneeler With Shears
If you're looking for useful gardening gifts to either gift yourself or the gardener in your life, then you won't be disappointed in this multifunctional garden stool and kneeler from XCSOURCE. It even comes with a pair of heavy-duty gardening shears and a water-resistant tool bag you can either leave attached to the stool or remove and wear around your waist with the included adjustable belt. The heavy-duty foldable garden stool has a sturdy design with the base made out of iron. It has a weight capacity of 300 pounds so you don't have to worry about tumbling to the ground.
The multifunctional garden stool can be used as a garden seat to do all your weeding, or you can turn it upside down and use it as a padded garden kneeler. The thick EVA foam kneeling pad is wide enough to make it comfy for your knees, and you can use the frame to make it easier to stand up. The folding garden stool is 22.8 inches long, 10.8 inches wide and 19.2 inches tall and weighs only 7.72 pounds, making it easy to transport through the garden, while its foldable design makes it easy to store. Its green color will blend in nicely with the greenery of the landscape.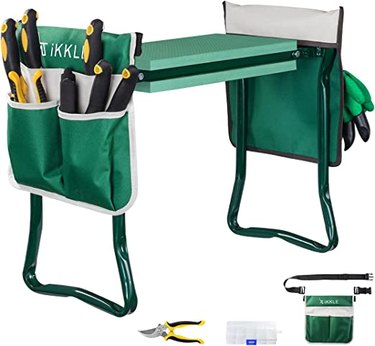 The Best Budget Garden Stool
LEMY Foldable Stool and Garden Kneeler
If you're looking for a multifunctional garden stool that will help you get your gardening work done without busting your pocketbook, then you can't go wrong with the LEMY foldable garden stool and garden kneeler. It even comes with a large tool pouch where you can keep all those necessary gardening tools handy and ready for use. The folding garden stool has a steel frame with a weight capacity of 250 pounds. Its unfolded dimensions are 24 3/8 inches long, 10 7/8 inches wide and 19 inches tall. The stool is lightweight, weighing only 5.72 pounds, making it a breeze to transport throughout the garden.
You can use the stool to sit on and get your work done, or flip it over and use it as a garden kneeler. The steel rails make it easy to get back up. The foam pad adds comfort while sitting or takes the pressure off your knees if using it as a garden kneeler. This garden stool is economical and its many functions allow you to do all your gardening chores comfortably.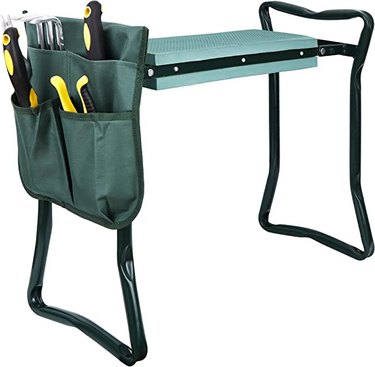 The Best Rolling Garden Stool
Goplus Rolling Garden Stool
If you're looking for the ability to easily move from one location to another while gardening and giving your legs, knees and back a break, then the Goplus rolling garden stool might fit your needs. It has a sturdy design with a powder-coated steel frame and has a weight capacity of 330 pounds, so there's no worry about rust and corrosion. The rolling garden stool has four 10-inch rubber tires that add stability to it so you don't have to worry about tipping over as you move. Weighing in at 27.5 pounds, the rolling garden stool is lightweight enough to easily move from place to place without a struggle.
The extra large seat has an ergonomic design so you'll still be comfortable after hours of use, and it's adjustable to fit different body stature. It also swivels 360 degrees so you're able to easily move from one direction to another while getting your work done. In addition, the rolling garden stool has a polypropylene tray located under the seat to store your gardening tools, as well as a basket on the back where you can carry your additional supplies. With its multifunctional design, you can use the stool in the garden as well as complete other projects, like working on your car.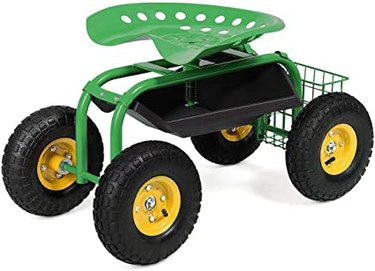 The Best Garden Stool for Storage
Miracle-Gro 4-in-1 Rolling Garden Stool
When it comes to storage capacity and functionality, the Miracle-Gro 4-in-1 Garden Stool can't be beat. It also comes with a free pair of latex-free and water-resistant gardening gloves, making it even more worth the money. The garden stool is made out of heavy-duty BPA-free plastic and is UV-protected, so you don't have to worry about it cracking with exposure to the sun. It also has wheels so you can easily move from one location to another. The garden seat holds 225 pounds and the entire stool weighs only 4.4 pounds, making it quite easy to move.
You can remove the seat portion of the stool, flip it over and use it as a foam padded garden kneeler. The stool has a large tool storage compartment under the seat that has dual locking sides and is big enough to carry your hand tools, seeds or other gardening supplies and store them in one secure place. Whether you need adequate storage space for your small tools, want to be able to easily move without getting up, or desire a garden kneeler or stool to sit on, the Miracle-Gro rolling garden stool will meet your needs.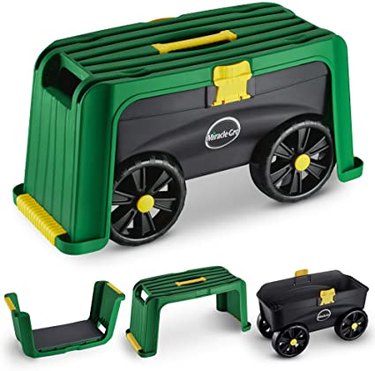 The Best Rocker Garden Stool
Vertex Original Garden Rocker Comfort Seat
If you're looking for a comfortable seat to accomplish those gardening tasks like weeding while taking the strain off your knees, legs and back, then the Vertex Garden Rocker could be the solution. The garden rocker has a foam padded, comfortable seat that is contoured and designed to move with your body's movements. Plus, it's adjustable to fit your height. The garden stool's rocking movement gives you a full range of motion as you carry out your chores, as well as stability, relieving strain on your body and joints.
It's made out of heavy-duty plastic and it's lightweight, weighing only 2.94 pounds. Still, it's sturdy enough to support up to 250 pounds. Although small in size, the Vertex rocker is big when it comes to comfort and sports a design that won't leave you feeling sore with back pain at the end of a session of weeding or gardening. The rocking seat is also useful for other projects where you need to sit, like cleaning the tires on your car.