Theme parks and beach trips are great, but laughing over lawn games in the backyard with people you love on a warm, breezy evening might be some of the best moments of your entire summer. Keep everyone coming back to the yard night after night with a variety of DIY backyard games. Some of them can be made with things you already have on hand. Others might require a quick shopping trip for lumber or a call to a friend with tools, but we all know it's going to take more than hopscotch, hula hoops or bocce ball to get your friends and family to put down their phones for yard games.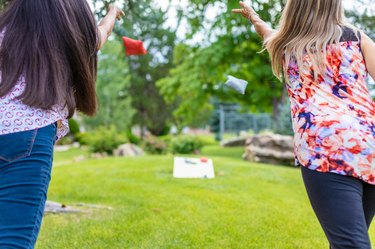 With DIY lawn dominoes, your game can go on as long as your yard does. Dominoes is a classic game that translates well to grass. Make your own by cutting out rectangles from cardboard or make sturdier dominoes from wooden boards and paint on the spots. How big you make your dominoes is up to you as long as they're exactly twice as long as they are wide.
If you have a big yard, create multiple sets of 28 dominoes. A leisurely game could take all afternoon and could cover your entire lawn.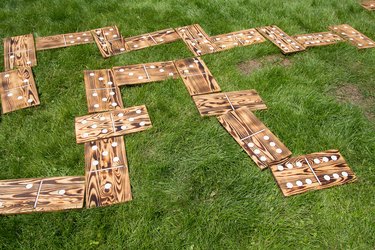 If your whole family loves playing board games, they'll love playing blown-up versions outdoors. Checkers is a fun game to play barefoot in the summertime. Something about walking around a giant board makes checkers more exciting than it is when you're playing indoors. Set it up as a party game and there might end up being a waiting list to play.
Cut 32 squares of equal size from cardboard or plywood or repurpose foam or turf tiles or carpet squares to lay out in a checkerboard pattern in the grass. Create 24 game pieces from painted cardboard circles, upcycled plastic plates or other household items. Paint an image of a king or a letter K on one side of each game piece. When the piece reaches the far side of the board and is made a king, it can simply be flipped over for the rest of the play.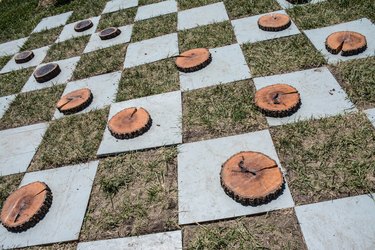 There's no more simple a game than a ring toss, which might be why this classic carnival game is surprisingly entertaining. Tossing a ring over a post should be easy, but when you can't get it the first time, you won't be able to stop trying. Even toddlers and older folks with limited mobility can participate in a ring toss game, making it an easy DIY activity for family reunions or other kid-friendly gatherings.
Nail together a base using 2x4s or repurpose an old piece of flat wood as a base. Find five or six wooden dowels and drill holes into the base to perfectly fit the dowels. Make your own rings using sturdy rope and electrical tape.
Flamingo ring toss is a whimsical, simpler alternative to a traditional ring toss. Stick one or more plastic lawn flamingos in the grass and challenge players to toss rings around their necks.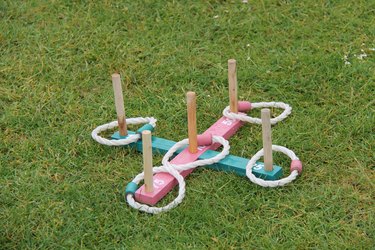 The nice thing about playing giant Jenga outside is that you can always blame the wind when the tower falls during your turn. Make an outdoor game set consisting of 54 blocks that are each three times as long as they are wide. If you have access to a circular saw, cutting boards into Jenga blocks is pretty simple. Sand them well to prevent rough edges and to help them slide smoothly.
Bean bag toss games were always pretty low key when you played them in elementary school, but anyone who has watched a cornhole game recently knows that some people take bean bag tossing very seriously these days. A set of cornhole boards and a bucket of fabric bean bags could keep some of your party guests locked in fierce competition for hours. Making your own boards is a feasible DIY project for anyone with some basic tools. Home improvement stores even sell premade cornhole board tops, holes included.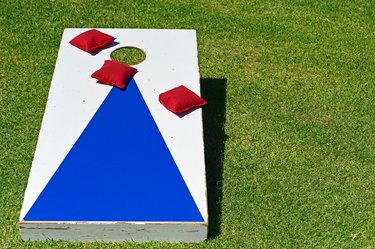 Do you need a last-minute, easy DIY yard game for kids? If you have a recycling bin full of empty drink bottles, turn them into DIY bowling pins. Fill empty bottles with just enough sand, gravel or dried rice to give them some weight. Start with one and head outdoors to experiment with rolling or kicking a ball into it. Bottles should be heavy enough not to tip over when they're bumped or when the wind blows but not so heavy that they won't fall over when you roll the ball right at them.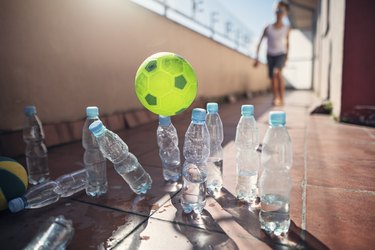 An oversize tic tac toe board can live in the backyard or can be brought inside and spread out on the floor for a rainy-day activity. All a DIY tic tac toe game requires are five Xs, five Os and four pieces of rope. Lay out the pieces of rope in the shape of a pound symbol (or hashtag) and tie them together at the points where they cross to create nine squares of roughly equal size. Cut out game pieces from cardboard or look for lightweight wooden letters in X and O shapes at your local craft store.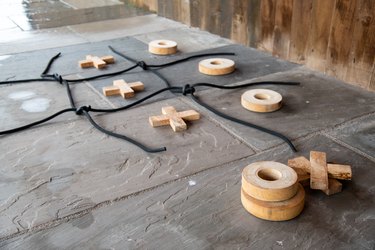 Washer pitching is a beloved multigenerational tradition in some families and a complete unknown in others. If you didn't grow up playing, the game has the same concept as horseshoes but uses metal washers instead. It's definitely a safer activity for the family barbecue than giving your guests heavy metal horseshoes to throw around.
A game requires two sets of washer pitching boxes, each one with a cup cut from a piece of PVC pipe inside the box. Players score points for throwing their washers anywhere inside the box, but getting them inside the center pipe is the real goal. Online tutorials can walk you through the process of building a box from scratch.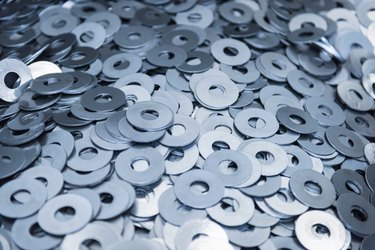 Most of the game of Yahtzee happens on paper. Each player rolls five dice and then has to strategize about how to count those dice toward their score sheet. So, creating a backyard version of Yahtzee is as simple as making five oversize dice that players can roll over the grass.
Create a quick set by taping together squares of thick cardstock to make cubes. To make more durable oversize dice for backyard games, ask a home improvement store to cut a 4x4 fence post into squares. Sand the blocks, paint on pips (the spots on the dice) and cover them with a layer of sealant to protect the paint job.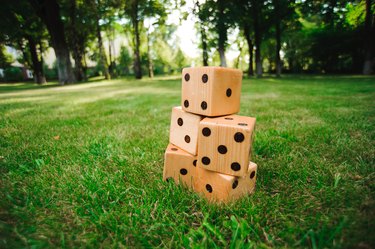 On a hot summer day, creating a water balloon piñata is a win for everyone who is close enough to get doused by it. Tie filled balloons from individual strings, hang all those strings from a rope and suspend the rope above head level between two trees or other structures. Blindfold players and give them a plastic bat to burst the balloons.
Clustering them together in one place on the rope will create a huge splash when one swing of the bat breaks multiple balloons. If you want lots of players to get a turn – like at a child's birthday party – spread them out along the rope's length so each person might only burst one or two balloons.