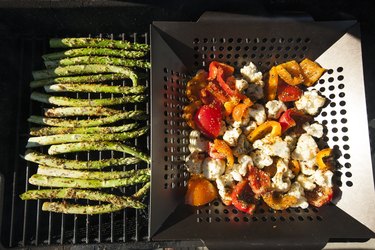 Grill baskets are one of the more overlooked grill and barbecue accessories, but they're a great addition to your collection if you love the smoky flavor of food prepared on the grill. They allow you to easily grill foods that are small enough to fall through the grill grates—think veggies, shrimp, wings, cubed meat and the like—as well as flaky or delicate foods that can fall apart or get stubbornly stuck to the cooking grates—like fish fillets.
There are several different styles, but the best grill baskets readily handle a variety of foods. Still, no style is perfect for all uses, so choose one designed for the foods you most want to prepare on the grill. Or, buy two or three types of grill baskets if you want to be really well equipped.
Things to Consider When Purchasing a Grill Basket
‌Style:‌ Grill baskets come in a number of different styles, but three are the most common. Some are similar to trays, usually rectangular but with higher, flared sides. You can put anything in them, but they're particularly well suited to grilling vegetables. Others are mesh baskets that close, making them useful for foods you want to rotate on the grill. And then there are cage-style grill baskets that close like clamshells. These are usually wide and flat, designed for things like grilling fish fillets, shrimp, and chicken wings, and they make it easy to flip them.
‌Shape and Size:‌ Grill baskets also come in a range of shapes and sizes that affect what uses they're best for. For example, will it accommodate longer veggies like asparagus? Is it deep enough to pile up vegetables? Rounded mesh baskets can hold a lot, but they don't provide much flat cooking surface. Also, do you want a grill basket that takes up all the cooking space on your grill, or do you want a smaller one that leaves room for grilling other food directly on the grill grates?
‌Holes:‌ All grill baskets have some sort of holes or slits, whether they're perforated into the metal or the basket is made of mesh. This allows oil and grease to drain, but more importantly, it lets in smoke and perhaps even some flame so that you can get that smoked flavor and flame-kissed appearance. Larger holes will give you a better char, but may also prevent searing or let smaller morsels fall through.
‌Handles:‌ Most tray-style grill baskets have two integrated handles. Keep in mind that these will get hot. But other styles usually have elongated handles, some of which have stay-cool, nonslip coatings like rubber. Always look at whether the handles are fully heat-safe. And then, there's the issue of closing your grill with a long handle. Many products solve the problems of heat and getting the lid on by having a removable handle. This is a convenient feature, provided the handle is easy to slip back on to flip your food and remove it from the grill.
These considerations will help you pick out the best grill basket for your intended uses.
The Best Overall Grill Basket
This stainless steel tray-style grill basket offers versatility and durability. While similar products have holes, this one has slits that prevent any food from falling through while still letting oil, grease and other drippings escape. It's deep enough to pile veggies in, and you can also use it as a wok-style pan on the grill. And, at just under 14 by 12 inches, it'll fit longer vegetables like asparagus, but it won't monopolize all the space on your grill grates, so you can cook other things at the same time. The two handles are comfortable and convenient. And, as an added bonus, this grill basket is oven-safe; just remember to put something underneath to catch the drippings.
The Best Compartmented Grill Basket
For an even more versatile tray-style grill basket, choose this one, which can have up to three compartments for keeping different foods separate while grilling them at the same time. This stainless steel product has 90 square inches of cooking surface, as well as two removable, adjustable dividers. So, you can have one large grill basket or two or three sections sized to your need. There's a detachable handle with a rubberized nonslip grip that can attach to any of the four sides. Ample holes allow for efficient draining, desirable charring and the imparting of lots of smoky flavor. Plus, this accessory is dishwasher-safe for easy cleanup.
The Best Mesh Grill Basket
This is a terrific product for containing a high volume of food and imparting plenty of smoky flavor. You can use it as a closed basket for food you want to rotate or shake, and you can also use each half as separate grill baskets or skillets (one is deep and one is shallow). Both of the long handles are removable, and the heavy-duty stainless steel mesh has a nonstick coating that readily releases food. You can use this versatile product on your charcoal grill, gas grill, pellet grill, indoor grill, stovetop, or even over an open fire.
The Best Nonstick Grill Basket
If one of your primary concerns is finding a grill basket that your food won't stick to, this product is a smart pick. Made of durable alloy steel with a highly effective nonstick surface, it's perfect for delicate fish, shrimp, blistered tomatoes, and other foods that tend to get stuck and that can fall apart when you struggle to free them. The relatively large holes let in lots of smoke and flame, and further prevent sticking. At 12 by 14 inches, there's a good amount of cooking area, plus the 2.5-inch-high sloped sides contain a large pile of food. Just keep in mind that this grill basket must be hand-washed and is only heat-safe up to 450 degrees Fahrenheit.
The Best Grill Basket for Veggies
If you're first and foremost looking for a veggie grill basket, go for this one. The wide, moderately shallow shape and the size are perfect for containing a reasonable pile of vegetables, and the holes are sized just right to let in smoke and flame and for the food to develop sear marks. The stainless steel construction and triple-reinforced corners make for an incredibly sturdy, durable product that heats evenly and helps prevent flare-ups. The stainless steel handles are heat-resistant, but also thin enough that they cool fairly quickly. It works on all grill types, and it's dishwasher-safe.
The Best Grill Basket for Seafood and Wings
When you want a fish grill basket that can also handle shrimp, chicken wings, thinner veggies, burgers, steaks and more, this one is ideal. This barbecue grilling basket clamps securely over your food for easy flipping, with the grid pattern supporting small food vertically and horizontally. It's a durable, dishwasher-safe, stainless steel product with a detachable handle and 108 square inches of cooking surface. This model is compatible with any type of outdoor grill, and it's sold at a great price point for the quality and versatility. As an added bonus, it comes with a few other grill accessories: a grill mat, a sauce brush and a carrying case.
The Best Grill Basket Set
If you're looking for a grill basket set that has a few different shapes and sizes for the price of one good grill basket, look no further. This set comes with three stainless steel tray-style grill baskets: a 10-inch by 7-inch grill pan, a 9-inch by 9-inch grill basket that's 2 inches high, and a round grill basket with an 8.5-inch diameter that's 3 inches high. This equips you to handle a large selection of food. The perforations are big enough to let in smoke and flame, and each piece has large, securely riveted handles. They wipe clean easily but are also dishwasher-safe.