If you're a wine enthusiast, you understand the importance of always having bottles of wine on hand. Extra wine bottles require a wine rack so you don't have miscellaneous pinots and merlots lingering on your kitchen countertop just waiting to be consumed. A wine rack allows you to safely store wine in one location so you always know where to go to grab a bottle. The storage in a wine rack is always horizontal because wines with corks are best aged on their side, keeping the cork in contact with the wine. If a cork gets too dry, it'll crumble and allow air to get in, causing the wine to oxidize and prematurely age. That means you wouldn't be able to drink it, which would be a tragedy.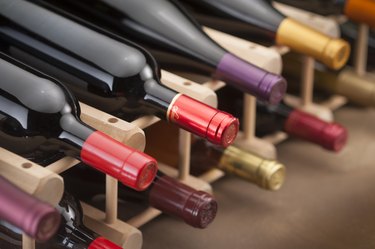 There are several types of wine racks to choose from, including countertop racks, wall-mounted racks, racks for the refrigerator, collapsible racks and freestanding racks. While wine storage racks can be placed in the kitchen, the living room, in a credenza, on a storage shelf or in other convenient areas, you can also buy racks large enough to take up an entire wall in your wine cabinet or wine cellar. Whether you buy wine whenever you're out and about and see something that looks good, you're part of a wine club or you're a collector, there are some factors to consider before deciding on a wine rack.
What to Consider When Purchasing a Wine Rack
​Dimensions:​ An important factor is making sure the wine rack will fit in your space. First measure the area you plan to place the wine rack in, then compare the measurements with the dimensions of the wine rack you're thinking about buying. If the wine bottle rack doesn't fit, you'll need to find another option.
​Materials:​ The most common types of wine racks are made of metal or wood. Wooden wine racks are best for cool, dry areas of your home, as humid locations like a cellar can cause wood to discolor or warp. Plastic is a less commonly used material but is a good option for refrigerators.
​Capacity:​ The capacity will depend on your wine collection. You can find wine racks that hold as little as three wine bottles all the way up to 150 or more. The one you choose will be based on how many bottles you like to store.
​Weight:​ Medium-sized wine racks (with a capacity of around 36 bottles) typically weigh between 10 and 15 pounds, but you need to factor in the weight of the wine bottles. The average bottle of wine weighs about 3 pounds, so if you buy a wine rack that can hold a max of 36 bottles, that's an additional 110 pounds. If you plan on placing the wine display on a table, wine bar or any other piece of furniture, you'll want to make sure the furniture can hold the weight.
Check out our top picks for the best wine racks below. Disclaimer: This list is best viewed when drinking a glass of wine, but up to you.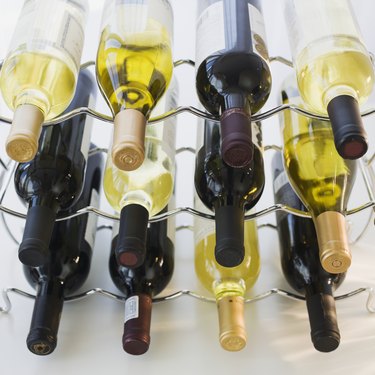 The Best Overall Wine Rack
J.K. Adams Ash Wood Wine Rack
It doesn't have to always be full, but this wine rack has a bottle capacity of 12 of your favorite wines. Made of oak wood, it's a casual, yet stylish tabletop display for your kitchen, living room or wine cabinet. The rack has a modular construction, meaning it can be built in several different styles and configurations. The Vermont-based company promises a lifetime money-back guarantee if you are ever unhappy with the rack. The company also sells 24-bottle, 40-bottle and 72-bottle racks.
​Capacity:​ 12, 24, 40, 72
​Dimensions:​ 12.5" x 11.25" x 3" (12-bottle), 12.5" x 11.2" x 3" (24-bottle), 16" x 11.5" x 7.25" (40-bottle), 20.1" x 17.8" x 16.3" (72-bottle), 17" x 15.05" x 12.05" (80-bottle)
​Mounting Type:​ Tabletop
​Material:​ Oak
The Best Budget Wine Rack
The least expensive rack on our list is also great for small spaces. The minimalist wine shelf can hold up to 10 wine bottles, and when they're gone, it can be folded and stored until more wine appears. It's also a great option for traveling. Made of solid wood, it's eco-friendly, durable, sturdy, and adds a modern look to your home decor.
​Capacity:​ 10
​Dimensions:​ 14.96" x 5.12" x 12.2"
​Mounting Type:​ Countertop
​Material:​ Wood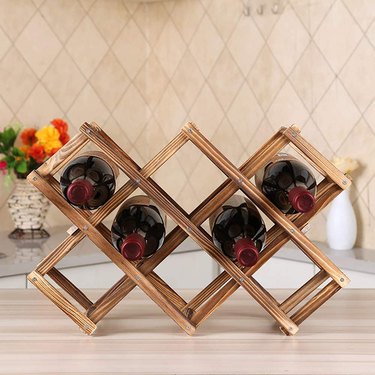 The Best Large Capacity Wine Rack
Sorbus Freestanding Wine Rack
Designed specifically for wine lovers who have a large collection, this metal wine rack can hold either 75 or 150 bottles. Even though it's freestanding, since the capacity is so large, you'll need to mount the rack to the wall for safety. A solid structure prevents wobbling, tilting or falling. The slots can hold most standard-size wine bottles.
​Capacity:​ 75, 150
​Dimensions:​ 19" x 9.50" x 59.50" (75-bottle), 38" x 9.50" x 59.50" (150-bottle)
​Mounting Type:​ Freestanding with wall mount
​Material:​ Metal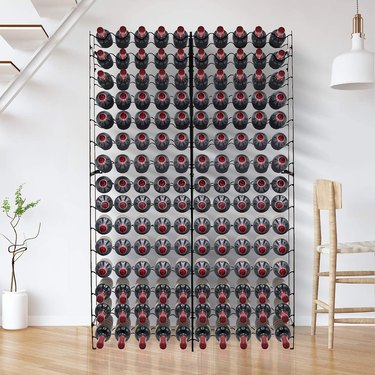 The Best Small Capacity Wine Rack
Urban Outfitters Cora Wine Rack
This modern wine rack lets you store your top three favorite wines on the countertop, dining table or another display area. Made of 100% stainless steel, it's extra shiny, has a wavy profile and tubular construction, and it comes in silver or gold.
​Capacity:​ 3
​Dimensions:​ 15.5" x 5" x 9.5"
​Mounting Type:​ Countertop
​Material:​ Metal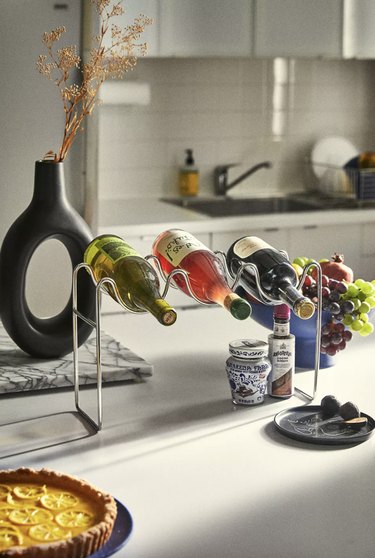 The Best Countertop Wine Rack
Soduku Rustic Wood Countertop Wine Rack
The combination of wood and metal helps this countertop wine rack fit in with any home decor style. Its beautiful wood grain brings a rustic charm to your kitchen countertop, bar cart or bar cabinet. It can hold up to six of your favorite bottles of wine.
​Capacity:​ 6
​Dimensions:​ 7.88" x 7.1" x 13.6"
​Mounting Type:​ Countertop
​Materials:​ Wood, metal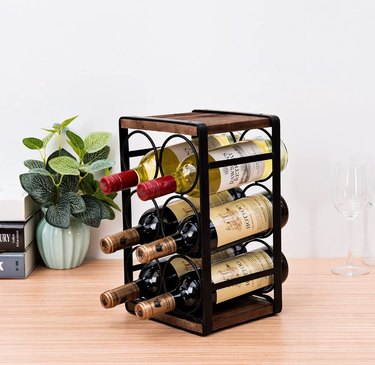 The Best Freestanding Wine Rack
Songmics Freestanding Wine Rack
This freestanding bamboo wine rack can sit against a wall, cabinet or kitchen island, so you always have access to it. You certainly don't need to fill this rack with 42 bottles of wine, but the option is there as your collection expands. Made from bamboo, the rack is eco-friendly, sustainable, durable, well-sanded, and smoothed out by espresso lacquer.
​Capacity:​ 42
​Dimensions:​ 26" x 11.4" x 39.4"
​Mounting Type:​ Freestanding
​Material:​ Bamboo
The Best Wall-Mounted Wine Rack
Vintage View W Series Wall-Mounted Metal Wine Rack
Spruce up your home decor with this stylish and contemporary wine storage rack. Built with high-quality steel, this rack is offered in satin black, brushed nickel, chrome or chrome luxe. It's the perfect way to display your wine on a wall in the kitchen or living room, and it also works great in a wine cellar and more professional settings like restaurants and bars.
​Capacity:​ 12, 24, 36
​Dimensions:​ 48" x 13" x 5.25" (12-bottle), 48" x 13" x 8.5" (24-bottle), 48" x 13" x 12" (36-bottle)
​Mounting Type:​ Wall-mount
​Material:​ Alloy steel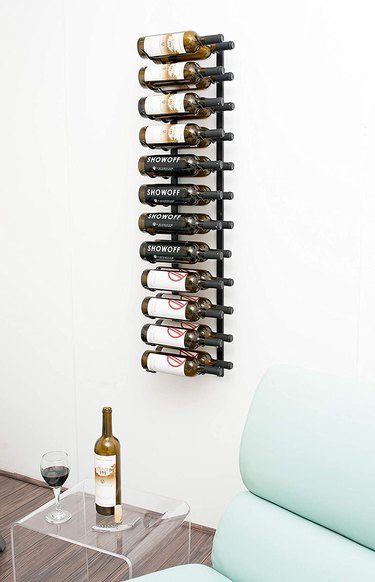 The Best Multi-Purpose Wine Rack
Anthropologie Percy Wine Rack
This beauty isn't your average wine rack. Made from tropical hardwood and wire, this multi-purpose wine rack can hold four bottles of wine, and it also serves as a glass holder and wine glass rack for both stem and stemless glasses. The top rack can hold other types of alcohol, picture frames or other trinkets.
​Capacity:​ 4
​Dimensions:​ 14" x 17.25" x 10.75"
​Mounting Type:​ Wall-mounted
​Materials:​ Wood, metal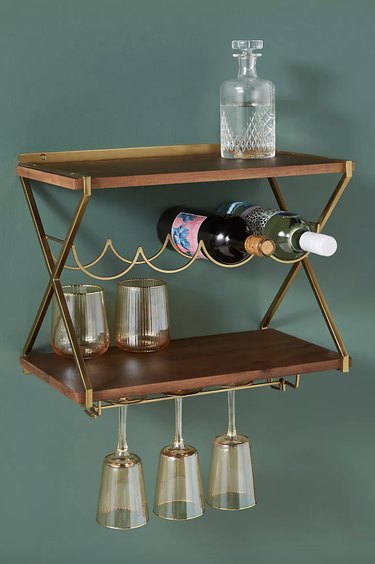 The Best Refrigerator Wine Rack
mDesign Modern Plastic Stackable Wine Rack
You can use this plastic, stackable wine rack on a countertop or on a shelf inside your refrigerator. Instead of putting your white wine bottles anywhere they will fit inside the refrigerator, this rack will designate a spot for them.
​Capacity:​ 6, 12, 24
​Dimensions:​ 11.51" x 8.06" x 3.99"
​Mounting Type:​ Countertop
​Material:​ Plastic