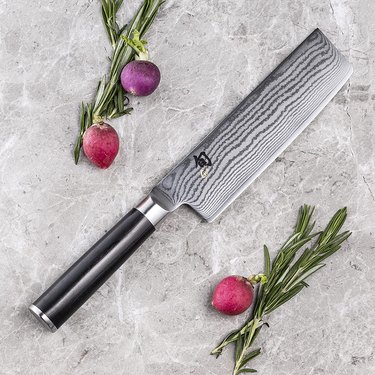 There are two approaches to choosing your kitchen tools. One—favored by prominent culinary figures like Alton Brown and Mark Bittman—is to avoid single-task tools, and instead focus on good all-rounders that are suitable for multiple tasks. Proponents of the other approach argue that sometimes you just need the right tool for the job, regardless of what else it can or can't do.
When it comes to knives, the Japanese have traditionally belonged to the second camp. Instead of the versatile Western-style chef's knife, they've invented a galaxy of single-purpose knives (though they now make excellent chef's knives, too). One of those is the nakiri, a knife designed specifically for cutting vegetables. The best nakiri knives are lightweight and a joy to use, but there's a wide gulf between the best and the also-rans. We're here to help you understand the differences.
What Is a Nakiri Knife Used For?
Japan has a very vegetable-centric cuisine, noted for its refined technique and presentation, and nakiri knives evolved to make that precision easy. Unlike Western-style knives, which are designed to cut with a rocking motion, the nakiri has a very flat cutting surface. Nakiri knife use requires a straight up-and-down chopping motion instead, giving cleaner, more precise cuts.
The blade's distinctive rectangular shape (picture an old-school straight razor, but larger) is similarly purposeful. Your knuckles guide the blade as you chop, and with an up-and-down chopping motion, you never want the blade to rise above your knuckles (that's how you cut yourself). The extra-tall blade makes that less of a concern, and it's also great for sweeping up your mound of chopped herbs or veggies when you're done. The blade is very thin, compared to Western knives, so it will glide through vegetables easily.
Nakiri knives are sometimes referred to as "vegetable cleavers" because of their shape, but that's a poor description. "Cleaver" implies something you can use for hacking and bashing at tough foods. A nakiri is actually a delicate tool (think scalpel, not axe). Pull out your chef's knife for those dense stubborn squashes, and use the nakiri for everything else.
What to Consider When Purchasing a Nakiri
Unlike the better-known santoku, nakiri knives are still largely unfamiliar in North America. With that in mind, here are a few key points to consider if you're thinking about buying one:
​Handle Design:​ Traditional Japanese nakiri knives have a D-shaped (slightly asymmetrical, so southpaws may need to special-order a left-handed knife) or octagonal handle, usually made of wood. The wood may be finished (sleeker appearance, less maintenance) or unfinished (better grip, more maintenance). You'll also see nakiris with Western-style grips—often, but not always, from Western knife makers—and in other materials. Esthetics play a role, here, but comfort and personal preference are more important.
​Type of Steel:​ As with other knives, some knives will be made of stainless steel and some of carbon steel. Stainless steel takes a good edge and holds it for a long time, while carbon steel takes a truly razor-fine edge but requires more maintenance (more-frequent sharpening, and it's prone to rust). Some knives get the best of both worlds by sandwiching stainless steel over a carbon-steel core, so your cutting edge can be finer, but you'll still have a protective layer of stainless to keep rust at bay.
​Weight and Size:​ Nakiri knives are generally somewhat smaller than chef's knives, mostly clocking in at 5 to 7 inches in length. Shorter blades are nimbler and more precise (and you may prefer a shorter blade if you have small hands), but longer blades are helpful if you routinely cut up larger vegetables or big bunches of leafy greens. Weight is also a factor. With the rocking motion of Western knives, a bit of weight is helpful, but with a nakiri—which you lift for every cut—it's undesirable. Top-tier nakiri knives will typically fall somewhere in the range of 5 to 6 ounces (140 to 170 grams), though a well-balanced knife can weigh more and still feel lightweight and nimble.
​Blade Finish and Bevel:​ Some nakiri blades will have a flashy layer of Damascened (layered) steel, which looks good but is functional, as well. That's the protective layer of stainless we spoke of, though not all stainless, of course, uses that method. Some may also have hollow-ground divots along the blade (a "Granton edge") to help keep your veggies from sticking to the blade as you work. A traditional alternative is the hammered ​tsuchime​ finish, which creates dimples and serves the same purpose.
Finally, there's the blade's bevel (the angle at which it's sharpened). Angles start at 15 degrees—a bit finer than a Western knife's usual 20—but can go to 12 or even 8 degrees. Anything in the range of 15 to 12 degrees is fine for home cooks, but the finer the bevel, the more skill is required to use the knife safely (and the more skill you'll need in order to sharpen it).
With these considerations in mind, we've carefully selected the best nakiri knives in 2022:
Shun Premier 6.5-inch Nakiri Knife
If there's a single knife that typifies what a nakiri is and should be, this is it. There are higher-priced models, yes—this is actually a surprisingly affordable price point for a very premium blade—but there's no real need to go that high. The cutting core is made from Shun's proprietary high-carbon VG-MAX alloy, clad in 68 layers of hammered, Damascened steel with a ​tsuchime​ finish. It holds a razor-sharp edge, and at just 7.5 ounces, it's feather-light compared to Western blades.
In use, it's a dream to work with, its thin blade and razor edge slicing through mountains of vegetables with effortless ease. The handle is dark pakka wood in the traditional Japanese D-shape, very lightweight and easy to hold. Dollar for dollar, Shun nakiri knives are as good as anything you'll find and better than most.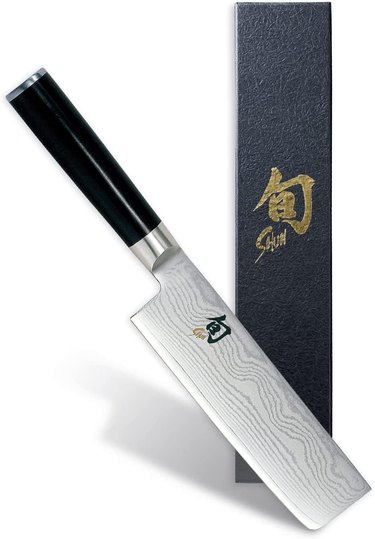 TUO 6.5-inch Nakiri Knife
The world's best-known knife makers are in Germany and Japan, but China manufactures a lot of the world's cutlery, and Chinese brands are becoming increasingly worthwhile. This nakiri from Chinese manufactuter TUO is a prime example. It marries the Japanese design with German steel and a hybrid pakkawood handle, in a design that's neither completely Western nor completely Japanese. In practical use, it's a better knife than it has any business being at this price point.
While it's heavier than some top-tier competitors, it's still just over 8 ounces in weight, and the 6.5-inch blade takes and holds an edge very nicely. It's well balanced, cuts nicely, and the oiled wood of the handle makes it unexpectedly beautiful. If you have a limited budget, or want to try a nakiri for a while before plunking down big money for a really good one, this is a solid starter knife.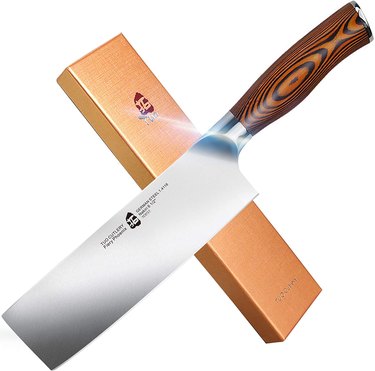 The Best Stainless Steel Nakiri
Yoshihiro VG-10 46 Layers Hammered Damascus Nakiri
This very traditional-looking nakiri from Yoshihiro takes a nakiri's virtues to the extreme, combining a very sharp blade—made of VG-10 stainless—with extreme lightness, weighing in at just 4.8 ounces. The cutting core is cladded in 46 layers of hand-hammered Damascus steel for durability, though the cutting edge itself is also stainless and rust-resistant.
The handle is octagonal rather than the more common D-shape, but that's also very traditional in Japanese knife-making. The blade is extra thin, just 2.5 millimeters (about 1/10 inch) at the spine, so it glides beautifully through most vegetables without binding (as thicker Western blades often will). The purchase price includes a traditional wooden sheath (​saya​) to protect the blade—and your fingers—when it's not in use.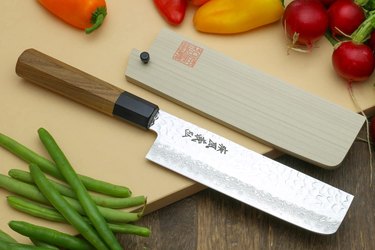 The Best Carbon Steel Nakiri
Yoshihiro Kurouchi Black-Forged Blue Steel Nakiri
Some of the most iconic Japanese knives are "black forged" (korouchi) of high-carbon steel, giving them a distinctively dark, charcoal-colored finish. Those blades are legendary for their ability to take and keep an edge, but they're also very prone to rust. Yoshihiro has managed to create a korouchi finish on stainless steel—no small feat—and use it to clad the sides of this distinctive nakiri.
The unique forging process lends its blade the durability and rust resistance of stainless while retaining the traditional appearance and cutting qualities of the high-carbon steel core. And make no mistake, those cutting qualities are impressive. This is an aficionado's knife, needing to be hand-washed and dried after every use, but it's worth every second of the extra maintenance. You can also order it with a sheath (​saya​) for a slight price premium.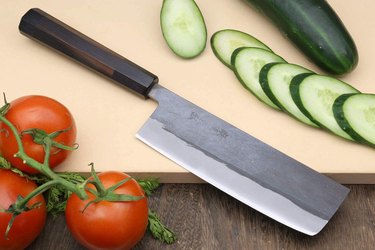 Wüsthof Classic 7-inch Hollow Edge Nakiri Knife
The nakiri is a quintessentially Japanese knife, and Wüsthof is a quintessentially German manufacturer, so at first blush, the very idea of a Wüsthof nakiri sounds odd. Don't be fooled, though, because Wüsthof nakiri knives are as good as anything you'll find. This Classic model pairs the nakiri blade with a Western-style handle, but still keeps the weight to an impressively low 5.9 ounces (remember, ligher—as a rule—is better with a nakiri).
The hollow-edged blade has a dimpled Granton surface to reduce cutting resistance, and although it's made of Wüsthof's proprietary high-carbon stainless steel alloy, it's every bit as thin and razor sharp as a Japanese blade, with its cutting edge honed to a wickedly fine 10-degree angle. The Classic Ikon version of the knife is more stylish and costs a bit more, but the Classic cuts just as well.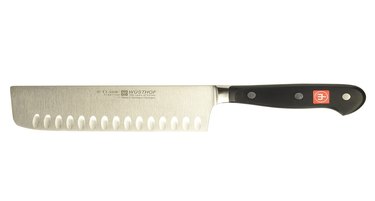 The Most Splurge-Worthy Nakiri
Shun Dual Core 6.5-inch Nakiri
The unique herringbone pattern of the blade is eye-catching, but it's not there for aesthetics. The blade is actually forged from two different stainless steels, first roll-forged—for extra strength—and then hot-forged to create 71 alternating micro-layers of steel, which in turn creates the herringbone pattern.
Even by Shun standards, this is an unusually sharp knife and holds an edge spectacularly well. If you're diligent about honing it every week to keep the blade in good condition, it would only need to be sharpened once or twice a year in heavy use. At just 5.3 ounces in weight, it's also one of the lightest nakiris anywhere. The handle is made of mahogany, lending more distinction to its already-striking appearance, and it comes with the traditional wooden ​saya​ to protect the blade when it's not in use. If you have the budget for it, this is the nakiri of any cook's dreams.