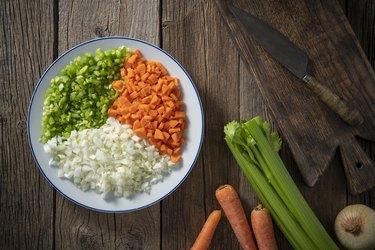 Chopping veggies can really add to your meal prep time, especially if you're not too great with a knife. The best vegetable choppers make this task much faster, easier and less of a hassle—and safer for your fingers too, again, if your knife skills are lacking. And they make the job neater, preventing pieces of carrots or nuts from flying off your cutting board. A food chopper is even a fun way to get the kids involved. Oh, and most keep you from crying over chopped onions.
If you're looking for something simple that efficiently dices, minces and chops veggies, fruits, nuts, herbs, boiled eggs and more, a vegetable chopper will become a favorite kitchen tool. Of course, you can get more versatile products that also handle the duties of a mandoline slicer, spiralizer, food processor or other kitchen gadgets.
It's important to select the best vegetable chopper for your needs and preferences to ensure you buy a product you're happy with for the long haul.
What to Consider When Purchasing a Vegetable Chopper
​Style:​ The first consideration is whether you want a manual or electric vegetable chopper. Manual products are still much easier than chopping away with a knife, and they're lower priced than electric ones. They come in a few styles, like those with dicer cutting grids attached to a lid that closes over the food, or that press the food through a grid of blades, collecting the output in a container below; those that look similar to food processors and operate by repeatedly pressing or pulling a handle; and handheld tools with a circular blade that you bring down onto the food.
Electric food choppers are basically small food processors, and most can puree, and they're operated with the push of a button. So, you get a little more ease of use and functionality. They do cost more than manual food choppers, though.
​Capacity:​ Standard vegetable choppers have a 3-cup capacity, which is generally good for an average family. But smaller models are available, and if you cook for just one or two, you should be fine with a 1- to 2-cup veggie chopper. Larger ones are available too that hold up to 6 cups—and occasionally even more. Think about how many people you usually cook for and the typical size of your meals. Or, if you like to make dishes like soups in big batches and freeze them, you might want a larger food chopper.
Of course, the capacity affects the item's overall size, which is something else to consider along with your available kitchen storage space. It also affects how much you have to pre-chop food into chunks that fit in the chopper.
​Blades:​ Choose a product with stainless steel blades, as they're strong, durable, nonreactive, rust-resistant and often dishwasher-safe (though putting them in the dishwasher can accelerate their dulling). Some food choppers just come with one type of blade, while others have an assortment for increased functionality.
For example, S-shaped blades are standard on electric choppers and result in nonuniform pieces. Chopping blades are used to cube food while dicing blades are similar but create smaller cubes. Slicing blades let you cut evenly sized slices, while ribbon blades yield long, noodle-like pieces. There are also shredding and grater blades, spiralizer blades that make spirals of your food, wedging blades that produce—you guessed it—wedges and more.
​Price:​ You can get the simplest manual vegetable choppers for around $10. More convenient, easier-to-use manual models generally run from about $20 to $30. And electric food choppers typically sell for around $40 to $50, with some higher-end products costing a bit more. You can certainly find reliable, quality products for a bargain, and don't make the mistake of assuming that a high price tag automatically equates to being the best. But often, you can get a few more features or functionalities if you're willing to spend a little more.
These factors will help you choose a vegetable chopper you'll be glad to have on hand.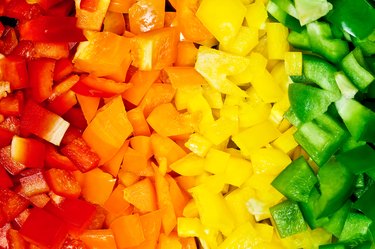 The Best Manual Vegetable Chopper
Mueller Austria Pro Series Multi-Chopper
This durable product is quite versatile, with three different sizes of chopping blades to choose from, plus five extra interchangeable blades for prep tasks like slicing, grating, julienning and shredding. The sharp stainless steel blades make quick, easy work of veggies and other food. It's strong and sturdy enough to handle harder and thicker foods, making clean cuts without requiring exertion on your part.
The generous 4-cup capacity is above average, so you can tackle larger-than-normal quantities without having to stop and unload the container. It's easy to disassemble at cleanup time, and all the components are dishwasher-safe, plus it comes with a handy cleaning fork.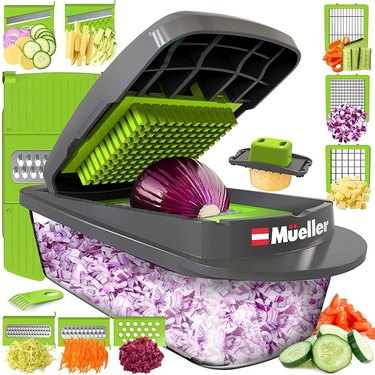 The Best Electric Vegetable Chopper
Cuisinart Mini-Prep Plus Food Processor
Cuisinart is a favorite brand for kitchenware, and this electric mini chopper is just another example of why. The patented, automatically reversing stainless steel SmartPower blades are sharp and strong, quickly chopping or grinding with the touch of a button. This model has a 2-cup capacity, which is a bit smaller than average, but it's also a durable, high-quality product at the lower end of the price range for electric choppers.
This model is compact, so you might be able to make it a permanent fixture on your countertop, but it also tucks away in a cabinet. And, at just over 2 pounds, it's also a lightweight kitchen appliance. The bowl and lid are dishwasher-safe, and the base wipes clean easily. As an added bonus, this chopper comes with a spatula and recipe book.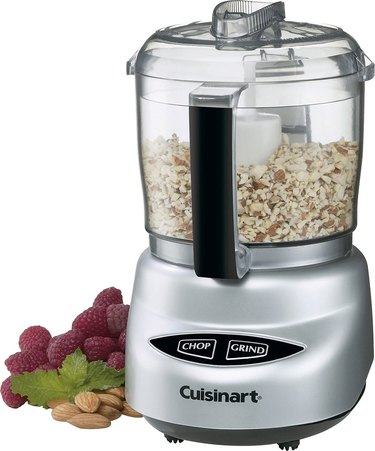 The Best Budget Vegetable Chopper
Kwik-kut Cutlery Serrated Food Chopper
If you're just looking for the simplest, cheapest possible implement that eliminates the knife work from chopping, this is the product for you. This vintage-style stainless steel handheld kitchen tool has a circular serrated blade you push down onto your veggies, fruit, nuts and other foods. It also works for tasks like cutting dough for cookies, biscuits and other round baked goods, and even as a meat tenderizer.
It's a particularly great tool for making things like tuna and egg salad and chunky salsa and guacamole. There's a wide handle that's easy to grip, and your hands remain safely clear of the chopping. It's a sturdy, durable manual chopper that will last a long time. Cleanup is easy too, as this piece easily wipes clean with some warm water and soap.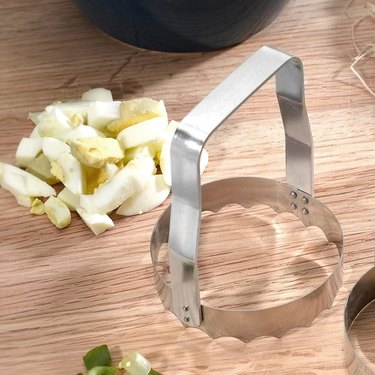 The Best High-End Vegetable Chopper
KitchenAid 3.5-Cup Food Chopper
For those willing to go to the upper price limits of food choppers, this electric model from the beloved brand KitchenAid is a great choice. With sharp stainless steel blades, two chopping speeds and a pulse function, it quickly cuts through any food. It also purees, so you can make things like tomato puree, pesto, hummus, peanut butter and more.
Its single-touch operation when the top is pressed down is user-friendly, and it's a conveniently compact and lightweight appliance with a cord wrap for storage. The 3.5-cup capacity is slightly larger than average, and the work bowl's handle, pour spout, and drizzle basin for liquids add to the practical uses. The bowl, lid and blade attachment are all dishwasher-safe for easy cleanup. The KitchenAid food chopper is available in 14 eye-catching colors.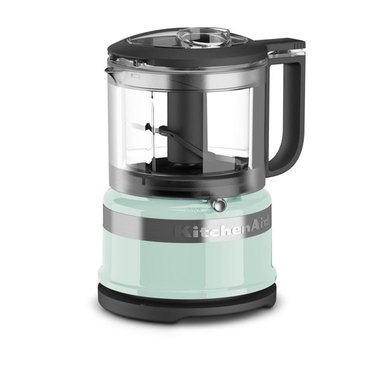 The Best Compact Vegetable Chopper
If you're shopping around for a compact manual food chopper, here's a perfect pick. It's only 5.5 inches wide and 4.25 inches tall, but it still has a 2-cup capacity. This model operates with a simple pull cord that spins the sharp stainless steel blades. About five pulls gives you a coarse chop, while 10 or so gives you a fine chop; keep going, and you can get close to a puree. It's actually kind of fun to use.
The nonslip base is a nice feature for preventing accidents. The lid fits tightly, so it doubles as a convenient storage container that you can keep on the counter or stick in the fridge. And the entire piece is even microwave-safe if you want to transfer it there to heat something up. Everything but the lid is dishwasher-safe, too. You also get a blade protector to help keep the blades sharp.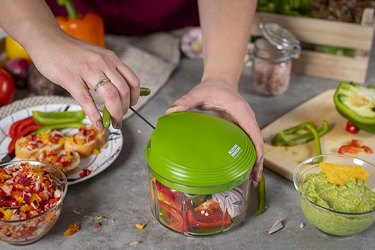 The Best Large-Capacity Food Chopper
Brieftons Express Food Chopper
Do you often feed a crowd or cook in bulk? This high-capacity manual veggie chopper has a 6.8-cup capacity for large-scale food prep, and it's also available in a bigger size with an 8.5-cup capacity for only about a buck more. The sharp stainless steel blades and simple press operation make quick work of a significant quantity of food that could take you quite a while to chop by hand with a knife.
This heavy-duty product is intensively stress-tested, so you can be confident it'll hold up after thousands of uses. You can get a really fine mince with this chopper, even pulverizing if you keep at it. It comes with a mixer attachment too that blends ingredients, whips cream, beats eggs, mixes liquids and batter, and more. The lid locks so the chopper can also serve as a storage container. The components disassemble easily for cleaning, and the work bowl and blades are top-rack dishwasher-safe.