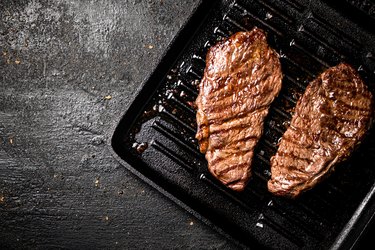 When you don't have access to an actual grill, grill pans are great for developing attractive sear marks on foods like burgers, steaks, other types and cuts of meat, chicken breasts, fish fillets, tofu, meat substitutes and veggies.
Of course, you don't get the same smoky flavor you get from a grill, but you do get that grilled look as well as a cleaner cook because the food stays elevated above the oil, grease and drippings. And, if you're cooking outside, you can use some grill pans over hot ashes or a fire to impart that smoky taste.
What to Consider When Purchasing a Grill Pan
Cast iron is a popular grill pan material. It has high heat tolerance, heats evenly and holds heat well, though it's heavy. It's compatible with any stovetop and grill, it can go in the oven, and you can stick it right on hot ash or a fire. Most come pre-seasoned, but even these tend to need additional seasoning to develop a highly effective nonstick surface. Also, while it's basically indestructible, cast iron is susceptible to rust, so it's a bit more difficult to clean and care for. It's also reactive, so it's not appropriate for cooking acidic foods.
Enameled cast iron offers similar benefits, but it's also nonreactive and much easier to clean and maintain. However, it costs more and can get cracked and chipped.
Hard anodized aluminum with a nonstick coating is another good choice, especially if you cook a lot of fish and other delicate foods. It's not as durable or heat-tolerant as bare or enameled cast iron; in fact, you shouldn't use it over high heat, as this can damage the nonstick coating. It also scratches easily, especially if you use stainless steel cooking utensils. But it's an affordable option that's easy to cook with and a breeze to clean.
Ceramic is another nonstick grill pan option that readily releases food and is easy to clean. This material can handle higher heat and is a bit more durable than aluminum, too. But you do have to be careful not to crack or chip ceramic cookware, and it has a higher price tag.
​Size and Shape:​ Standard grill pans fit over a single burner, but larger models are available that go over two burners or a big fire. A larger one is useful if you cook for a crowd. These can be quite heavy though, especially if they're made of bare or enameled cast iron, and they obviously require more storage space. They can also get extremely hot and give off a lot of smoke—possibly setting off your smoke detector.
Most grill pans are round, square or rectangular. You get more cooking surface with a grill pan that has right angles. But round ones generally heat more evenly, while square and rectangular ones often stay a little cooler near the edges.
​Handles and Pour Spouts:​ Check out the handle of any grill pan you're considering. You want one that's comfortable, and it shouldn't be too long on a heavy piece of cookware or it'll be more difficult to maneuver. Remember that some handles—like cast iron—can get very hot. A U-shaped helper handle is a nice feature on heavier pans. Also, a built-in pour spout makes it easier and neater to drain excess oil from the bottom of the grill pan.
These considerations will help you select the best grill pan for your needs and preferences.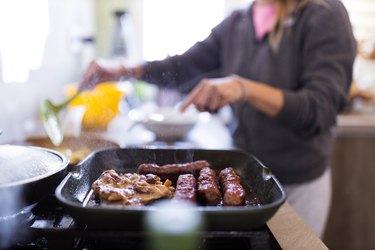 The Best Overall Grill Pan
Anolon Advanced 11-Inch Hard Anodized Nonstick Square Grill Pan
This is an excellent grill pan sold at a great price point. It's a sturdy, hard anodized aluminum nonstick option that offers top performance, easily released food and no hassles at cleanup time. The nonstick coating is even scratch-resistant and compatible with metal utensils. And, at 11 inches, it's as roomy as single-burner grill pans get. Relatively high sides keep splattering to a minimum and make this piece of cookware a bit more versatile than many other grill pans, too.
The handle has a comfortable, nonslip, stay-cool rubberized grip and a convenient hanging hole, plus two built-in pour spouts facilitate draining. There's also a channel around the interior edges to collect excess liquid. This product is oven safe up to 400 degrees Fahrenheit, so you can sear on the stove and finish in the oven.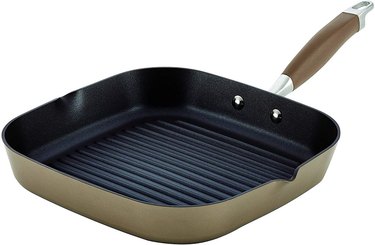 The Best Cast Iron Grill Pan and Best Budget Grill Pan
Lodge 10.5-Inch Cast-Iron Square Grill Pan
This isn't just a stellar cast iron grill pan, it also costs about as little as you can spend on this type of cookware. So, it ranks in two categories. Lodge is the oldest and best-known manufacturer of cast iron cookware in the US. It's a durable piece that can last a lifetime with proper care, and it comes pre-seasoned with well-developed nonstick action right out of the box.
The square shape and 10.5-inch size provide ample cooking surface. This product heats evenly all the way to the edges—a concern with some square grill pans—and count on it to sear in beautiful grill marks. At 6.5 pounds, it's a little on the heavy side, but that's part of why it performs so well, and there's a helper handle to assist with moving and maneuvering. Oven-safe up to 500 degrees Fahrenheit, you can sear steaks and finish them under the broiler for restaurant-quality results. It's a perfect piece to take camping, too.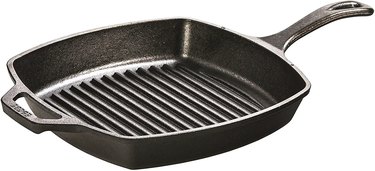 The Best Enameled Cast Iron Grill Pan
Le Creuset Signature 10.25-Inch Enameled Cast Iron Square Skillet Grill
For an enameled cast iron grill pan, turn to what is arguably the best-known name for this type of cookware: Le Creuset. Yes, this item is on the pricey side, but you get unrivaled quality and performance, a product that lasts a lifetime—and longer—with proper care, and a high-end look available in several elegant colors, as well.
The smartly designed, ergonomic handle and spacious helper handle make it easy to maneuver this 7-pound grill pan. Two pour spouts and sloped sides let you drain the pan without making a mess. The durable enamel is nonstick, easy to clean, chip- and crack-resistant, and stain-resistant, plus it won't dull over time. Even heat distribution and oven safety up to 500 degrees Fahrenheit make this a great piece to cook with. It's even dishwasher-safe, though it's better to hand-wash a beautiful piece like this to help keep it looking its best for the long haul.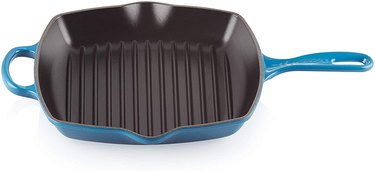 The Best Nonstick Grill Pan
Calphalon Signature 12-Inch Hard Anodized Nonstick Round Grill Pan
This nonstick round grill pan is amply sized to offer maximum cooking surface for a round, single-burner product while still heating evenly all the way around. It's sturdy and durable, and even oven-safe up to 500 degrees Fahrenheit—which is notable for a nonstick pan. The scratch-resistant nonstick coating is also safe for use with metal cooking utensils, and it works very well, releasing food and wiping clean without a struggle.
If you're looking for something lighter weight than bare or enameled cast iron, this is a good choice. The lengthy stainless steel handle stays cool during cooking on the stovetop (but of course, it heats up in the oven). And, even though it's easy to wash by hand, you can put this piece right into the dishwasher.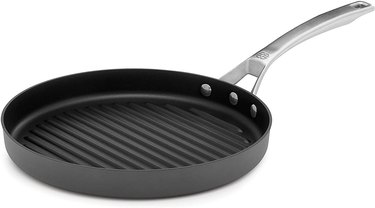 The Best Ceramic Nonstick Grill Pan
GreenPan Paris Pro 11-Inch Hard Anodized Ceramic Nonstick Square Grill Pan
GreenPan makes high-performance, healthy, eco-friendly ceramic cookware that's free of potentially concerning compounds like PFAS, PFOA, lead and cadmium. This nonstick ceramic grill pan has a diamond-reinforced coating for extra durability and scratch resistance, and you can use metal utensils with it. Its 11-inch size and square shape provide maximum cooking surface for a single-burner grill pan, while it still heats evenly all the way to its edges.
This product is impressively oven- and broiler-safe up to 600 degrees Fahrenheit. It's also dishwasher-safe for easy cleanup, though it readily wipes clean by hand (and hand-washing helps prevent cracks and chips in the ceramic). The ergonomically designed stainless steel handle stays cool during use on the stove, too. And it's worth noting that this is a good price for what you get.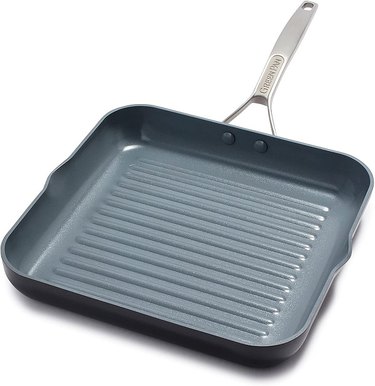 The Best Double Burner Grill Pan
All-Clad HA1 20-Inch by 13-Inch Hard Anodized Nonstick Grill Pan
If you want an extra-large grill pan that sits on top of two burners, this hard-anodized aluminum nonstick grill pan is a great option. It offers more than twice the cooking surface of a standard grill pan, and it heats quickly and evenly across all that area—even the space between burners. The ridges in the pan give you a gorgeous sear, and food cooks relatively quickly because they're not as high as those in lots of other grill pans.
The three layers of PFOA-free nonstick coating work well for easy release of food and easy cleanup, and they outlast the nonstick surface on many similar products. This cookware is oven-safe up to 500 degrees Fahrenheit, and it features two generously sized U-shaped handles to facilitate mobility and maneuvering. The two pour spouts in the corners are useful, too. While this piece is dishwasher-safe, hand-washing better preserves the nonstick capabilities over time.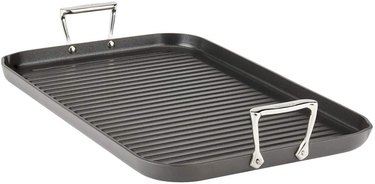 The Best 2-in-1 Grill Pan and Griddle Pan
Lodge 20-Inch by 10.5-Inch Cast-Iron Reversible Grill and Griddle
Just flip this pre-seasoned cast iron grill pan over and it doubles as a flat griddle pan. Another budget-friendly offering on this list from Lodge, a go-to name in cast iron cookware, this piece delivers exceptional heat retention and performance. It's oven-safe up to 500 degrees Fahrenheit and safe for use on almost any cooktop (just not all glass-top stoves) and over a fire.
At 20 inches long by 10.5 inches wide, this two-in-one grill pan and griddle pan fits over two burners and you can prepare plenty of food at the same time for a group—whether it's steaks or veggies on the ridged side, or something like pancakes, bacon, eggs, grilled cheese, tortillas or even pizza on the griddle side. This piece weighs in at a hefty 13.5 pounds, but it has a slim profile with handles that are flush with the pan to help with storage.