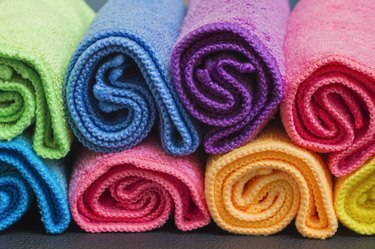 It might be easy to grab a dish towel, paper towel, or any other random towel you have laying around the house to use as a cleaning cloth, but it's possible the towel will leave behind lint, streaks or even scratch finishes—not to mention the lack of sustainability of disposable products like paper towels. When it comes to cleaning effectiveness and getting the most bang for your buck, your best bet is to buy a reusable cloth (or a pack of cloths) that's specifically designed for housecleaning.
What to Consider When Purchasing Cleaning Cloths
​Type:​ Microfiber, sponge and cotton are the three most popular and effective types of cleaning cloths. Here's a breakdown of what they can do:
​Microfiber Cloth:​ Microfiber is highly absorbent, very effective at picking up and removing debris from a surface, and is lint-free. It's a more expensive option than cotton cloth, but when properly used and taken care of, it has the longest lifespan.
​Sponge Cloth:​ A sponge cloth, aka a Swedish dishcloth, is as useful as you'd imagine, as it can absorb 20 times its weight in liquid and easily wrings out to almost dry. Its quick-drying capabilities minimize bacteria and mildew growth. A sponge cloth can be machine washed up to 300 times before needing to be replaced. It can safely be used on practically any surface with any household cleaning product, but sponge cloths tend to be the priciest of the group.
​Cotton Cloth:​ Cotton is a natural, breathable fiber that's generally gentle enough to not scratch surfaces. It's inexpensive and gets the job done, but it isn't nearly as absorbent as microfiber and sponge. Plus, it can leave lint behind, and since it's made of organic material, it tends to hold onto bacteria and odors.
​Purpose:​ Multipurpose cleaning cloths are the most diverse as they can be used on all types of surfaces. To clean delicate items like electronics or vehicles, you'll need to use a cloth that's designed specifically for that, otherwise you might be left with scratches and an item that isn't thoroughly cleaned.
​Quantity:​ Most cleaning cloths come in packs. The number of cleaning cloths you'll need depends on the size of your home and how often they'll be used. Cleaning cloths aren't terribly expensive, so if you can swing it, it makes sense to have several on hand so you don't have to spend time worrying about whether or not there's a clean cloth to wipe up a quick mess.
​Cost:​ If paying a few extra dollars to have the most absorbent cleaning cloth is worth it to you, then sponge or microfiber cloths are the way to go. But if you just want a cloth that'll get the job done without any bells and whistles, stick with a simple and inexpensive cotton cloth. Typically, the larger the pack, the pricier it gets, but that's to be expected.
Whether you're looking for cleaning cloths for your home or you run a cleaning business and need to buy in bulk, we got you covered. Check out the best options below.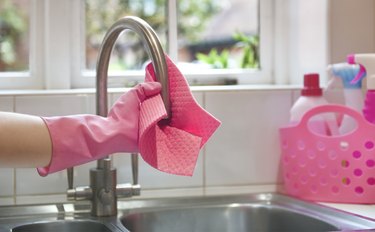 The Best Overall Cleaning Cloths
MR.SIGA Microfiber Cleaning Cloths, 12-Pack
Not only is this 12-pack of microfiber cleaning cloths ultra-soft and highly absorbent, but the cloths won't leave scratches or streaks behind. They are excellent at soaking up water and soil with or without water or a cleaning spray. With these cloths, you can clean anything in your home, from countertops to appliances to bathrooms to mirrors. They are built to last, withstanding hundreds of washes.
​Dimensions:​ 12.6" x 12.6"
The Best Value Cleaning Cloths
Simply Essential Microfiber Cloths, 10-Pack
Crafted of highly absorbent microfiber, these cloths can safely clean any surface in your home. They are ideal for absorbing spills, dusting furniture, cleaning your car, and wiping down glass or mirrors. While this 10-pack is highly effective and only $1 per cloth, it will take a bit more effort to wash them as they are handwash only.
The Most Absorbent Cleaning Cloths
Swedish Wholesale Swedish Dishcloths, 10-Pack
Sponges are known for their absorbency, which is exactly what you get with this 10-pack of multipurpose Swedish dishcloths. These reusable sponge cloths are made from cellulose and cotton, so they become extra soft when wet, and they're gritty enough for scouring when dry. They're perfect for cleaning up spills, drying dishes, and scrubbing tubs and showers. They're safe for marble, stainless steel, tile and wood surfaces. One dishcloth can be reused so many times, it'll save around 15 paper towel rolls. You can buy these cloths in a multicolor pack or several other color options.
​Dimensions:​ 7.7" x 5.7"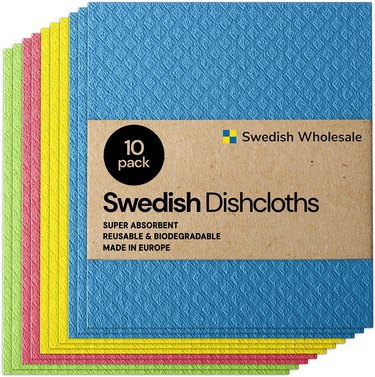 The Best Compostable Cleaning Cloths
If You Care Sponge Cloths, 5-Pack
Reusable cleaning cloths are a better choice than paper towels, but not all cloths are environmentally friendly. This 5-pack of sponge cloths is 100% natural and compostable, so you can feel good about your impact on the environment. Each cloth is absorbent, holding up to 20 times its own weight in water. They're also machine washable up to 300 times, and they come in a completely renewable package. Designed to be used in the kitchen or bathroom, they won't leave streaks or scratch surfaces.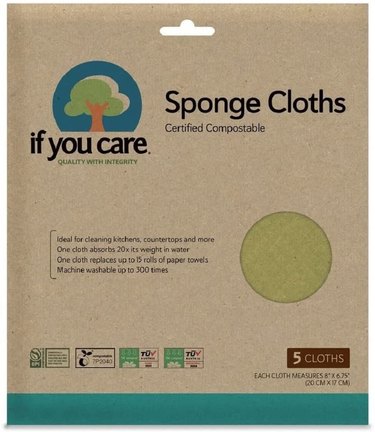 The Best Cleaning Cloths for Dishes
Mainstays Kitchen Dishcloth Set, 9-Piece
Made of 100% cotton, these utility dishcloths will become a staple throughout your home. They are basic, no-frills cloths that get the job done. The cloths are great for drying dishes, but they can also be used for a quick clean-up or for general household tasks. They are machine-washable and so inexpensive that you won't have to worry about cleaning up messes that can't be washed out.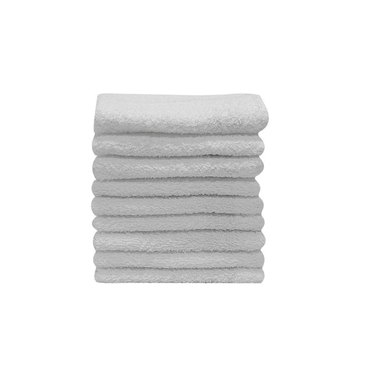 The Best Cleaning Cloths for Dusting
Guardsman Dusting Cloths, 5-Pack
Guardsman's Dusting Cloths are specially treated to trap dust, remove allergens and foster an overall cleaner space in your home. They are certified by the Asthma and Allergy Foundation of America (AAFA) and Allergy Standards Limited (ASL). Made of 100% cotton flannel, they don't require any spray, just a wipe down. They can be used anywhere dust can be found—on furniture, blinds, appliances, auto interiors, cabinets, glass, mirrors, ceiling fans and walls. The cloths also fold to fit most dust sweepers.
The Best Cleaning Cloths for Electronics
MagicFiber Microfiber Cleaning Cloths, 6-Pack
Delicate electronics like smartphones, tablets and TVs require a very soft microfiber cloth for cleaning. MagicFiber's Microfiber Cleaning Cloths are made from extremely high-quality microfiber material that absorbs and removes dust, oil, smudges, fingerprints and dirt. Each pack comes in its own bag to keep them clean and fresh for the next use. The cloths are flat and are able to be stored in a tablet case without adding any bulk. They come in a 2-pack, 6-pack, 13-pack or 30-pack.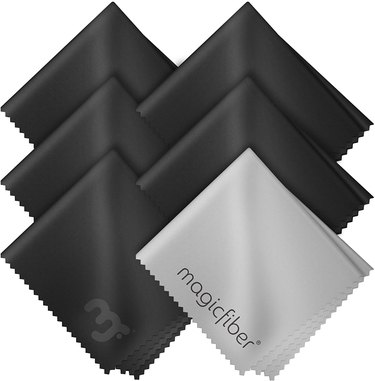 The Best Cleaning Cloths for Cars
Auto Drive Microfiber Multi-Purpose Surface Cleaning Towels, 4-Pack
Safe for exterior and interior vehicle cleaning, this 4-pack of multipurpose cleaning towels are highly absorbent and non-abrasive, so they won't scratch the paint or leave lint behind. While they're ideal for vehicles, they are also great for windows, mirrors, counters, tile and appliances. You can use them with cleaning products, or the cloths can wipe away dirt when they're dry.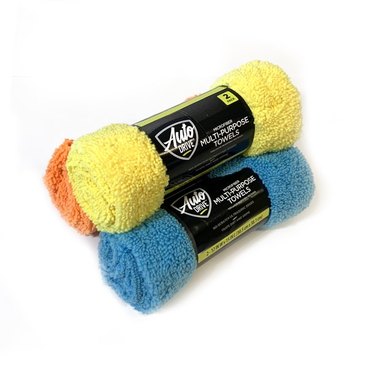 The Best Value Pack of Cleaning Cloths
Amazon Basics Microfiber Cleaning Cloths, 24-Pack
These ultra-soft, non-abrasive microfiber cleaning cloths won't scratch glass, paint, vinyl or other delicate surfaces. They're effective at cleaning either dry or with liquid and produce streak-free and lint-free results. The cloths can absorb eight times their weight and can be reused hundreds of times. Choose from blue, white and yellow or green, gray and pink. There are four bulk purchasing options—a 24-pack, 36-pack, 48-pack or 144-pack.